BakFlip F1 Tonneau Cover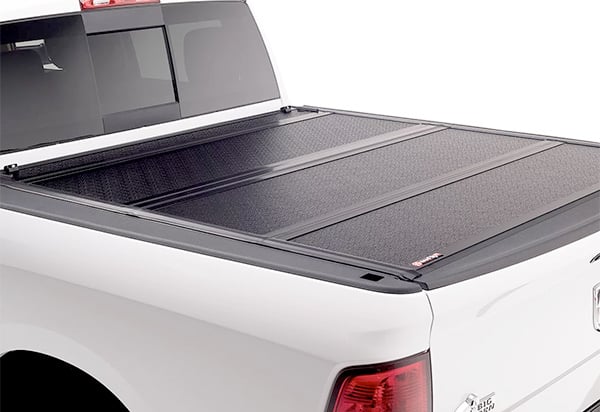 Regular Price:

$1,369.70-2,180.10

Our Price: $

929.88

-

1,480.03

Shipping:

FREE SHIPPING
We will NOT be undersold on BakFlip Tonneau Covers! Seen a better price? Call us at 800-663-1570 and we'll beat it!
Bak's most refined folding tonneau cover yet
Fiberglass Reinforced Polymer top layer for impact resistance, aluminum underside for increased structural integrity
Available in Standard model, or add the optional BakBox folding truck toolbox for maximum cargo versatility (BakBox not available for all trucks)
3.5 lbs. core, with 85 mil FRP top layer (Bak's thickest FRP!)
Powder-coated panel frames, upgraded scratch and scuff resistance for rubber side seals
FRP material stays cooler than aluminum in even the brightest sun
Flush hinge design protects your cargo from rain, snow, and hail
Injection-molded plastic handles, UV-protected Black finish
Compatible with factory cargo rails, management systems; Integrated D-rings provide tie-down points
"No-Profile" fit - lays flush at top of truck bed
Panels fold up against the cab, allowing full bed access
Refined latching system; lock your tailgate when cover closed for total cargo security
Installs easily, usually in under 30 minutes!
3-Year Warranty
BAK Industries is proud to present the most advanced tonneau cover ever made: The BakFlip F1. The new BakFlip F1 builds upon the popular BakFlip G2 and HD designs, with even better features and materials. The key element of the F1 is its new fiberglass-reinforced polymer (FRP) top, which makes this the strongest and lightest Bakflip yet.
The BakFlip F1 is built for superior strength, durability, and impact resistance. The fiberglass-reinforced top sits on top of a higher-density EPS core and an aluminum underside for rock-solid structural security. The cores of F1 panels are 35% denser than those on the G2, making them considerably more rigid. The BakFlip F1 satisfies OEM Quality and Rigidity Standards and qualifies as an Original Equipment Part for one of the Big 3 auto manufacturers.
The BakFlip F1 Tonneau Cover installs and operates just like the G2 and HD models. Its panels fold open and lock up against the cab for full truck bed access without removing the cover. Integrated drain channels and seamless water-tight folds keep rain and moisture out of your bed. The F1 latches closed under the bed rails and locks up with your tailgate for total cargo security. Plus, it's finished off with two coats of epoxy primer and a scratch-resistant polyester coating for tough factory looks.
The stronger, lighter BakFlip F1 is backed with a 3-Year Warranty.
Optional Upgrade: Choose the Standard BakFlip F1 model, or add the optional BakBox Folding Toolbox for maximum cargo hauling versatility. This crossover truck toolbox works perfectly with BakFlip Tonneau Covers and is both lightweight and super strong. Click here for more info on the BakBox. (BakBox not available for all vehicles.)
BakFlip F1 Tonneau Cover

Customer Reviews
Overall:
Performance:
Quality:
Appearance:
Average Install Time: 30-60 minutes
Showing 10 of 291 reviews. See All Reviews.
Becky B
who drives a
Ford F150
2016-05-21
Overall, looks great and easy to put together. All you need is a socket wrench, screw driver, and a partner to lift section on to bed. If there is an issue, it would only be this - cover shifted within the first week, which caused the tailgate seal to slip behind the tailgate, compromising the seal. Until it all settles in, check the tightness of bolts regularly until it all fits snug and settled in. Tool box attachment is easy to assemble as well. I have shopped around and the looks and how it sits flush along the bed, is eye catching!! Upgrade and get the best!! Oh, did I mention the ease of how it operates? 😉 I am over 50 and assembled and operate this on my own.

Install Time: 30-60 minutes
JonP
who drives a
Toyota Tacoma
2016-05-09
2016 Tacoma beds aren't quite sealed below the cover. Not the fault of the cover - there is literally a vertical gap visible in both front corners of the bed. A little black silicone seals it nicely. Once installed the cover effectively seals against the bed rail and drains all incoming water to the included drain hoses. I drilled additional holes in the bed to accept the hoses, though others have purchased adapters to fit the narrow drain holes from the factory.
Install Time: 30-60 minutes
Al S
who drives a
Chevy Silverado
2016-04-17
Very satisfied with the whole experience. Auto Accessories Garage people are clearly professional and knowledgeable. Bakflip F1 and tool box I purchased worked flawlessly. It is well made and will clearly withstand the bad weather I routinely encounter. Highly recommended product and merchant.

Install Time: 30-60 minutes
Kirk N
who drives a
Ford F150
2016-04-08
Install was easy; although where it says "easier with 2 people" in the instructions it means it. Having a second person to apply down pressure on the rails helps. Only negative is the water drain hose into the F150. I don't want to drill the truck and the existing hole is too small for the given hose also it is at a near 90 degree angle so the hose kinks even if forced and bent through. I will find another hose and probably use a PVC 90 or something to make the bend and re-do it soon. Cover looks fantastic. Packaging was great with very protective foam around the items. Install guide warned of wavy rubber edging possible if cold; mine laid down well very quickly despite being cold (note sleet in my picture, this was the morning after install and edges are smooth).

Install Time: 30-60 minutes
Donald H
who drives a
Dodge Ram 1500
2016-03-31
Everything I expected it to be. A great product, well worthy of recommendation to anyone looking for a tonneau cover.
Joseph M
who drives a
Toyota Tacoma
2016-03-28
Very happy with it. Just had to do a little modification to make it so it couldn't get broken into so easy.

David E
who drives a
GMC Sierra
2016-03-24
This my second Bakflip and both do leak. I have already had to have warranty repair due to the front seal against the cab coming off and now I'm going to have to get the seal over the tailgate replaced because its coming off. I am not impressed with the quality of this product. Love the way it looks and the ease of use.
Install Time: 30-60 minutes
Robert A
who drives a
Toyota Tundra
2016-03-24
Quick delivery and no damage to the product.
Install Time: 30-60 minutes
Joe L
who drives a
Toyota Tundra
2016-03-11
I just installed this cover on my brand new 2016 Tundra. Super easy install. Rails went on nice and straight, clamped easily to the bed. I was amazed at how well the cover fit as soon as I trial fit it on the bed. Locked it down in the front and folded it back to a click each time and it fit like a glove. It seems to work very well, and seals well against the truck. The only drawbacks to this cover is the fact that when it is fully folded up against the back window, you have to rely on side mirrors only, you can't look out the back window. I knew this going into the purchase, so no surprise there. The surprise drawback, and it is a small one, is that with the cover in place, when you open the tail gate you have to remember to open the cover before closing the tail gate. Otherwise, if you slam the tail gate closed with the cover down, you could damage it. There is a warning sign to that effect on the underside of the last folding section. Not a big deal, but you have to train yourself to get into that habit of opening the cover before closing the tailgate. Other than that, I really like the cover, would buy it again and think it is going to last a long time.
Install Time: 30-60 minutes
Andrew T
who drives a
Nissan Frontier
2016-02-22
Great cover, very strong looks great on my 2016 Frontier. I will recommend. Also easy to install, won't regret it if you buy it.
Install Time: Under 30 minutes
Showing 10 of 291 reviews. See All Reviews.