Fold-A-Cover Tonneau Covers
Set your truck up with one of the most rugged bed covers in the industry. Fold-A-Cover Tonneau Covers satsify all walks of pickup drivers, from professional emergency crews to daily drivers. Each Fold-A-Cover Bed Cover is specially designed to fit flawlessly on your exact truck, and these covers are tested for supreme durability. And when you order your cover through AutoAccessoriesGarage.com, you'll get free shipping guaranteed. Our 71 Fold-A-Cover Tonneau Covers reviews have an average rating of 4.8 out of 5 stars.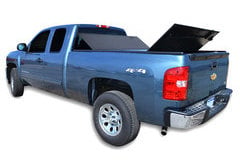 From $855.00
Free Shipping
Quick View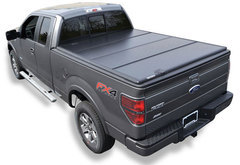 From $765.00
Free Shipping
Quick View
Want to learn more? Read our:
About Fold-A-Cover Tonneau Covers
When you need hardcover protection without the hassles of a rigid lid, Fold-A-Cover Tonneau Covers are a superior choice. These high-quality covers feature panels that simply fold up to the back of your bed, so you can quickly stow and access your gear. They're built with super-tough materials and finishes that are ready to stand up for years of use. Plus, rugged Fold-A-Cover Truck Bed Covers do a great job of keeping the elements out, so you can rest easy knowing your cargo and valuable equipment are safe.
Compare Both Fold-A-Cover Tonneau Cover Models
The key to a tonneau cover's protection is how well it fits - one out-of-line seal can wreak havoc on your gear in even the lightest rain shower. That's why Fold-A-Covers are carefully designed and engineered to fit your exact make, model, and year truck. The result: a hard tonneau that keeps the elements out and provides total cargo security. This smooth custom fit also means your tonneau will look like it rolled off the lot pre-installed.
These are high-quality products that are certainly worthy of their SEMA award-winning status. And when you order your Fold-A-Cover Tonneau Cover through us, you're sure to have a great experience. At AAG you'll not only get a great cover - you'll get great prices, helpful service, and free shipping on top of it all.
Fold-A-Cover Tonneau Covers Reviews
Rick H.
from Cedar Park, TX said:
Very happy with my purchase. Keeps the bed of my truck dry for the most part. Very little water gets in. Easy to install. Price was right.
James W
from Castle Rock, CO says:
Excellent product. Well built and the functionality is great. Happy I chose this over the bak. Work in oil and gas and this is great!
Thomas A
from Mifflinville, PA wrote:
Ordering and shipping was very quick. Install is a little time consuming by yourself but overall this is the best cover out there.