Motorhome Exhaust
Give your motorhome the same quality performance you give your daily driver with our RV Exhaust components. Our Motorhome Exhausts are specifically designed for the demands of the RV engine and driver to give you better power and efficiency. All our RV Exhaust Systems are made from top quality materials and dyno-tuned for maximum performance.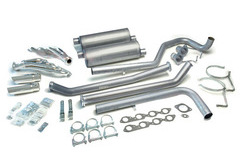 Amplify your recreational vehicle's exhaust with a Gibson Motorhome Power Exhaust System. These aluminized, heavy-duty systems are built to last and dynometer-tuned for ultimate performance. Large tubes are mandrel-bent for consistent exhaust flow, and everything needed for a complete system overhaul is included with every package.
From $1,018.49
Free Shipping
Quick View
Want to learn more? Read our:
About Motorhome Exhaust
Cars and trucks aren't the only vehicles that could use a performance upgrade. Hook your RV or Motorhome up with a new performance exhaust system for more power and better towing capacity. RV engines need different help than do those of standard vehicles, and these Motorhome Exhaust systems deliver exactly that. When it's time to get more from your recreational vehicle's engine, these parts and systems are on the case.