AMP Research Running Boards & Bedsteps
You've just stumbled upon some of the most advanced, hi-tech designs in the world of truck accessories. With a pair of AMP Research Truck Steps mounted underneath you'll always have a handy lift into your cab or your truck bed. Every AMP Research Running Board and Side Step is built from tough, durable materials to stand up to all the harsh realities of the road. It's also easy to shop for truck steps at AutoAccessoriesGarage.com. Our 37 AMP Research Running Boards & Side Steps reviews have an average rating of 4.7 out of 5 stars.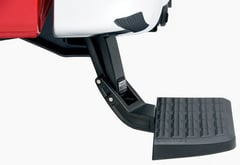 From $199.00
Free Shipping
Quick View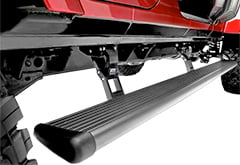 From $1,149.00
Free Shipping
Quick View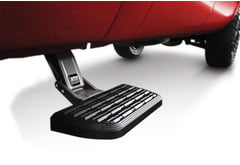 From $219.00
Free Shipping
Quick View
About AMP Research Running Boards & Side Steps
Getting the right step for your truck is important, and at AAG we'll make sure you get the best. With our vehicle selector you can filter out only the AMP Research Truck Steps that fit your exact year, make, and model. And if you have any further questions, our customer support staff is here to help. Track down the AMP Research Running Boards you need at the price you want at AutoAccessoriesGarage.com.
AMP Research Running Boards & Side Steps Reviews
Chris L
from Visalia, CA wrote:
A great addition to the truck. At my age jumping up into the bed is more like a crawl. This step makes getting into the bed a snap. Bolts solidly, there is some movement when you first step on due to the suspension that you have to get used to, but this is one of the best functional mods you can get for your truck! Read more AMP Research BedStep customer reviews.
Campo57
from Fortson, GA says:
I waited for just about a year for AMP Research to produce this product. When I purchased my 2011 RAM 1500 with dual exhaust a year ago I wanted to put this step on but they didn't manufacture one. When I emailed them they said it was in the works and about a year later, here it is. It was very easy to install this product but the installation instructions are a bit lacking. They show pictures of the assembly with no accompanying word descriptions. They call out part numbers at the top of the instructions with the quantity of those parts but in the instructions they just show a picture of the part. Not bad if you only have one size bolt but I think it would be better if they put the part number on the step by step instructions. They also include 3 flat washers in the hardware package but they don't even show them on the step by step pictures. All that being said, this product is very good. It fits perfectly where they said to install it, fit and finish is very good as is functionality. It's very easy to deploy and push back into place. I would highly recommend this product. Read more AMP Research BedStep customer reviews.
Dave H
from Green Valley, AZ said:
First time installer- went on fairly easily. Like the quality and the ease of use. A big benefit on a high bed pickup. Read more AMP Research BedStep customer reviews.