Roll-N-Lock Tonneau Covers
Shelter your truck bed's cargo in safety and security . Ceverly-designed Roll-N-Lock Bed Covers boast a dead-on custom fit, rugged construction, and even optional wireless electronic control. This brand's covers are certainly among the best in their class, and with AAG it's easy to find the perfect tonneau for your needs. Outfit your truck bed with the supreme protection of Roll-N-Lock, and enjoy low prices and 100% free shipping from us. Our 29 Roll-N-Lock Tonneau Covers reviews have an average rating of 4.7 out of 5 stars.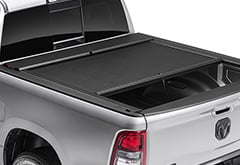 From $1,142.00
Free Shipping
Quick View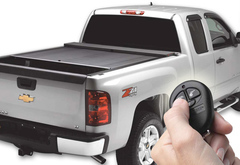 From $1,699.00
Free Shipping
Quick View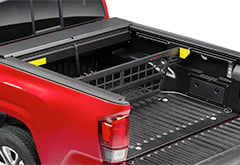 Priced at $269.00
Free Shipping
Quick View
Want to learn more? Read our:
About Roll-N-Lock Tonneau Covers
They may cost a bit more, but a Roll-N-Lock Tonneau Cover is an investment in the future of your truck. Space-aged design and materials protect your equipment from thieves and the weather with impenetrable force that will not buckle under pressure. Custom-designed for your truck, these covers are guaranteed to be a perfect fit from the first installation. Built to last for as long as you own your truck, they give you a veritable bank vault atop your truck bed.
There's even an electronic option for your Roll-N-Lock Bed Cover, though the manual cover works just as well without the innovative convenience. Durable locks keep everything safe, and a smooth-gliding track makes your life even easier. They've just about thought of everything! Make no mistake, a Roll-N-Lock may put a dent in your bank account, but every dollar spent will come back to you in renewed security and peace of mind. And what price can you put on that?
A retracting bed cover is the most convenient and graceful way to secure your cargo in your pickup. Roll-N-Lock Tonneau Covers open and close on guide tracks, blocking out the elements and prying eyes or giving you wide-open bed access. At AutoAccessoriesGarage.com we make sure you'll get a tonneau cover that's custom-designed to your exact bed for a perfect fit and reliable construction. And if you have any questions about buying a bed cover, our handy customer support team is on call to assist you.
Customers browsing Roll-N-Lock Tonneaus also looked at:
Roll-N-Lock Tonneau Covers Reviews
Mark C
from Alma, AR wrote:
2003 Dodge Dakota 6'7" bed. Fits like a glove, tough as a tank, smooth as glass! My hesitation to spend a little extra on the Roll-N-Lock all disappeared once the unit was in place. I took out my bed liner to install this, and in my case I don't think I will miss it. The added security the R-N-L gives you allows you the 'peace of mind' of leaving your truck parked outside overnight with valuables in your p/u bed. Have been through several hard rains with no leaking inside the bed. The incremental (3-clicks) opening stages lock in very sturdy and I wouldn't be afraid to haul a refrigerator or stove standing upright with the R-N-L pulled up against it. Looks like a million bucks. I've had old geezers and young geezers come up to me in the parking lot and ask me to about it. Great investment in an older or newer truck. Now I am going to keep my Dakota till the wheels fall off. If you have an 'over the side' bedliner, you will need to replace the top bed covers with new ones, so be advised of that. Can't go wrong here.
Jason W
from Scottsbluff, NE says:
The cover is great instructions were adequate but not great