One of the most important things you can do for your engine's performance and longevity is to hook it up with a Performance Air Filter. For one thing, these filters allow vastly more airflow into your engine, which results in far better combustion, power output, and efficiency. Plus, they do a great job of cleaning the air as it comes in, blocking the dust, dirt, and other fine particles that can wreak havoc on your cylinders. Both K&N and Green Filters are popular choices for those in need of better performance and peace of mind. Let's look at both brands to see what's the right Air Filter for your engine.
Green Air Filters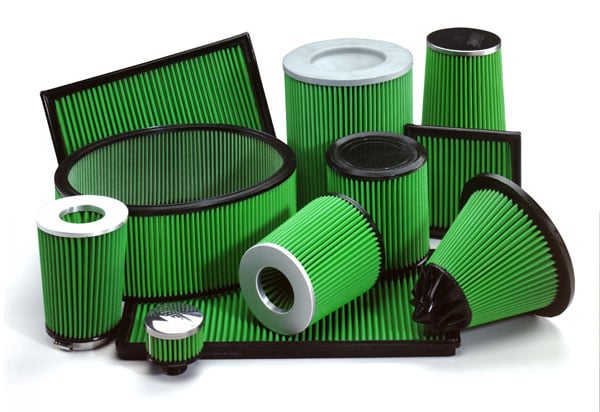 Green Filter USA may be a relative newcomer to the world of performance filters, but their products are truly making a splash. Green Air Filters feature modern, advanced designs and materials to provide not only unmatched flow, but also easy maintenance and a super long lifespan. What you get with Green is improved horsepower, awesome torque, and an air filter that truly pays for itself.
They key to Green Performance Air Filters' performance is their two-layer, interwoven cotton fabric. This makes the filter element thinner, stronger, and better at holding oil. Unlike multi-layer gauze media, Green's cotton won't wear through or release fibers into your engine. These filters also utilize a complex 4-step manufacturing process when bonding the exterior and interior parts together, which makes for a far better seal than the competition.
Green Air Filters' other claim to fame is the fact that they are easily cleaned and renewable for as long as you own your vehicle, with the help of a Green Filter Cleaning Kit. This means that within about a year the filter will more than pay for itself, and you'll be doing your part to keep landfills free of dirty old air filters. Clearly, that green filter fabric does more than just look cool - it signifies the company's commitment to the environment.
K&N Air Filters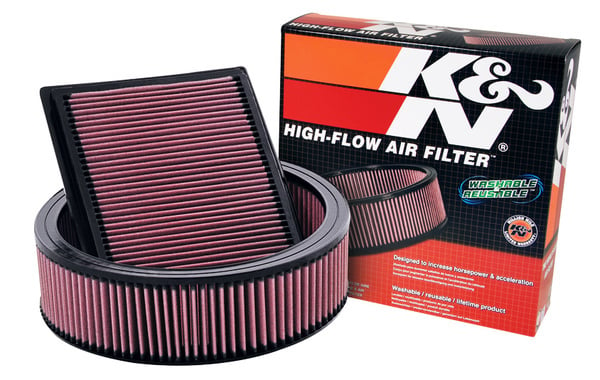 K&N, one of the leading manufacturers of air intake systems, has decades of experience maximizing engine air flow. It makes sense, then that K&N Performance Air Filters are in a league of their own. Every K&N Filter is custom-designed to the engine in your exact year, make, and model. This ensures not just an easy installation, but a precise fit that maximizes your performance and power.
K&N also crafts their filter media from cotton, using a pleated design with 4-6 layers. They're oiled for better dirt-trapping capabilities, and like Green Filters they're also washable for a lifetime of use and re-use. K&N Filters are also specially designed to be 50-state street legal and to have no effect on your vehicle's warranty. That's piece of mind you can count on. Speaking of warranties, K&N backs their filters with a Million Mile/10-Year Warranty.
Green or K&N - What Are The Right Air Filters for Your Vehicle?
So, knowing what you know about K&N and Green Filters, what should you choose? Check out the comparison chart below to lay both brands side-by-side. Also, be sure to read our Air Filter Reviews, written by real drivers and performance enthusiasts like yourself.
| | | |
| --- | --- | --- |
| | | |
| Starting From | $31.20 | $41.06 |
| Materials | 4-6 Layer Cotton Gauze | 2-Layer Woven Cotton |
| Cleaning Inverval | Up To 50,000 Miles | 4,000-6,000 Miles |
| Finishes | Red | Green |
| Warranty | 1,000,000-Mile/10-Year | Lifetime |
| Shipping | FREE | FREE |
| | | |