Tonno Pro Tonneau Covers
Keep your truck bed's cargo safe and dry with a TonnoPro Tonneau Cover. These covers are built to provide ample weather protection and keep your valuables out of sight. Best yet, they're specially designed to offer all these benefits at a price anyone can afford. Simply choose your truck's make, model, and year above and we'll send you on your way to the best Tonno Pro product for your needs.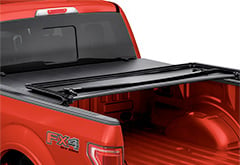 From $299.00
Free Shipping
Quick View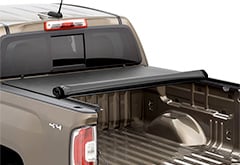 From $299.00
Free Shipping
Quick View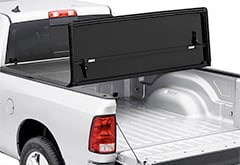 From $649.00
Free Shipping
Quick View
About TonnoPro Tonneau Covers
It doesn't take a super huge product line to make an impressive truck bed cover. For proof of this, look no further than TonnoPro Tonneau Covers. When you're ready to get the right tonneau covers for your busy lifestyle, then a Tonno Pro is available to give you exactly what you're looking for. Built to last and up for just about anything, these soft-in-name-only tonneaus don't suffer fools lightly!
Compare All 3 TonnoPro Tonneau Cover Models
You get two design options with these covers: folding or rollup. Both are made with painstaking attention to detail and both come at a budget friendly price to suit any consumer. Some tonneaus overload you with bells and whistles that you might never have any use for. One of the beauties of a TonnoPro Bed Cover is its utter simplicity. You know what you get, and that's a great cover for your truck bed at a fantastic price.
With AutoAccessoriesGarage.com you're just a few clicks away from pickup truck excellence. Our TonnoPro Tonneaus are simple to order - simply choose your vehicle, select your preferred options, and hit the checkout button. And if you're having any trouble deciding on a cover, just give a call, email, or chat to our customer service team. At AAG you're sure to get the best Tonneau Cover for your needs, and you'll even get free shipping, too.
Customers browsing TonnoPro Tonneaus also looked at:
TonnoPro Tonneau Covers Reviews
Robert C
from Cheyenne, WY said:
It installed fairly easy the aluminum clamps aren't the greatest quality and appearance and performance wise the only down fall is the corners of the nylon material stick up in all four corners. Read more TonnoPro LoRoll Rollup Tonneau Cover customer reviews.
David P
from Manchester, NY wrote:
The overall product is great, I would like for the cover to be a few inches longer. My tailgate is barely covered by the cover. Also it dips in the middle making it a bit tricky to close my tailgate when the cover is attached and secured. Read more TonnoPro Tri-Fold Soft Tonneau Cover customer reviews.
Michael M
from Paso Robles, CA said:
The tonneau cover installed easily and I just needed to enlarge the openings in the bed liner for the 2 rear clamps to access, I am very satisfied with the tonneau covers' operation and appearance.
Stefan M
from Chicopee, MA wrote:
Seems to be well made, could use a little bit more foam at the front of the bed to seal it better. I will use extra piece from the tailgate sealing kit. Quick to install and remove for when I need the entire bed.
SuperDave
from Tyler, TX wrote:
I haven't had my cover for very long, but already appreciate it for the security when I have things in the bed. It looks great on my truck and I'm glad my wife bought it for me!
Anthony J
from Pittsburgh, PA said:
TonnoPro Tri Fold cover was a perfect fit for my 2014 Dodge Ram 1500. Quick installation, and fast shipping. Great purchase and has kept the rain out for the 2 weeks that I have had it and we have received a ton of rain.