Camo Truck Accessories
If you're a hunter, fisherman, or any other kind of outdoorsman, you know that camo isn't just a pattern. It's a way of life. And bringing a Mossy Oak or Real Tree look to your vehicle just feels right! At Auto Accessories Garage, we've got all the highest quality camo truck accessories and every order ships for free. Plus, we can guarantee the lowest prices with our 12-Month Price Match Guarantee. Check out all of our camo categories below, and take a look at our staff recommendations for the Top 10 Best Camo Truck Accessories!
Read
Turning your truck into your weekend hunting getaway is easy with Auto Accessories Garage on your side. We offer camouflaged accessories like floor mats, seat cover, dashboard covers and more. Most all of our camo accessories are designed to fit you specific model of truck, SUV, or car so you know you'll get the right fit. Plus, our product experts are in every day to answer questions and help you find the perfect camo accessories for your rig.
There's no shortage of quality camo truck accessories available. But if you're just starting to style your truck or SUV in camo, you may be wondering where to start. Luckily, at Auto Accessories Garage we've spent years working with manufacturers and looking over the product firsthand. We've also heard countless reviews from our ever-growing customer base. Putting all this information to use, we feel qualified to rank the Top 10 Best Camo Truck Accessories.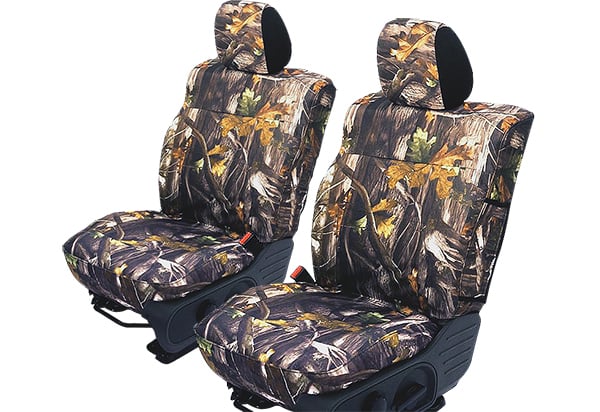 Made from non-woven polyester for a breathable final install, Saddleman Camo Seat Covers are resistant to stains, mildew, and fading. With these durable seat liners in place, you can even travel with pets without worrying about damaging your OE upholstery. These covers are made in the USA.
I bought these for my granddaughters 17th birthday at her request. Her dad bought her a pickup truck so she wanted Camo Seat Covers. It was an older truck and she loves them. I was really impressed that they looked so nice especially after they were installed.

Read More Saddleman Camo Seat Covers Reviews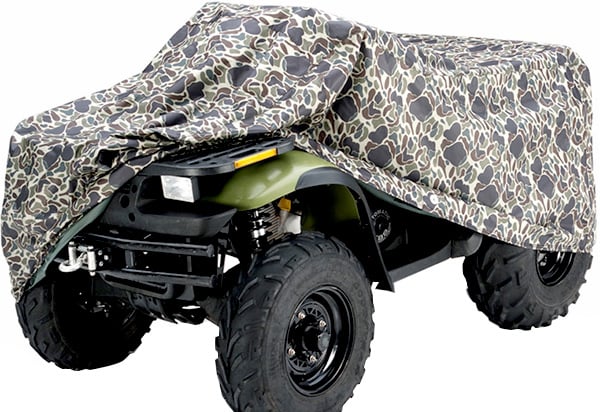 One-size-fits-all is the name of the game when it comes to the Covercraft Ready-Fit ATV Cover. Just choose the size that most closely corresponds with your particular ATV or four-wheeler and you can keep it covered and camoflauged easily! This cover is overlapped and double-stitched for durability.
I just like the look of camo, didn't mean to actually hide this, but it is hard to see next to my barn! Haha!

Read More Covercraft Ready Fit ATV Cover Reviews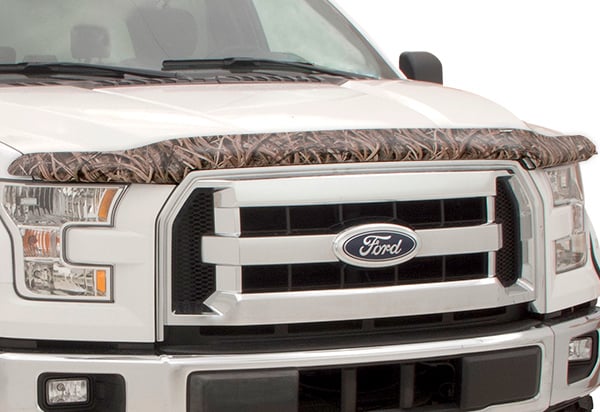 Keeping bugs, rocks, and other debris off of your front-end and windshield is easy to do with the help of the Stampede Vigilante Premium Camo Bug Deflector. This durable, aerodynamic deflector can easily be installed at home and is available in a wide variety of camo patterns.
Delivered on time, easy to install without any drilling. Fits nicely without compromising the integrity of my truck. This item was fairly priced, is of quality material, and looks great!

Read More Stampede Vigilante Premium Camo Bug Deflector Reviews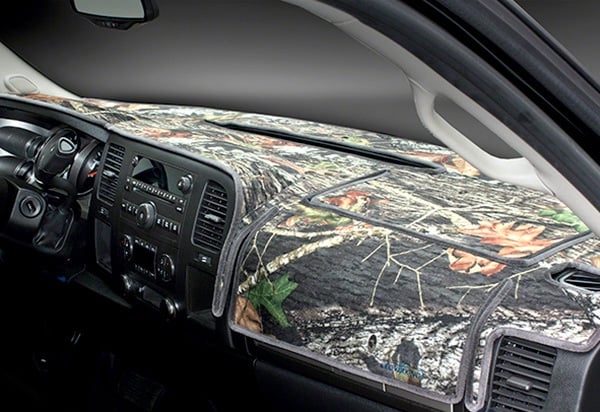 Put your inner-woodsman on Front Street with the Coverking Mossy Oak Camo Velour Dashboard Cover. This cover will bring a rugged look to your interior and protect your dash from the brutal rays of the sun while you go hunting or fishing or even just grocery shopping!
It was shipped promptly and was the exact size. It only took a few minutes to install. We are very pleased as all was just as promised in size, color and installation.

Read More Coverking Mossy Oak Camo Velour Dashboard Cover Reviews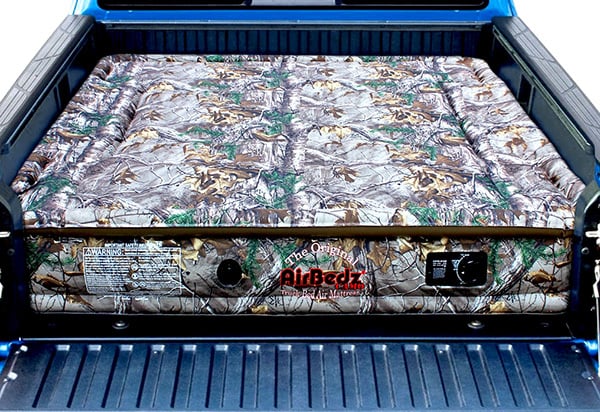 Nothing makes a campout or hunting trip complete quite like sleeping in your truck bed. But you don't have to sacrifice comfort for views when you have the AirBedz Truck Bed Camo Air Mattress. An integrated pump will make inflating this mattress quick, easy, and effective.
Mattress seems to be of good quality, slept pretty comfy with 2 people and even came with its own air pump which will also deflate it as well. Fits my truck nicely and would recommend this for anyone that likes having a bed wherever they go.

Read More AirBedz Truck Bed Camo Air Mattress Reviews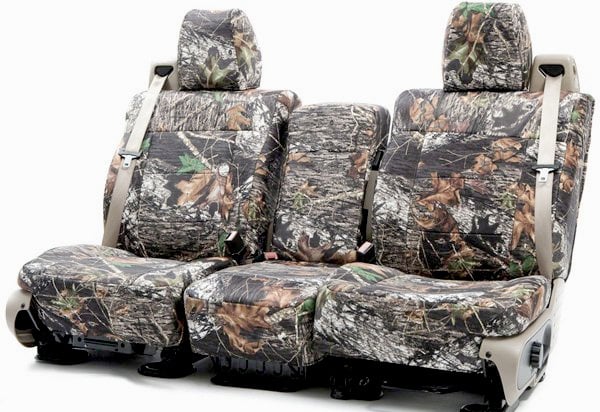 With fourteen different Mossy Oak patterns available, you just can't beat the selection available for the Coverking Mossy Oak Camo Seat Covers. Matching your existing Mossy Oak gear has never been easier, and these seat liners are also available with black accents for a sporty look.
LOVE, LOVE, LOVE these seat covers! I posted a picture on the Coverking Facebook page... they look awesome. Easy to install, and they are CUSTOM! Really set off our new Ford Edge! Thank you for such a great product.

Read More Coverking Mossy Oak Camo Seat Cover Reviews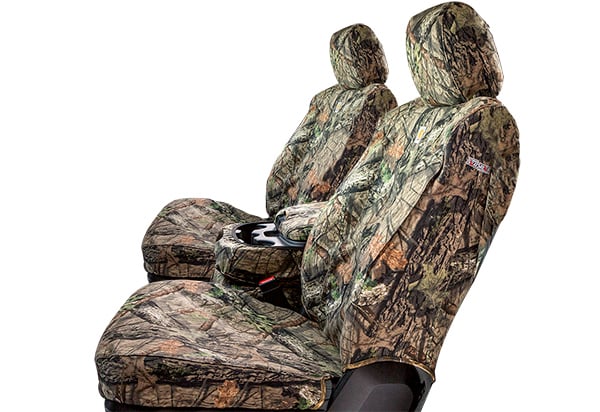 When people look for ruggedness and durability, they trust the Carhartt name. And Carhartt definitely stands up to their reputation when it comes to Carhartt Mossy Oak Camo Seat Covers. These moisture-resistant and UV-protected seat covers are machine washable and built from durable Duck Weave material.
Best value and great product. Love the fit and should hold up well for years. AAG is my only place to shop for quality auto accessories. Keep up the great work.

Read More Carhartt Mossy Oak Camo Seat Cover Reviews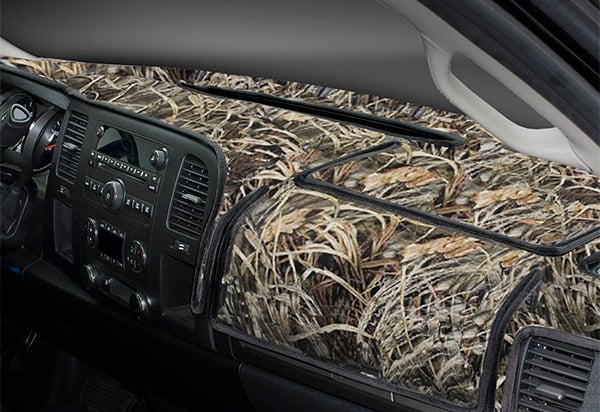 A unique zig-zag stitching design brings strength and durability to the Coverking RealTree Camo Dashboard Velour Cover. This cover is easy to clean and protected against UV-rays and fading. Plus, your dashboard underneath will be protected from the sun as well to prevent cracking and crumbling over time.
I love this dadhcover! It's thick, covers every part of the dash and was everything I was expecting! Also the colors are very vivid and not dull like I was worried about. Everyone will see it!

Read More Coverking RealTree Camo Velour Dasboard Cover Reviews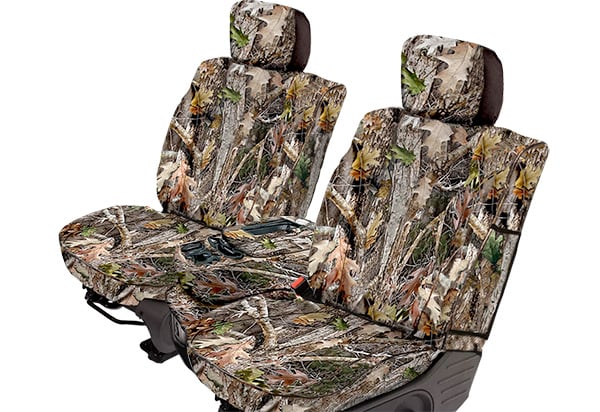 For drivers interested in TrueTimber Camouflage, Northern Frontier TrueTimber Camo Seat Covers are the way to go. Custom-made to order, these seat covers are built from a durable cotton-polyester blend and are available in thirteen different patterns. These seat liners are made in the USA.

Read More Northern Frontier TrueTimber Camo Seat Cover Reviews
I got these as a gift for my son who drives a Ford F150. He likes them and they look good on his truck. I will ask him if they hold up but the stitching looks good in my opinion and I am a sewer.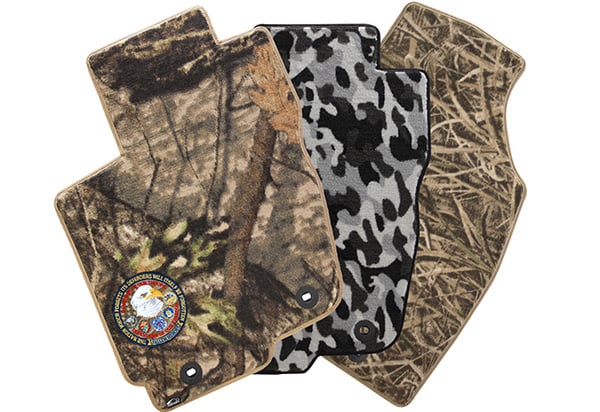 Nothing goes along with hunting and fishing like muddy boots. If you want to keep the inside of your truck clean and camo'd, you need the Lloyd Camo Floor Mats. These computer-cut, digitally designed mats will fit your make and model exactly and they're built from a multi-layer backing that resists moisture.
Very nice mats for the price. Looks good and fits well. I bought alloyed mats for another car and they also look good a fit well. Not quite as durable as much more expensive mats but then again they are not as expensive. Installation is easy. Take longer to open the box than to put in the car.

Read More Lloyd Camo Floor Mat Reviews