Car Bras
Protect the front end of your ride from road hazards like mud, weather, and rocks with a Car Bra. Our custom Car Bras provide top-notch front-end protection as well as customized style. Car Bras are custom-fit for your specific year, make, and model for a perfect fit and easy installation. If you'd like to see what other customers have to say, head to our
Car Bras Reviews
page to read full Car Bra customer reviews. When it's front coverage and cool looks you want, Car Bras are for you.
About Car Bras
Since you love your car, you'll do anything to keep something bad from happening to it. Your front end, in particular, is prone to getting torn up and sullied by a variety of everyday hazards. Bugs, rocks, dust, and mud can really do a number on your exterior. This is where Car Bras come into play.
Car Bras aren't just for fancy muscle cars. For instance, a Honda Civic Car Bra will keep your vehicle's front end paint job looking great, free of nicks and scratches. At the same time, it'll give your ride a sporty look you'll love. Style and protection very rarely come together in one product, but they with our selection of Car Bras.
Even better, Car Bras couldn't be easier to install. It only takes a few moments and a little attention to detail, but if you choose, say, a Chevy Camaro Car Bra, you'll be surprised at how simple it is to throw on your ride.
When you shop at AutoAccessoriesGarage.com, you'll discover just how seamless aftermarket accessories shopping can be. Check out our Car Bras Buying Guide so you can make an informed choice. Following that, use our vehicle selector widget to find only those bras available for your specific car. Once you decide on one, it ships - like everything else here at AAG - for free.
Top 5 Best Car Bras: Top Rated Hood & Bumper Bras for Car, Truck & SUV (Reviews)
We at AAG decided to collect the data we have on top selling car bras, and combine it with the feedback we get from customers on our top rated car bras. The results are as follows - the Top Five Best Car Bras of 2021, complete with reviews.
The Colgan T-Style Full Car Bra is made of durable and stylish 25 oz. vinyl and features a UV-resistant top coat and Colgan's proprietary Memory Fit. This exceptional product will protect your vehicle's entire front end while also allowing your hood, headlights, and grille to be completely unobstructed. While this car bra protects your paintjob and finish from debris coming from the outside, it also protects against any scratches that could come from the inside thanks to a soft flannel backing on the inner side of the bra. It is custom-made to fit your vehicle and installation is a cinch, because it requires absolutely no tools thanks to Colgan's pre-bent hooks.
Chuck H who drives a Lexus luxury vehicle says:
I really like the Colgan two piece T style full car nose bra, it was not hard to install, I had to heat up my garage to get it to relax, but after it was installed it really looks great. I get a lot of compliments on how good it looks.
Read more Colgan T-Style Full Car Bra Reviews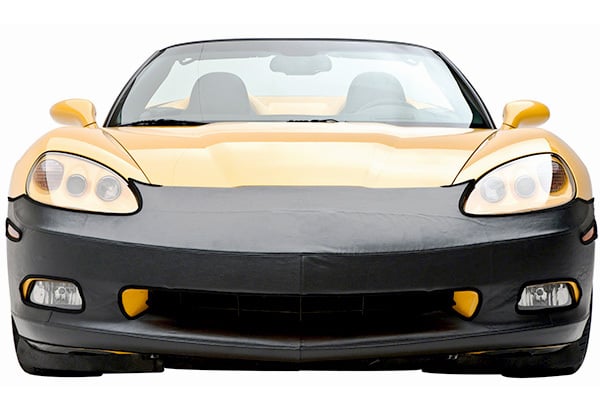 When the seat cover kings, Coverking, decided to enter the car bra market, they had everyone's attention. Their bra, the Velocitex Plus, exhibits Coverking's signature custom-fitting design. This black bra comes in two pieces, so you can open and close your hood with ease without taking it off. Like all of Coverking's products, it's made right here in the USA.
Ron M who drives a Pontiac sports car says:
Installed on my 87 [Pontiac sports car] and it looks great. Fit and finish are excellent. The hooks and grommets are metal, so no plastic parts to break. I would definitely recommend this to anyone looking for a quality front end bra.
Read more Coverking Velocitex Plus Car Bra Reviews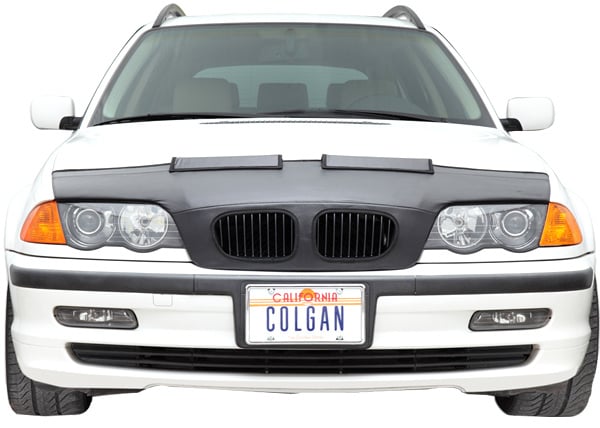 When a sporty look is of the highest importance, the Colgan Sport Bra will have your whip looking fly in no time. The same heavy-duty vinyl and soft flannel underside from the Colgan Original are used here, but this time, in a sportier shape confined to the front portion of your hood. This bra allows you to maintain full use of your hood without having to remove it and comes in black and carbon fiber finishes. The head-turning results will set your ride apart from the crowd.
Frank M who drives a Toyota sedan says:
Have only had it a couple weeks, but so far it's been an excellent fit. Also looks like it'll be easy removing it and reattaching it, as any good bra should do.
Read more Colgan Sport Bra Reviews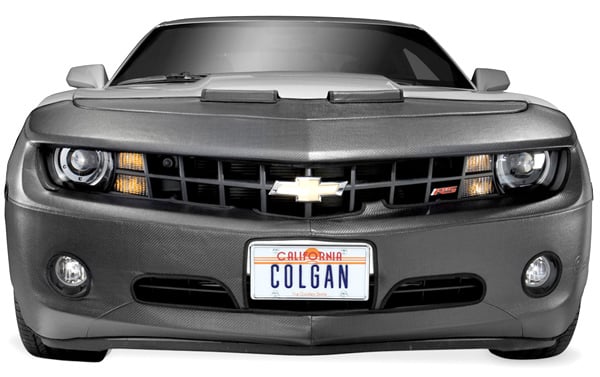 Colgan crafts their original car bra in UV-treated, heavy-duty vinyl that won't crack, fade, or warp even in the most extreme sunlight. When the sun is beating down, this car bra will stand tall, and protect your vehicle underneath. A soft flannel lining covers the underside, and this accessory is available in Black or Carbon Fiber.
William F who drives a Mercedes luxury vehicle says:
I have been the owner of a Colgan Custom Bra in the past two of my previous cars. The quality is just as good as it has ever been. Auto Accessories Garage made the transaction very easy with their excellent customer service.
Read more Colgan Original Car Bra Reviews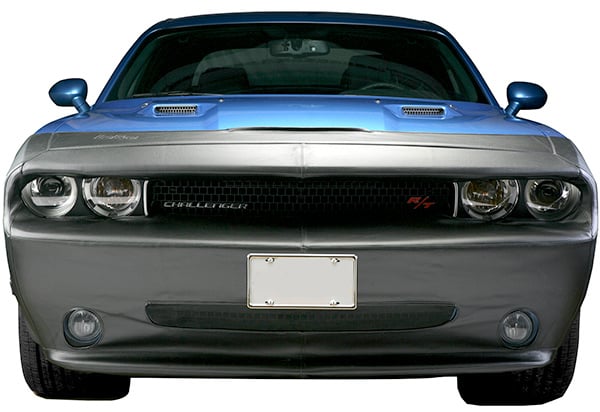 The LeBra is truly an all-weather car bra. Rain or shine, summer or winter, this car bra works great in any climate. The breathable material means it will dry itself off - no need to remove it after a rain storm. An ultra soft knit inner-layer is nice and soft on your paint, ensuring that no scratches or scrapes can make their way through.
Alan J who drives a Ford sedan says:
I really love my LeBra for my ford focus it gave life to my car instantly giving my car that new car feel and look I am really glad that I found Auto Accessories Garage and will recommend everyone that ask and even those who don't ask will most definitely use you guys again.
Read more LeBra Car Bra Reviews
Car Bras Buying Guide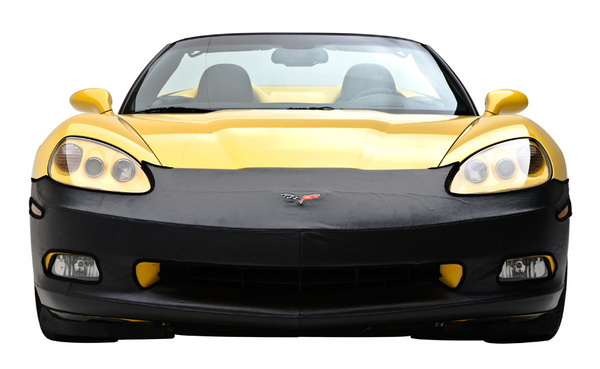 Our Car Bras are protective, stylish, and easy to install. Plus, they're all custom-designed to your exact vehicle for a perfect fit and precise coverage to keep your car, truck, or SUV in great shape. At AutoAccessoriesGarage.com we offer a full line of Custom Car Bras and Sport Bras that make a protective, stylish mark on your vehicle. Read on to learn about the many benefits of installing a Car Bra and discover the different styles we carry.
What Does A Car Bra Do?
You've probably seen Bras and Front End Masks on all kinds of cars and trucks on the road. Have you ever wondered why so many drivers are wrapping their front ends? Here are a couple of reasons:
Car Bras Protect Your Front End
The front of your vehicle takes a whole lot of abuse as you barrel down the highway. Kicked-up pebbles, pelting hail, and clueless bugs all get hit by your vehicle's nose no matter how carefully you drive. Before long your vehicle will be blemished with chipped paint, bent grille posts, and acidic bug guts. Every little bit of damage makes your exterior more vulnerable to rust and contributes to your finish's early demise.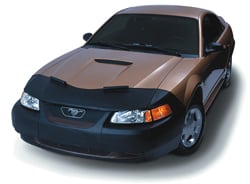 LeBra Car Bras, Coverking Car Bras, and Colgan Car Bras are designed to save your vehicle from these road-borne hazards. They're crafted from thick vinyl that provides a reliable shield against rocks and bugs, preventing scratches and dings. Car Bras are also stitched with a soft inner lining that rests safely on your paint. Plus, select Coverking Car Bras and Covercraft Car Bras feature a perforated design that lets air and moisture "breathe" under the cover, preventing water build-up. With proper installation and use, your car or truck's front end paint will look showroom-new for years.
Add High-Performance Style With A Car Bra
Custom Car Bras were originally designed to protect the front-end paint on prototypes and top-notch sports cars. These front-end masks have maintained their sporty style over the years, even as manufacturers expanded out to cover all varieties of cars, trucks, and SUVs. Whether you're driving a sedan, pickup, or minivan, there's a Front End Mask that will take your style to a new level.
Car Bra Styles
Car Bras come in two different designs to suit your style and your needs. These styles include: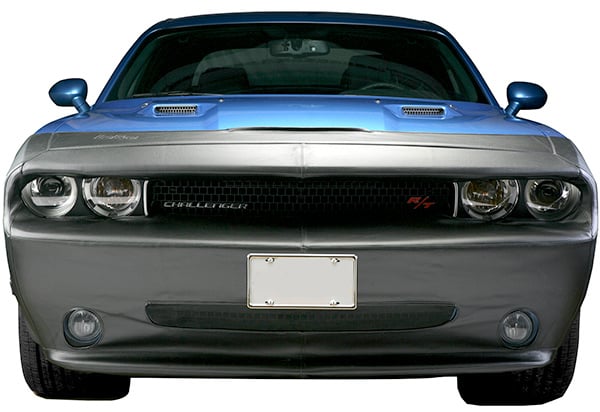 Full Car Bras
Full Front End Car Bras are made with the classic design that's still seen on most vehicles today. They cover your grille and bumper while wrapping the front edge of your hood for total front-end protection. Full Car Bras like the Covercraft Front End Mask and the Colgan Car Bra come in a multi-piece design so you can open your hood without the bra getting in the way. They also accommodate factory features like pop-up headlights, air dams, and fog lights, all without modifications.
Sport Bras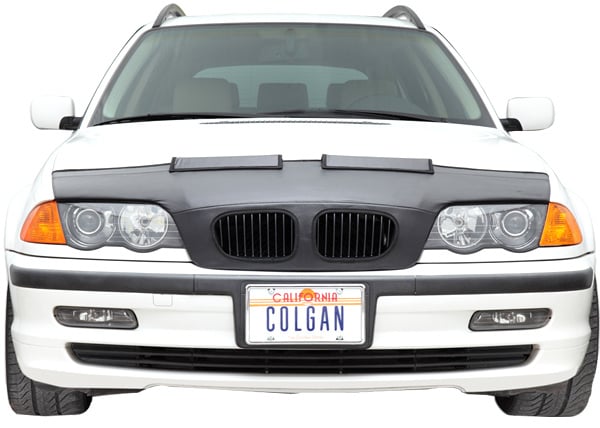 If you want the protection of a Custom Car Bra but still want to show off your blinged-out grille or bumper, go with a Sport Bra. Sport Bras are designed to wrap around the leading edge of your hood, which is the area most frequently hit by rocks, bugs, and debris. These smaller covers like the Colgan Sport Bra are made with the same custom design, tough materials, and perfect fit of a Full Car Bra, but they leave the rest of your front end exposed.
Car Bra Care & Maintenance
Strapping on a Car Bra is a great way to protect your investment. Like all accessories, however, there are a few guidelines you should follow to ensure you're getting the most out of your cover. If you take correct care of your Car Bra, it will look great and keep your finish safe for years.
How To Install A Car Bra
Car Bras are typically very easy to install, thanks to their custom-fit designs and included hardware. Check out the video below and watch a LeBra Car Bra being installed on a 2010 Ford Fusion:
Avoid Excessive Water
Preventing water damage is the highest concern when maintaining a Car Bra. If you're neglectful of your bra when it gets wet you could be doing more harm than good to your vehicle. Because Car Bras are custom-designed to wrap tightly around your front-end, water can get trapped between the bra and your finish. If it sits there for too long, that water can crack your clear coat or make your paint bubble up.
Helpful Tip: Do you store your vehicle outside in the off-season? The best way to prevent water damage and uneven paint fade on your vehicle is by sheltering it with a Car Cover.You can drive through rain and snow with your car bra, but whenever possible you should remove it once you're not driving. By laying your bra out and reinstalling it once the fabric and your vehicle are completely dry you can prevent water damage and keep your vehicle looking great. Micro-perforated car bras like the Coverking Velocitex Car Bra and Covercraft Front End Mask make it easier for water to evaporate so you can dry them by simply driving around. Removal is recommended if the bra gets completely soaked.
Your exact Car Bra may have its own requirements for care in wet conditions. Make sure to read all included instructions and care tips before you install your Car Bra, and follow those guidelines closely for the best results.
Maintain Even Paint Fade
Tan lines don't just occur on prudent sun-bathers - they can also happen to your car or truck if you aren't careful. UV rays cause your paint job to slightly fade over time. If you leave a front car bra on under the sun, your hood, bumper, and front fenders won't fade evenly compared to the exposed parts.
Be sure to remove your car bra if you're going to park your vehicle outside for a long period of time. This will ensure that all of your car or truck's paint will fade evently, maintaining a consistent color from front to back. This is especially important if you want to maintain your vehicle's resale value.
Cleaning Tips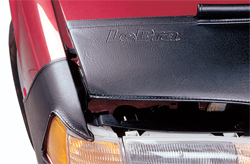 Aside from preventing paint damage, it's also important that you clean your car bra correctly. You can clean our Front Car Bras with car wash detergents or mild soap and water, but most should be removed before cleaning and laid to dry before reinstalling. Do not machine-wash your car bra.
Dirt and dust can get caught between your paint and the bra's cloth lining, which can cause thousands of tiny scuffs and scratches. Before long the paint under your car bra can have a murky or cloudy look to it. Therefore, removing and cleaning your Custom Car Bra is recommended every time you wash your car or truck. Don't worry about wasting time fumbling with your front end mask every time you wash your car - All of our bras are easy to install and remove, whether you sport a Coverking Car Bra or a LeBra Car Bra. Cleaning your vehicle and your bra weekly will prevent premature wear and maintain your finish's showroom-fresh looks.
How To Choose The Best Car Bra For Your Vehicle
There are several different Car Bras out there, each with its own design features and benefits. How do you pick the right one for your car, truck or SUV? Think about the following factors when browsing our selection of Front End Masks:
Front-End Coverage
How much of your vehicle's front end do you want to cover? Every Car Bra covers a different amount of your hood and bumper. If you want to keep your entire front end protected from scratches and bug guts, consider a full-size LeBra Car Bra. If you don't want to hide your bumper or your custom grille, go with a Colgan Sport Bra. These bras protect your hood from nicks and damage while keeping most of your front end visible. No matter what style you choose, all of our Car Bras are custom-fit to your vehicle for a perfect fit and superior protection.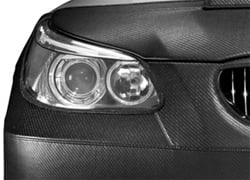 Finish & Materials
Car Bras are available in a variety of finishes to suit your style needs. Most are made from flat black vinyl, but many Colgan Car Bras and Coverking Car Bras are also available in a modern Carbon Fiber finish for high-performance looks.
Car Bras and Front End Masks also come in your choice of materials. Custom Car Bras from Colgan are made from classic solid vinyl for high durability and resilience. If you find yourself driving in wetter climates, consider all-weather Lebra Car Bras or Covercraft Car Bras. These covers are stitched from micro-perforated vinyl that allows trapped water to evaporate and escape from underneath the bra. All-Weather Car Bras are easier to maintain because they can usually dry without having to remove them from your vehicle.
More Popular Car Bras Vehicles: