Portable Generators
Fallen trees. Heavy winds. Short circuits. Plenty of phenomena can cause a power outage but no matter the cause one fact remains: You need a backup power source. With our Portable Generators, you can keep your gear running when you need it the most. Our Generators provide reliable electricity anywhere you need it, whether you're keeping the house lit during a blackout or need to power your tools or toys on the go. Portable Generators are built to be tough, compact, and easy to use. Best yet, they're affordable enough for contractors and campers alike.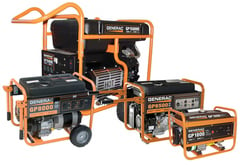 Generac GP Series Generators are designed for maximum power in a compact package. They're perfect for home use, as well as for traveling to camp sites, work sites, and outdoor events. GP Series Generac Generators feature tough hardened steel tube cradles and covered outlets for maximum durability.
From $1,132.54
Free Shipping
Quick View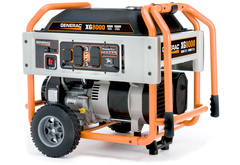 Whether providing electricity for an outdoor event or powering heavy tools at the job site, the Generac XG Series Portable Generator is up to the task. This premium generator is built super tough with a heavy-duty hardened steel cradle and impact resistant corners. Its illuminated control panel includes easy-to-access controls, a power bar, and an hour meter.
From $1,326.82
Free Shipping
Quick View