Raptor Nerf Bars & Running Boards
The folks at Raptor know how to coax steel tubing into bold and beautiful works of automotive art. Raptor nerf bars and running boards are no exception. Their polished finishes and custom step pads give your truck or SUV a stunning new look, and they make climbing into your vehicle very easy. Speaking of easy, at AAG it's a cinch to pick up the perfect set of custom truck steps for your vehicle.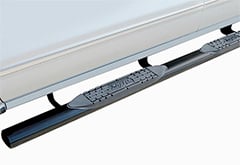 From $230.99
Free Shipping
Quick View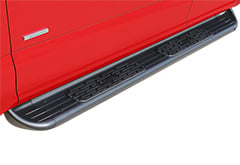 From $274.04
Free Shipping
Quick View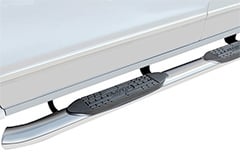 From $230.99
Free Shipping
Quick View
About Raptor Running Boards & Side Steps
You know what's what, and you love your truck or SUV. That's why you go with Raptor running boards, and that's why your ride is the slickest out there. There are many different choices available to you, but you chose these, and you chose well. You'll find a fantastic new look for your ride that, beyond just looking great, also offers you an easy step up into or out of your ride.
Even better, the help given by Raptor running boards is easy to come by. Due to its use of factory mounting positions, your new accessory locks into place with a minimum of fuss and a maximum of practicality. Simply put, they make your life easier, both by saving your knees and ankles wear & tear and by making your vehicl an object of affection. It will be impossible for heads not to turn when you ride by now, so get ready to be gawked at for looking so sweet.
AutoAccessoriesGarage.com makes it simple, easy, and even fun to shop for Raptor nerf bars. Check out our reviews and hi-resolution photos and learn the ins and outs of these steps before making your purchase. And if you need to know even more, our trained customer service personnel are ready to help. Go with AAG and make picking up a new set of Raptor truck steps a breeze.
Raptor Running Boards & Side Steps Reviews
Desiree
from Navarre, FL said:
Bought these for my husband for an early xmas present and he loves them! It took him about an hr and a half to install them they look great and seem very sturdy. Package came quick and was not damaged at all! Great site to order from everything we have gotten here has been right on! Only 2 down sides of why I couldn't rate this a 5 star. 1) Cant rate the quality of it without being used over all they seem very sturdy and solid so will need to come back in 6 months to a year to update the review of how they are holding up. 2) My husband said the only thing he didn't like was that the bolts under the bars and washers were silver and you can kind of see them when you walk up to the truck. This is something he can spray paint black but nothing horrible just thought everything would be black if ordering black bars. Overall though its a great looking product and seems very durable will recommend for the price and ease of installing. Read more Raptor Oval Magnum Step Bar customer reviews.
Greg W
from New Gloucester, ME wrote:
Good product, simple instructions, looked great when finished. I ran into problems with 3 threaded holes at rear install points; I would recommend warning or advising customers to check the quality of the threaded holes (in the rocker panel) before trying to install onto an older vehicle that never had Nerf bars. One of mine was so badly rusted that I broke a bolt off when installing, then an easy-out, and spent a couple of evenings digging out of that. The product itself is great, just a heads up so someone else can avoid this. Read more Raptor OE Style Nerf Bar customer reviews.
Larry M
from Dubuque, IA wrote:
The slots where you would bolt the nerf bars to the six cab mounts were to narrow. Out of the six cab mount brackets, three brackets had slots to narrow. I used a die grinder to widen the inner slot on the brackets that were to narrow. I needed to remove a good 1/16 of an inch or more so I could bolt the nerf bars to the cab mount brackets. The quality of the nerfs bars was good. It would have taken me under an hour if not for the slots being to narrow.
Maynard R
from Lake Forest, CA said:
I received the step boards in good condition and on time. They were very easy to install, fit well and look great. I like the look and would recommend them to anyone needing boards on their vehicle.
Jeffrey R
from Virginia Beach, VA said:
Really liked the wide variety of options offered on AutoAcessoriesGarage.com. These wide step bars were extremely easy to install - took less than a half hour. Truck looks great and mom is happy.
Fred B
from Sarnia, CA said:
Like the look and fit, and since they are stainless shouldn't rust. Couldn't understand mounting instructions until I realized one of the holes in the sill of the truck that they referred to was covered in tape and undercoating from the factory, once I uncovered it the installation was quite straight forward, no drilling, just a single wrench. One of the welded on nuts one one of the mounting plates was welded on a little crooked and wouldn't take a bolt until I clearanced the hole a bit with a drill, lucky I tried threading all the bolts through first before getting under the truck. Had to strongarm the brackets a bit to get them to line up with the mounting plates, but in the end I think the fit is good. Probably a 2nd set of hands would have helped hold it up while starting the bolts in, but I managed. Read more Raptor SSR Running Board customer reviews.
Popular Raptor Running Boards & Side Steps