Trucks are great for hauling tons of equipment and getting the job done. But keeping your gear secure in the bed is a constant concern, especially when you leave equipment in your truck bed overnight, or while you leave your truck unattended. The simple and stylish solution is a strong and stunning tonneau cover.
It occurred to us here at Auto Accessories Garage, that with so many styles, brands, and materials to choose from, the shopping experience could easily seem pretty overwhelming. And actually, between our product specialists, our site data, and the hundreds of tonneau cover reviews we've collected, it wouldn't be hard for us to come up with a pretty accurate list of the top rated truck bed covers in the industry.
The following list is nothing but our highest rated, top selling, most trusted truck bed covers from leading manufacturers. We present to you, the Top Ten Best Tonneau Covers of 2019.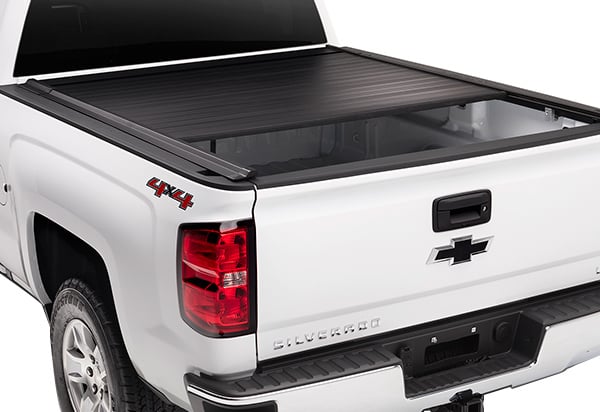 With the low-profile design that retractable covers are known for, the Trident FastTrack is really something quite extraordinary. The high-quality but low weight aluminum is lighter than many other retractable tonneaus, and it's actually stronger! Said to be one of the easiest retractable covers to install, you'll have this cover on in no time with absolutely no drilling required whatsoever!
Install wasn't too bad. Very well built. Came with everything needed. Does exactly what I needed. Even works with goose neck. Shipping was quick enough for large item by ground. Price was better than anywhere else.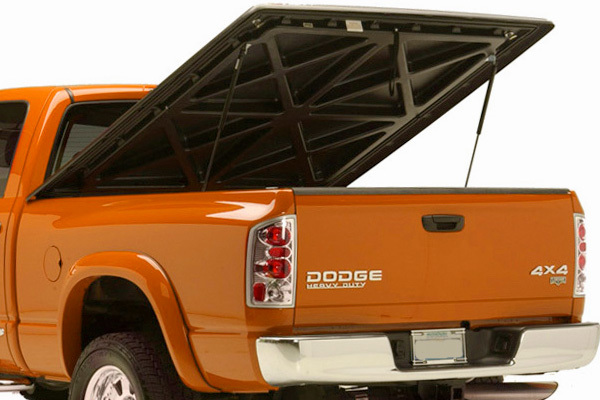 While old school fiberglass tonneau covers looked cool and reduced wind resistance, having next to no bed access is too serious of a problem for most truck owners to deal with. But for a smooth classic look that retains your bed access, a hinged cover could be the way to go. The lightweight construction of the Undercover Tonneau combined with quick release hardware and an integrated LED make it the hottest hinged cover of the year.
The Undercover Tonneau Cover quality is top of the line. The cover fit my 2014 Dodge Ram 1500 perfectly. It took me between 30 minutes to an hour to install. I could have installed quicker, but a friend was there distracting me. The black color looks great with the silver color of my Ram. Quick delivery. The delivery man called and met me at my house. He was extremely nice and helpful in moving the large package to the garage. A++++ company.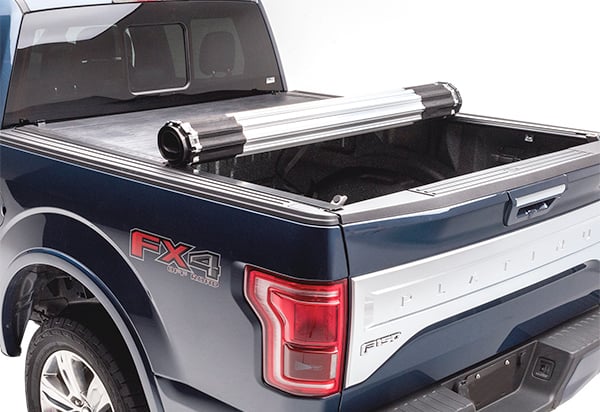 Virtually all rolling truck bed covers are vinyl, or some similar soft material. But not the BAK Revolver X2. This is a rolling over with some real tenacity. The industrial-strength aluminum construction makes this cover tough enough for the long haul, and light enough for simple, no-strain daily use. A totally flush "no-profile" fit keeps your truck looking great, and keeps your gear out of reach from prying fingers.
This is my 4th Bak product and my 3rd revolver. I had the backflip on my 2007 Titan which worked great. Then I had the first gen revolver that got replaced under warranty and the second one worked great! I bought a new 2017 Titan so I got a new cover and couldn't be happier! It's clean, keeps things dry and is secure since it is aluminum and fully locking.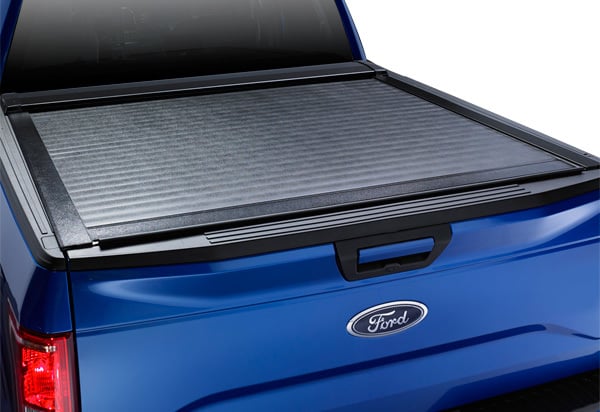 The Switchblade from Pace Edwards brings style and ruggedness to your truck bed without sacrificing a thing on either front. An ArmorTek deck is padded with polymer finishing making this a strong, stylish, and weather-tight truck bed cover. You'll have no need to worry about thunder or thieves with a Pace Edwards Switchblade covering your gear.
This is the second cover we have owned from Pace Edwards, only buying a new one because I bought a new truck. It is very durable and holds up in bad weather. We travel a lot and this keeps everything dry and secure. Installation was the only challenge because of the liner in the bed. The liner had to be cut in the front so the cover could be installed correctly. Sounds daunting but it's pretty easy.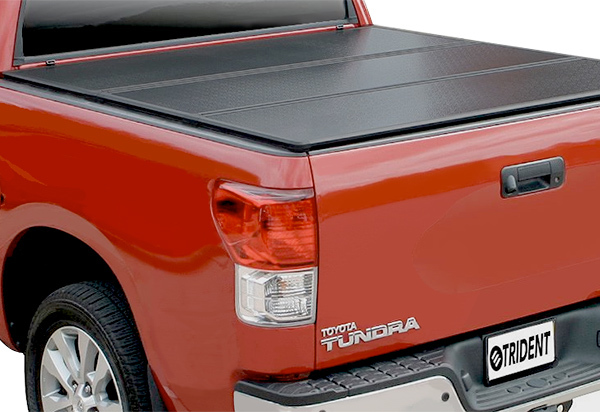 One of the most common styles of tonneau that truck owners look for, is a tri-fold hard cover. Ease of operation, protection from weather, and a resilient surface are all benefits to this style, and all of these qualities can be found in spades in the Trident ToughFold. But unlike some hard covers, the ToughFold is not only affordable, but it's tough-as-nails with a Lifetime Warranty.
Very well made. I like very much that it is easy to remove completely when needed. Seals out water very effectively on my 2017 Tacoma Off Road. The included brackets that fit the existing bed rails allow for the factory tie down cleats to remain in use, an important feature for me.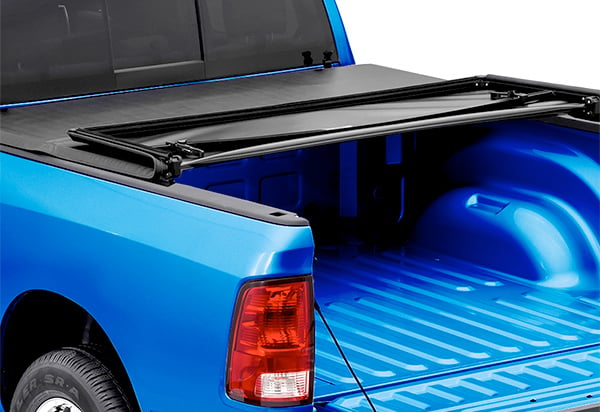 A soft-folding tonneau cover will always get people's attention, and for many the functionality just can't be beat. If you're going the soft-folding route, you should do it up right with a Trident FastFold Tonneau Cover. This sleek and stylish cover also boasts an ease-of-operation that will allow you to quickly open and close the cover with just one hand.
Arrived faster than I expected. My 12 year old son and I installed it in under 30 mins. Feels very sturdy & made of good quality vinyl. Price from auto accessories garage was much less than my local off-road store or anywhere else I looked.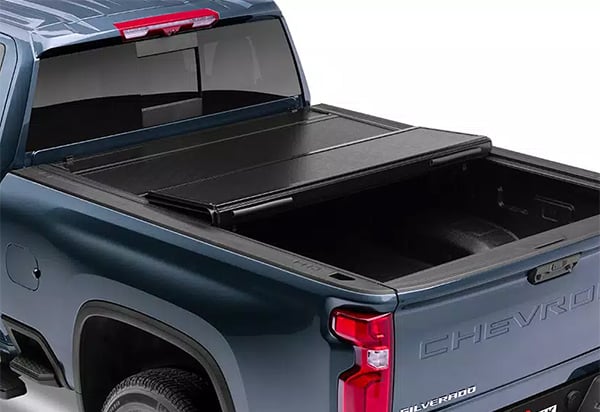 Simply one of the top truck bed covers on the market in this or any year, the BakFlip G2 includes its own rails that allow the cover to lay completely flush over your truck bed cover. The results are a sleek and slick appearance that will turn heads anywhere in the country. Plus, this cover is made and manufactured right here in the USA, and a simple installation process means you can put this on yourself in the comfort of your own driveway.
Great addition to my 1500 sport crew cab. Looks great, quality built, and was easy to install. Even my young daughter was able to assist with instructions and guidance. Great product!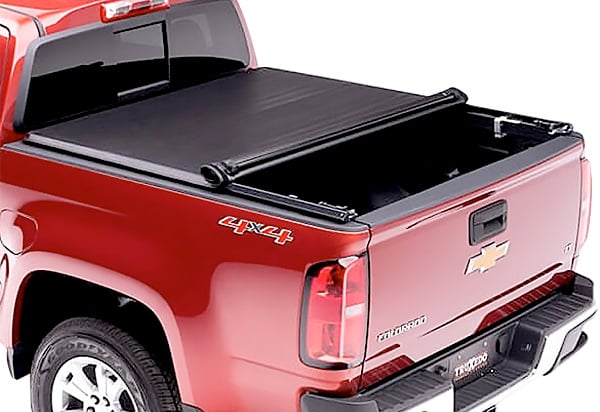 For quick, easy, and even partial access to your truck bed, a rolling cover has been a staple of the industry for many years. While many tonneaus of this style feature cumbersome and unreliable snaps, the Truxedo TruXport uses a high-grade velcro material. The result is a beautiful and easy-to-use cover that installs with no drilling, or cutting required.
Easy to install. Took about 10 minutes. Seems to be built to last with quality hardware and components. The nicest part is that it the truck looks so much nicer now. In my opinion Truxedo makes the nicest looking tonneau cover on the market.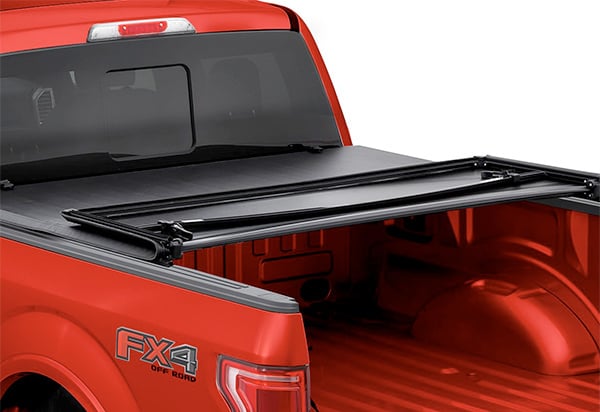 A soft tri-folding cover is an old standby in the tonneau world. The soft vinyl protection looks great, while the tough support frame underneath keeps everything in the right position. In the case of the TonnoPro Tri-Fold Soft Tonneau Cover, the sturdy epoxy coated Aluminum frame can take just about anything, and comes backed by a Lifetime Warranty. With a seriously simple clamp-on, clamp-off installation system, this cover is an old standby at its finest with a price tag other covers envy.
Received quickly. Installed easily. Was worried it would have severe flapping while driving but has very little. Several storms with heavy rain have hit us lately and the cover kept the bed dry. It appears to be well made and durable. Hope all stays the same.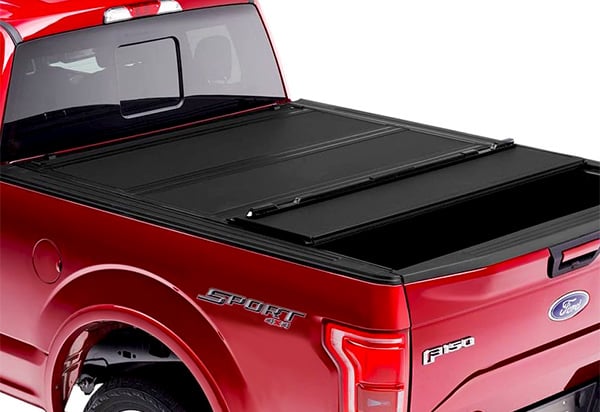 While three panels is by far the most common, the BakFlip MX4 features four panels and a boat-load of other cool features. This brings an unmistakable style to this truck bed cover, and allows the cover to quickly open completely for 100% bed access. Plus, thanks to a universal seal, you can close this set-up tailgate first, or tonneau first for versatile ease of use.
Overall this is a very good bed cover. I have owned the Fold-A-Cover and this is superior in every way. Simple to install folds back instead of accordion style and stays latched, something the Fold-a-Cover never did right. This cover also seals the front of the bed better. So if you are considering a bed cover I would highly suggest the BAK flip! I also would like to point out that Auto Accessories Garage has excellent customer service! They met all my needs and exceeded my expectations when I informed them of a small problem!
What's the Best Fit for Your Vehicle? Enter Your Info Below to Find Out!
Top 3 Best Folding Tonneau Covers
Top 3 Best Hard Tonneau Covers
Top 3 Best Soft Tonneau Covers
Top 3 Best Retractable Tonneau Covers
Top 3 Best Roll Up Tonneau Covers