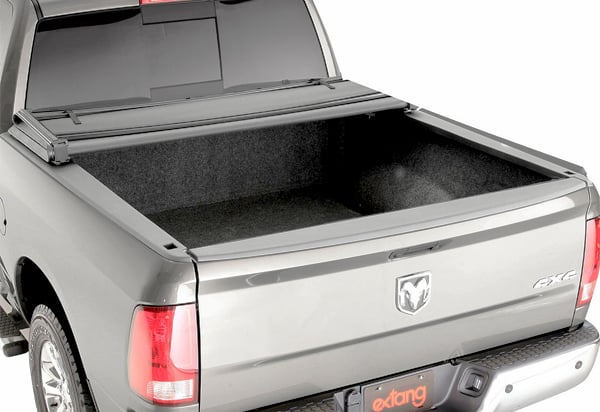 Tonneau covers dominate the aftermarket accessories game in ways no other truck product does. It doesn't matter what kind of truck bed cover you have on your vehicle, be it retractable or folding, hard-top or soft-top, made by BAK or Truxedo, Pace Edwards or Extang: the extra coverage provides protection for your cargo, improves your vehicle's gas mileage, and gives your truck's entire presentation a sleek look and style.
As tonneau covers have increased in prominence, they have become easier to install. The most popular tonneau covers on the market today will probably fit one of the following four installation methods: temporary clamping, semi-permanent clamping, retractable tonneau covers, or hinged lid tonneau covers. It's important when installing a tonneau cover, as it is with any aftermarket accessory, to closely follow your individual product's directions as laid out specifically in the included manufacturer's instructions.
Doing so, and checking out the following guidelines and tips, should ensure a perfect tonneau cover installation.
How to Install a Tonneau Cover
Temporary Clamping
Some tonneau covers attach via latches and clamps, with no tools required.
Helpful Tip:No matter what kind of tonneau cover you are installing, it is a good idea to ask a friend to help you install it. These things can be very heavy and cumbersome, and you do not want to risk doing damage to your tonneau cover before you ever install it.
Open the box and locate the manufacturer's instructions. There should be no additional parts or tools needed for installation. That said, it's never a bad idea to double-check. The tonneau cover itself should be folded up in one piece.
Delicately place your tonneau atop your truck bed bulkhead, as far towards your cab as possible without spanning any gaps between the bed and the cab itself.
When lined up and in position, pull down the latches underneath the farthest forward section of your cover on both sides and maneuver them so they clamp underneath your bed rail's lip. You may need to twist or pump these to ensure the proper tightness. You do not want any slack in the mechanism whatsoever when it's fully attached.
Unfold or unroll your cover all the way to the back of your truck. Open your tailgate, reach underneath your cover, and attach the rear section's latches in the same manner you attached the front.
Put your tailgate up, and test to make sure it easily closes, with nothing in its way and no overlap between the cover and your tailgate. If something hangs over, make the necessary adjustments. If everything is tight and sound, feel free to make hay while the sun is shining.
Below, you'll find an installation video for the Lund Black Pearl tonneau cover:
Semi-Permanent Clamping
Some tonneau covers attach via rails connected to clamps that must be bolted on.
Please Note:The phrase "semi-permanent" is a bit of a misnomer. If you attach the clamps included with your installation materials as laid out in your product's instructions, you will enjoy years of durable tonneau cover service. These tonneau covers can simply be unbolted when the time comes to remove or replace your tonneau cover.
Open your packaging and locate your cover's instructions. Ensure that all necessary materials and tools are accounted for before beginning. The installation process for this kind of tonneau cover is not super labor-instensive, but you will need a few tools and the requisite clamps and shims necessitated by your system.
Figure out whether or not you will need to pre-apply shims, little plastic or rubber pieces that rest against your clamps to facilitate perfect sizing. If so, connect your shims. If not, lay your cover's rails atop your truck bed rails and size up your connecting clamps. When everything is in place and your clamps are properly constructed (this may involve attaching backing pieces), fasten your bolts and connectors tight, so there is no give.
With your rails connected, position the cover atop the rails. It should drop perfectly into place. Shut your tailgate, unfold or unroll the cover, and make sure it fits, in particular that any locking clamps or snapping buttons are activated on contact or in the right position.
Open your cover once it fits the way it's supposed to, testing all mechanisms, levers, and handles. Put it all the way up to the front of the bed, and properly secure it as laid out in the instructions. Install any rubber bumpers, drain canisters and tubes, and all other cover components.
Test everything again. Make sure all components work as they should. When everything is set, get back to work.
Below, you will find an installation video for the BakFlip G2 Folding tonneau cover:
Retractable Tonneau Covers
These tonneau covers attach similarly to those above, except the cover is in a separate canister that must be fed into the rails.
Repeat Step #1 above.
Center your rolling cover's canister in the middle of your truck bed, as far forward as you can. You may need to seal off the gap between your cab and bed before inserting your canister. It is of the utmost importance you ensure that your canister is perfectly centered.
Lay down your cover's rails atop your bed rails and attach them to your canister. Make sure the sides of your retractable cover are in the proper position to facilitate a smooth slide when activated.
Slide your attaching clamps down the cover rail undersides until they are in the proper locking positions. Construct the clamps as laid out in your manufacturer's instructions. When in position, bolt each clamp together. Doing so will create the tension necessary to fasten your cover rails
Using the measurements laid out in your instructions, determine if the rail span is the proper size at both the front of the bed and the rear by the tailgate. If the measurements are not equal to those recommended by the manufacturer, place a shim behind the clamp to establish the proper distance. Once established, finish tightening your bolts. Tilt your rail up when tightening so that it goes straight out from your rail.
Install any pull straps, water canisters, tubes, and electrical implements.
Test everything, and make the necessary adjustments. If the system works and is firmly attached, then you're all set.
Below, you will find a video about the Pace Edwards Switchblade Metal Tonneau Cover:
Hinged Lid Tonneau Covers
A Hinged Lid cover is a solid slab tonneau that opens via shocks connected to its interior rails.
Please note:The installation of a heavy duty hard-top tonneau cover will necessitate multiple individuals or a forklift. These covers are very heavy, and the job is impossible for one person to safely complete without at least mechanical help.
Open your packaging and make sure all materials are accounted for and all the necessary tools are available.
With the help of a forklift or a few helpers, lift your heavy hard-top tonneau cover aloft. Prep the bed rail and the underside of the cover itself with alcohol. Locate the rail tape in your product's packaging, and apply it to the undersides of your cover that will directly contact your truck bed along the rail. Make sure all the tape is straight, and remove the white paper layer.
Very carefully lower your tonneau cover on top of your truck bed, flush with all sides and the front edge. Make sure your gate opens and closes without any problems, and ensure the fit is perfect.
Once your tonneau cover is on, crawl inside the newly created cargo area and attach the included C-clamps, one in each corner, as directed in your product's instructions, securing your cover's inner rail atop your truck's bed rail. Hand tightening will work at first, but you will also want to use a wrench or deep socket, whichever is most comfortable, to tighten the bolts all the way down.
Helpful Tip:It is not recommended that you ever drive with an open hard-top tonneau cover. It is intended to open only when accessing the bed while parked.
Prop open your cover (you can do this with your feet, or your friends can help). When open wide enough to facilitate the proper amount of gear movement, attach the bottom of your shocks to the applicable knobs hanging down from your cover rails.
Leaving your top open, go back and retighten all bolts, all nuts, and all gaskets. Add batteries where they are needed, and test your hard-top tonneau's locking mechanism. If everything is ready to go, then so are you.
Conclusion
There are many different kinds of tonneau covers, but each one brings a variety of practical uses to every truck owner. Installing one isn't necessarily easy, but with a little elbow grease and the proper tools, you shouldn't have any problems. If you have any further questions, please don't hesitate to contact our friendly Customer Service staff at 800-663-1570.