There's no question that process of shopping for a Tonneau Cover can seem like some sort of engima designed to break the will of lesser men and women. With so many choices in affordable Truck Bed Covers, choosing the right one for your truck is no easy task. Two of the most popular, lower-priced brands on the market today are Lund and Truxedo. Each brings plenty to the table, but which is the right choice for your truck? Read on, and see if we can't help you figure that out.
Lund Tonneau Covers
The one word that comes to mind when describing Lund Tonneau Covers is "value". For not a ton of money, you can hook your truck up with a reliable Lund Truck Bed Cover that will more than exceed the modest expectations associated with its price tag. The bells-and-whistles approach of the much more expensive tonneaus isn't attempted by Lund: they simply give you what you need for less. Tension-adjusters work in any weather conditions, and installation could not be easier across their entire product line.
You won't have to worry about your cargo's security when using a Lund Tonneau Cover. You'll also increase your truck's gas mileage and amp up its looks with sleek style. Practical functionality doesn't get more affordable than this.
Truxedo Tonneau Covers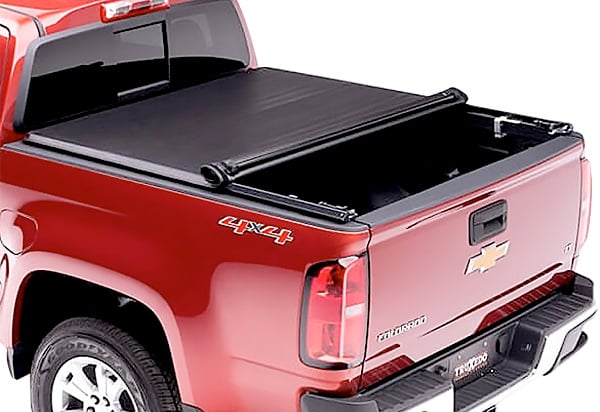 At a cost lower than that required to add a tuxedo to your closet, Truxedo Bed Covers deck out your rig with rugged style and durable cargo protection. Don't let that minimized price tag fool you: unlike the much more expensive covers on the market, Truxedo Truck Bed Covers won't require you to destroy your bank account for reliable functionality. Like Lund, they offer easy tension adjustment in any weather, and certain Truxedo tonneaus will even work with your truck's toolbox with no modification necessary.
Imagine how good the average person looks wearing a monkey suit, and there is an equivalent look for every truck decked out in a Truxedo Tonneau Cover. As far as affordability is concerned, this is one brand that is tough to beat.
Lund vs Truxedo: Which Is The Right Tonneau Cover For Your Truck?
The only person who can know exactly what Tonneau Cover your truck needs is you. Think about how you plan to use your truck, think about any additional accessories you currently or may one day have, and go over your budget with a fine-toothed comb. Once you know what you're working with, check out the options available to you and make a confident choice. If you need further help, please check out our Tonneau Cover Buying Guide. Good luck in your search and Happy Shopping!
| | | |
| --- | --- | --- |
|   | | |
| Covers Starting At | $215.98 | $302.40 |
| Cover Materials | Vinyl tarps, Aluminum frames | Vinyl tarps, Aluminum framess |
| Number of Models Available | 6 | 6 |
| Standard Tension Adjusters | Yes | Yes |
| Toolbox Models Available? | No | Yes |
| Drilling Required for Installation? | No | No |
| Designs Available? | Soft Top, Hinged Lid | Soft Top, Rolling, Folding |
| Warranty | Lifetime | 5-Year or Lifetime, depending on the cover |
| Shipping | FREE | FREE |
|   | | |