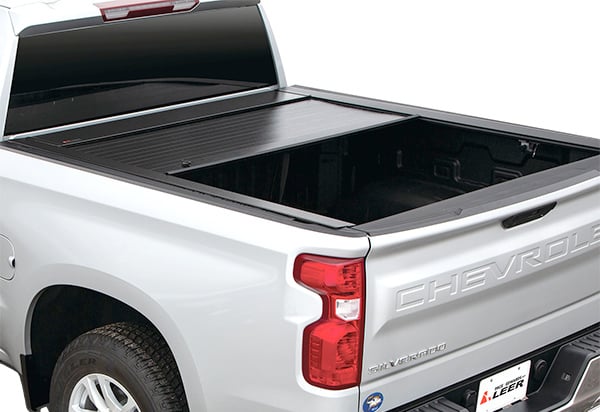 A Tonneau Cover is one of the most essential accessories you can add to your pickup. No matter how you use your rig, keeping your bed covered makes a world of a difference in how you use your truck. The benefits of a Tonneau Cover are many - your cargo is better protected from theft and weather damage, your truck gets a kick of extra style, and you even get to save some dollars at the pump. Let's take a look at the benefits of Tonneau Covers, check out the many styles they come in, and find the right Tonneau Cover for your needs.
What does a Tonneau Cover do for my truck?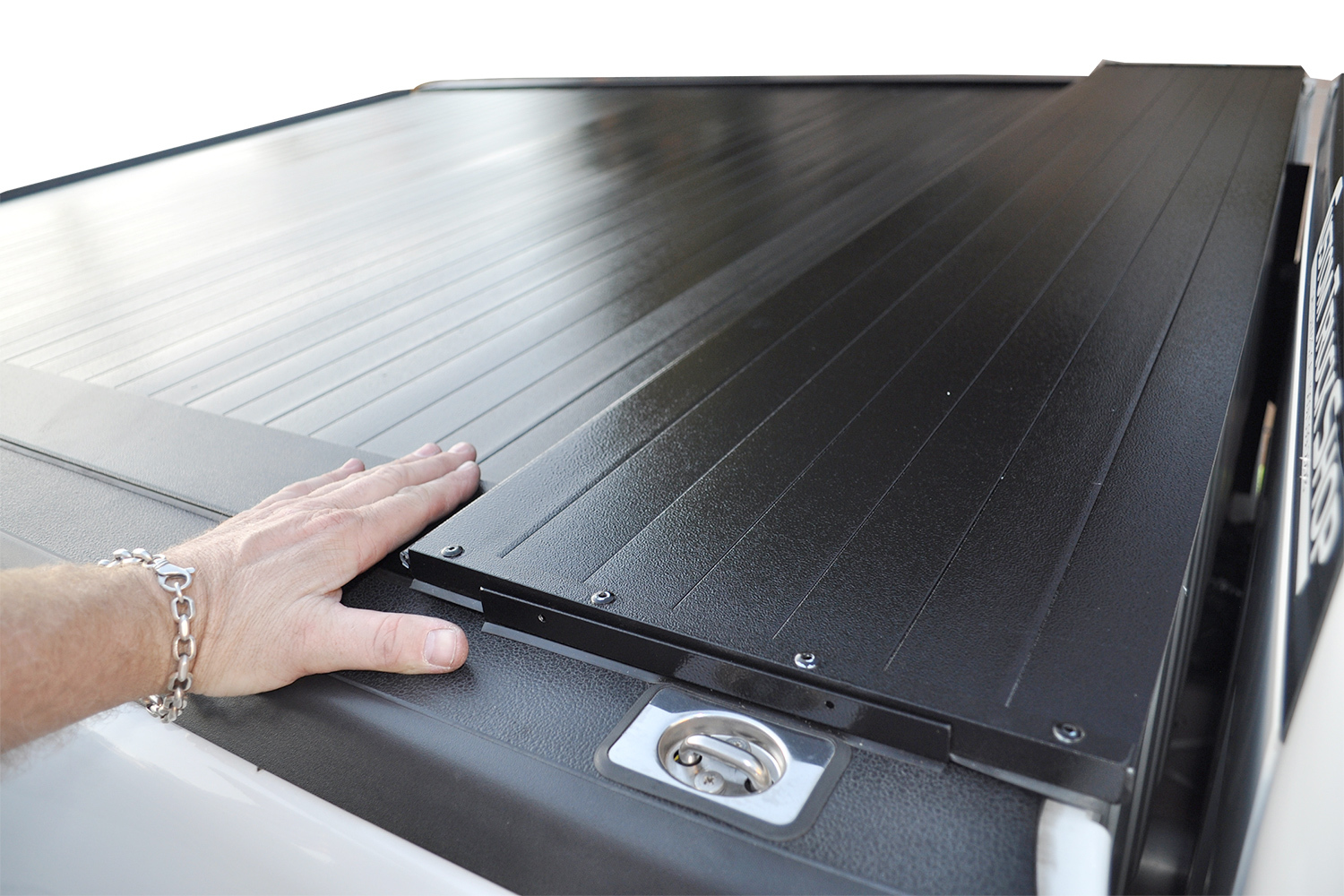 Weather Protection
Unless you live in some kind of tropical paradise, your truck has to occasionally face Mother Nature's worst tantrums. Torrential rain, heavy snow piles, and rocky hail all work together to wreak havoc on your truck - not to mention your power tools and other delicate cargo. Truck Bed Covers provide a reliable all-weather shield against the elements, so you don't have to unload your bed in a panic the second dark clouds roll in. The BakFlip G2 Tonneau Cover is a perfect example of weather-resistant design. It is treated to resist the harmful effects of UV rays so that it won't fade, warp, crack, rust or corrode.
Cargo Security
You carry a lot of valuable cargo in your pickup, whether you're hauling heavy-duty tools and materials to the construction site or returning home from a holiday shopping spree. Leaving that cargo out in the open is just asking for someone to come along and nab your stuff. A Tonneau Cover for your truck bed hides that expensive gear from prying eyes, and most of our Hard Top and Retractable Tonneau Covers lock up with your tailgate to turn your truck bed into a fully secure trunk. The Extang Solid Fold 2.0 features sturdy 1" thick polypropylene panels and a secure design, employing your truck's tailgate lock.
Helpful Tip: Do you have bed rails or caps already installed on your truck? Many of our Tonneau Covers accommodate a wide variety of truck bed accessories - no modifications necessary!
Fuel Economy
Pickup trucks are great for their payload and cargo space, but they're not known for their aerodynamic design. Your tailgate traps the air flowing over your truck, acting like a parachute and causing excessive wind drag. This means your engine's working harder than it should have to, and you're making more frequent trips to the gas station.
You can try removing your tailgate (difficult) or driving with your gate open (dangerous), but these methods have been proven to be only marginally effective. Add a tonneau Cover to your bed, however, and your truck's aerodynamics will greatly improve. Generally Tonneau Covers are known to provide a 5% improvement in fuel economy, though some drivers with a Hard Tonneau Cover are able to achieve a 10-11% boost in MPGs. The TruXedo Lo Pro is a great example of unique aerodynamic styling, eliminating wind drag to increase your truck's miles to the gallon. With the money you save at the pump, your tonneau cover will pay for itself!
Style
A Tonneau Cover adds that perfect finishing touch to your truck. No matter what type of cover you go for, a tonneau ties your rig's style together. Plus, many of our Hard Tonneau Covers can be painted to match your truck for hot customized looks. A truck tonneau is a great style accessory, whether you drive a rugged work truck or a tricked-out lowrider.
Tonneau Cover Styles
Tonneau Covers are made in a wide variety of designs to satisfy pickup truck drivers' differing needs, budgets, and style preferences. Here's an overview of the Tonneau Cover styles we offer.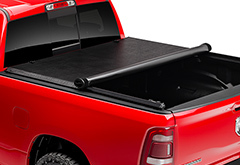 Soft Top Tonneau Covers
Soft Tonneau Covers are the classic design you've seen on countless trucks over the years. They typically feature a heavy-duty leather grain vinyl tarp that attaches to the bed with snaps, Velcro, or tongue-and-groove style weather stripping. Many Soft-Top Tonneaus come in a folding design with a hinged frame that opens in sections. Others open by rolling the tarp up against your cab. Roll-Up Tonneau Covers have the extra benefit of giving you full access to your truck bed when you need to haul larger cargo. TruXedo and Access Tonneau Covers are among the more popular brand roll-up tonneau cover manufacturers.
Hard Tonneau Covers
A Soft Tonneau will provide basic weather protection and keep your cargo out of sight, but nothing provides the total security of a Hard Tonneau Cover. These covers lock up with your tailgate, turning your truck bed into an impenetrable safe for your valuable gear. One-piece Hinged Tonneaus like Undercover Tonneau Covers act like a super-durable lid for your truck bed. Most one-piece Hard Tonneau Covers can also be custom painted to match your truck, adding seamless style to your rig.
Folding Tonneau Covers
Whereas hard tonneaus can be big, bulky units, Folding Truck Bed Covers feature 3 to 5 panels that fold together, so you can have an easier time getting it opened and closed. Many of them open up enough to allow space for a 5th wheel hitch, while models like the BakFlip F1 Tonneau Cover fold all the way up against your cab for full bed access without having to remove the cover. Because of the hard-paneled design of many of these covers, you get the tough protection of a hard tonneau without the weight of a single piece.
Folding tonneaus don't only come with hard panels, however. If you're looking for the convenient flip-to-open design of a folding cover but want the classic looks of a vinyl tarp, check out the TonnoPro Tri-Fold. This cover utilizes three panel frames with a slick black vinyl tarp stretched over them for soft tonneau looks. It's also a very affordable design, which makes it the perfect choice for pickup owners on a budget.
Retractable Tonneau Covers
Retractable Tonneau Covers feature a series of narrow planks that slide open and closed like a garage door. They provide tough protection for your cargo, with excellent water sealing and high strength to hold up under heavy snow piles. A Retractable Tonneau Cover also provides an ultra-low-profile look thanks to its flush, in-rail design. The rolled-up cover is stored in a canister behind your cab.

Retractable Tonneaus come in both manual and electronic designs. Most manual models feature auto-latching positions on the rails that let you lock the cover partially open. Electronic Retractable tonneau Covers like those by Pace-Edwards Tonneau Covers use a motorized canister to roll the cover up automatically, and they can be stopped anywhere along the rails. Some even include a remote control for total freedom - You can open your tonneau from a distance just like you unlock your truck.
Toolbox Tonneau Covers
You can keep your truck bed covered without having to sacrifice your crossover truck toolbox. Toolbox Tonneau Covers are specifically built shorter than your bed to accommodate for your over-the-rail truck tool box. With a Tool Box Tonneau Cover you get to enjoy the protection and security of a tonneau with the handy access of a tool box. Some covers, like the Truck Covers USA Tonneau Cover, even incorporate a toolbox into the cover itself.
Compare Some of our Top Selling Tonneaus
 
Price
from $279.00
from $286.00
from $677.63
from $369.99
from $1,681.00
Shipping
Free Shipping
Free Shipping
Free Shipping
Free Shipping
Free Shipping
Special Offers

Free Gift

Same Day Shipping

 
 
 

Rating

Overall:
Performance:
Quality:
Appearance:

Install Time
Under 30 minutes
Under 30 minutes
30-60 minutes
Under 30 minutes
30-60 minutes
Fit
Vehicle-Specific Fit
Vehicle-Specific Fit
Vehicle-Specific Fit
Vehicle-Specific Fit
Vehicle-Specific Fit
Tension Control System
 
Manual Dial Adjustment
 
 
 
Frame Material
Epoxy Coated Aluminum
Aluminum
Aluminum
Aluminum
Aluminum
Lock Type
Non-Locking
Non-Locking
Non-Locking
Non-Locking
Locking
Material
Soft Vinyl
Soft Vinyl
Aluminum w/EPS Core
Soft Vinyl
Aluminum
Opening Style
Folding
Roll Up
Folding
Folding
Retractable
Sealing Design
 
Velcro
Latch
Clamp
Locking Rails
Warranty
Lifetime Warranty On Hardware, 10-Year Warranty On The Vinyl Cover
5-Year Warranty
1-Year Warranty
Lifetime Warranty
Limited Lifetime Warranty
 
More Details
More Details
More Details
More Details
More Details
How to care for your Tonneau Cover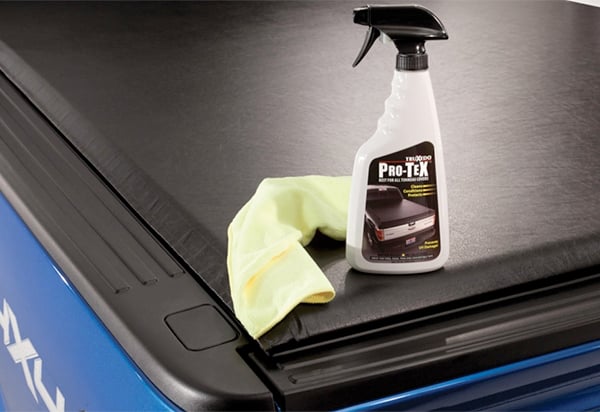 Your Tonneau Cover can provide you with reliable service for the life of your truck, as long as you perform some basic maintenance every so often. When you purchase your Tonneau Cover, be sure to pay close attention to the manufacturer's instructions for cleaning and care.
Caring for Soft-Top Tonneau Covers
Soft Top Tonneau tarps are made from vinyl. They're well maintained with a vinyl-specific cleaner like the TruXedo Pro-Tex Soft Tonneau Protectant Spray. This spray also conditions your tarp and provides extra protection against dirt and sun damage. Be careful when selecting a cleaner. The same vinyl protection products you use on your dashboard and tires are not recommended for your tonneau cover. Check your manufacturer's instructions before using any products on your tarp.
You can also clean your tonneau cover with a mild car washing solution and a brush, or simply take your truck through an automatic car wash. If you go the automatic route, make sure the car wash doesn't apply spray wax to your tonneau - wax can harm your cover's fabric and compromise the looks and lifespan of your tonneau.
Caring for Hard Top and Folding Tonneau Covers
Generally speaking, you can wash your Hard-Top Tonneau Cover the same way you wash the rest of your truck. Read up on the manufacturer's instructions before washing your tonneau for the first time, as various surfaces and materials may react differently to cleaning agents.
Folding models such as Bak Tonneau Covers tend to have more moving parts than roll-up soft top covers, so you may have to perform occasional maintenance on hinges, locks, and closures. Make sure any oils or lubricants you use are safe for your cover's hinges and latches.
How To Measure Your Truck Bed
Before you order a Tonneau Cover for your truck, make sure you know the exact dimensions and style of your bed. Tonneau Covers are built to exacting sizes to ensure a perfect fit and maximum weather protection, so it's essential that you know how to measure truck bed length and order the correct tonneau for your exact truck bed style.

Truck beds come in four main styles. Each has their own unique dimensions, so it's important that you know your truck style to order the cover that fits your vehicle.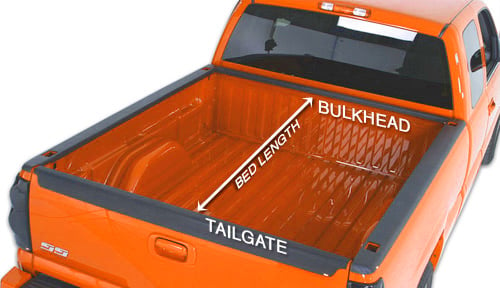 You also need to know how to measure your pickup truck bed. Truck bed lengths are determined by the distance from the inside of the bulkhead to the inside of the tailgate. Note that most advertised bed lengths are rounded off to the nearest half-foot, so your measurements may be a few inches different than the commonly advertised length.
What's the right Tonneau Cover for your truck?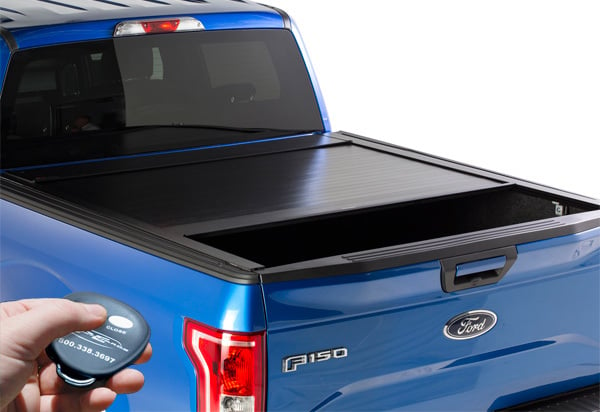 With all the options out there, how are you supposed to know which is the right Tonneau Cover for you? Here are a few things to consider when finding the right tonneau Cover for your needs:
Cargo
What kind of cargo do you usually haul in your truck bed? If you're moving valuable items like power tools or electronics, you should consider a hard-top or retracting tonneau like the Pace Edwards Bedlocker.
Do you occasionally haul big and tall items like motorcycles and appliances? You might want to go instead for a roll-up tonneau cover that gives you full access to the truck bed. The Access Rollup Tonneau Cover quickly and easily rolls all the way up to your cab, so you can use the whole bed any time you need it.
Helpful Tip: When browsing our site, be sure to read our Tonneau Cover reviews, written by customers just like you!
Weather
Your local climate is something to consider when choosing a tonneau cover. Do you get hit with heavy snowfall every winter? If so, you need a strong cover that won't buckle under heavy snow piles. A hard top like the Undercover Tonneau Cover will hold up under heavy snow and provide tough weather protection. If your winters are a little more mild, a soft tonneau by Lund will suffice. The Lund Seal and Peel tonneau Cover features tough bows under the tarp to hold the cover up and prevent snow and water build-up.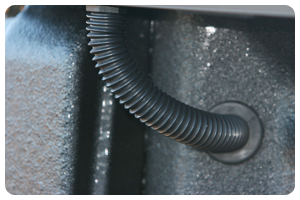 Sealing your pickup bed from water is also a concern if you live and drive in wet climates. No tonneau cover is 100% waterproof, but many have design features that help block moisture. The BakFlip and Truck Covers USA Tonneau Cover feature strategically placed drains and channels that direct rainwater out and away from your bed, keeping your cargo dry. Many Soft Top Tonneau Covers also utilize tough weather stripping around the perimeter to keep water out.
Budget
No matter what you're looking for in a tonneau cover, it has to fit within your budget. Luckily we offer a wide range of options for both economy-minded pickup drivers and those looking to fully trick out their truck.
Soft Top Tonneaus usually fall on the lower end of the price scale, costing about $200-$500. The TonnoPro Tonneau Cover is one of our most budget-friendly options, providing reliable coverage and a custom fit while remaining affordable enough for just about any driver.
If it's high quality, reliable protection, and impenetrable security you're after, our more advanced Hard-Top and Retractable Tonneau Covers are the ideal choice. These covers cost in the range of $650-$1,700 and are among the most popular tonneau covers you can put on your truck.
In Conclusion
We hope this Tonneau Covers Research Guide has given you some insight about truck bed covers and will help you choose the right cover for your truck. If you have any other questions about Tonneau Covers, feel free to call our Cusomer Service Department at 800-663-1570 to speak with a knowledgeable representative. Happy trucking!