You've made the decision to spend a decent chunk of change on a nice Tonneau Cover. Now the real fun begins. Or frustration, depending on your outlook. Deciding to shop the upper tier of Truck Bed Covers doesn't necessarily make your life easier. Companies like Retrax and Truck Covers USA make fantastic products for those with a little money to spend. But which one is the right option for your truck?
Retrax Tonneau Covers
As with many of the higher-priced options, the people behind Retrax Tonneau Covers decided to focus their line on a small number of models in the interest of making those well. You can find a retractable aluminum Retrax Truck Bed Cover, a polycarbonate thermoplastic model, and an electric Retrax Bed Cover. A wealth of practical benefits come along with every cover, including UV-protection, multiple locking positions along the bed rail, and an innovative canister and rail system for smooth on-and-off.
It's not just about the price tag with a Retrax cover. As with most things, you get what you pay for, and what you're paying for is innovative design, durable construction, and practical features that make your life easier. 
Truck Covers USA Tonneau Covers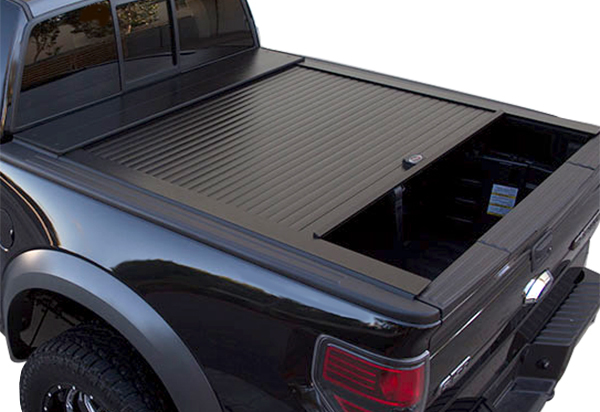 Whereas Retrax only makes three different covers, Truck Covers USA only makes two! When you buy a Truck Covers USA Tonneau Cover, you'll choose between a heavy-duty rolling tonneau cover and a heavy-duty rolling tonneau equipped with a toolbox. Double-paneled aluminum and an innovative drainage system require minor drilling to install, but once hooked up you'll understand why the effort is worth it. Few other companies boast the impressive strength and durability as do Truck Covers USA Bed Covers, and that's a fact!
These run to the highest end of the pricing spectrum, but Truck Covers USA Truck Bed Covers are serious products for serious owners. They do anything you can ask of them and then some.
Retrax vs. Truck Covers USA: Which Is The Right Tonneau For Your Truck?
The only "correct" answer to this question is: whatever Truck Bed Cover is right for your truck. Only you can know what that means, so figure out your decision-making criteria based on factors like cost, features, and needs. Once you're able to compare Retrax and Truck Covers USA with these in mind, the decision should be that much easier. If you need further help, please consult the following chart, as well as our Tonneau Covers FAQ page. Good luck with your search, and Happy Shopping!
| | | |
| --- | --- | --- |
|   | | |
| Covers Starting At | $1.124.00 | $1,495.06 |
| Available Models | Retrax Pro, Retrax One, Powertrax One (electric) | American Roll, American Work (toolbox) |
| One-hand operation? | Yes | Yes |
| Cover Materials | Aluminum or Polycarbonate Thermoplastic | Heavy-duty, double-paneled Aluminum |
| External Locking | Yes | No, locks with tailgate |
| Installation | Via rail clamps - NO DRILLING | Requires minor drilling |
| Warranty | Lifetime for Retrax Pro, 1-Year otherwise | 2-Year |
| Shipping | FREE | FREE |
|   | | |