Adding a Tonneau Cover to your pickup truck is the most optimal way to protect your cargo from theft and bad weather. Plus, it adds extra style to your truck and improves your cargo hauling versatility. Before you choose the right Tonneau Cover for your needs, check out these common questions.
Frequently Asked Questions about Tonneau Covers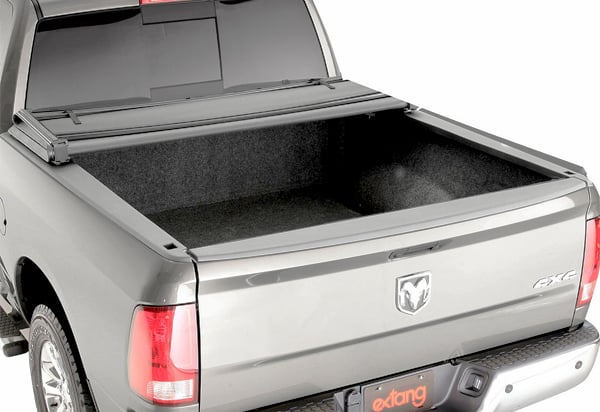 Answers to Frequently Asked Questions
How should I clean my Tonneau Cover?

Keeping your Tonneau Cover clean is a fairly simple process, and it will extend its service life. How to clean your Tonneau Cover depends on what type you have. If you own a Hard-Top Tonneau Cover, simply wash it the same way you would wash your car. If you have a Soft Top Tonneau or a Folding Tonneau Cover with a vinyl tarp, a brush and mild car wash soap will do, and you can finish the job with with a tonneau-specific formula like the TruXedo Tonneau Protectant Spray. Automatic car washes with wax treatments are generally not recommended, as the wax can damage the vinyl.
Each Tonneau Cover is made from different materials, so be sure to consult the manufacturer's instructions before cleaning your cover.
Can I use my Tonneau Cover with a bed liner?
In most cases you can use a Tonneau Cover with your bed liner. You may have to do some slight cutting or modifying of over-the-rail bed liners to ensure a perfect fit, and under-the-rail liners may require the use of small shims. Check your tonneau cover and bed liner's instructions to ensure you can make the necessary modifications.
How much cargo security will my Tonneau Cover provide?
Every type of Tonneau Cover will provide some extra security for your gear. By simply hiding the items in your bed you immediately lower the chance of someone walking by and grabbing something. If you need more protection, however, a Hard-Top or Retracting Tonneau is recommended. These covers lock up with your tailgate to transform your bed into a fully secure trunk. Many covers like the Roll-N-Lock M-Series Tonneau Cover have their own locking mechanism, giving you security even if you don't have a locking tailgate.
Will a Tonneau Cover protect my cargo from rain and snow?
Every Tonneau Cover will provide at least basic weather protection. Soft-Top Tonneaus feature a design that channels water away from the bed, and many have a tailgate seal strip to prevent water from seeping in. If serious water protection is what you need, consider a Hard Top Tonneau Cover such as the BakFlip G2. Many hard tonneaus have extra weather sealing or an over-the-rail design that keeps water out of the bed.
Can I use accessories like bike racks and crossbars with my cover?

Depending what type of truck and tonneau you have, you may be able to utilize certain cargo racks and accessories while keeping the bed covered. Racks that are specifically designed for use with certain Tonneau Covers (including the BAK BakTrack Rail System) will likely be easy to install, while other aftermarket accessories like spoilers require cutting or drilling into your tonneau. Beware that doing any drilling, cutting, or other modifications to your Tonneau Cover will void its warranty and be potentially dangerous.
How do I know if a Tonneau Cover will fit my truck?
Every Tonneau Cover we carry mounts with hardware that's custom-designed to your make, model, and year truck. Trucks often come with a variety of bed lengths, however, so you will need to measure your bed before you order a cover to ensure that it will fit.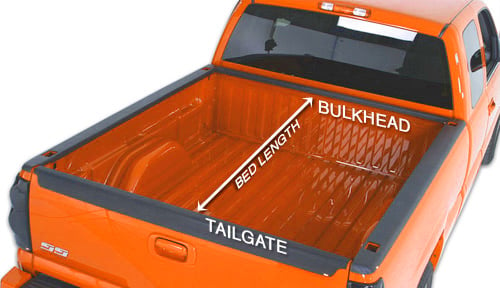 First, determine what style of truck you have. Depending on your make and model, your truck may come in a Side Step, Regular Cab, Extended Cab, or 4-Door Crew Cab. Next, measure the bed from the inside of the tailgate to the bulkhead.
Once you have your truck's bed style and length, our vehicle selector makes it easy to choose the Tonneau Cover that's designed and built to your truck's exact dimensions.
How long does it take to install a Tonneau Cover?
Tonneau Covers are typically very straightforward to install. Most utilize some kind of clamp system that's custom-designed to your exact truck for a precise fit with minimal hassles. The following video shows off how you can install the TruXedo TruXport Tonneau Cover in under 20 minutes:
What are tension control adjusters for?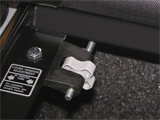 Soft Tonneau Covers have vinyl tarps that drive water off of your truck bed to keep your cargo dry. The tarp also enhances your aerodynamics for sleek looks, a smoother ride, and minimal air drag. These benefits only occur when the tarp is fully taut, so you need a way to keep it tight as temperatures change.
Most Soft Top Tonneaus feature a tension control system that lets you set proper tension for your tarp. These adjusters slightly alter the distance between your tonneau's front and back rails, which affects the tightness of the tarp across your truck bed. With this handy adjustment system you can keep your tonneau looking and performing great in any season.
What is a Tunnel Cover?
The term Tunnel Cover is a misnomer. That term has gained traction in recent years, either due to people incorrectly hearing the term or being ultimately unsure of what a Tonneau Cover actually does. We're not sure where "Tunnel Cover" came from (and frankly we don't even know where "Tonneau Cover" came from!) but rest assured, the term is Tonneau Cover, and we sell the highest quality ones in the business.
Conclusion
We hope these Tonneau Covers FAQs have helped answer some questions you have about truck bed covers. If you have any more issues or would like to suggest questions for this guide, please contact our Customer Service staff at 800-663-1570.