When you purchase a Tonneau Cover, you're making an important investment. You're not just plunking down a big chunk of change for a single product - you're also trusting your precious, valuable cargo every time you store it in your bed. Therefore, it's important that you make the most informed shopping decision you can. Let's take a look at two high-quality, folding hard tonneau covers, the BakFlip and the UnderCover Flex, to help you find the right tonneau cover for your truck and your cargo protecting needs. Although BakFlip offers several models to choose from, their BakFlip HD is the closest price-point to the UnderCover Flex, so we'll be using that model for our comparison.
 
Price
from $821.00
from $829.88
Shipping
Free Shipping
Free Shipping

Rating

Overall:
Performance:
Quality:
Appearance:

Install Time
30-60 minutes
30-60 minutes
Fit
Vehicle-Specific Fit
Vehicle-Specific Fit
Frame Material
 Aluminum
Aluminum
Lock Type
Non-Locking
Non-Locking
Material
Fiberglass-Reinforced Polymer
Aluminum
Opening Style
Folding
Folding
Sealing Design
Latch
Latch
Warranty
3-Year Warranty
2-Year Warranty
 
More Details
More Details
BakFlip Tonneau Covers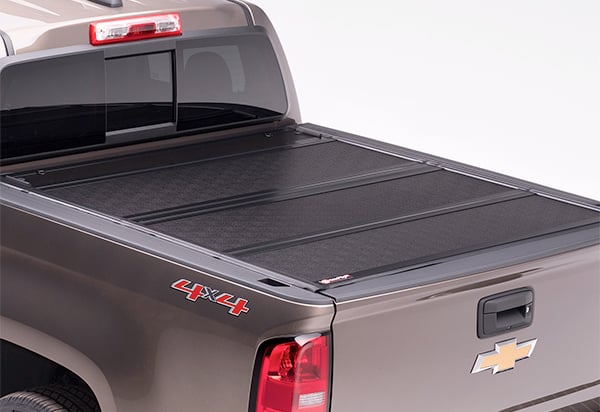 BAK Industries truly blew the tonneau cover game wide open with the release of the BakFlip Tonneau Cover. By combining the security and weather protection of a Hard-Top Tonneau Cover with the convenience and bed access of a Folding Bed Cover, the folks at BAK proved that you really could have your cake and eat it too.
BakFlip Tonneau Covers all have virtually the same rugged design features, from injection-molded latch housings and hardware to integrated drain channels that send rainwater away from the bed. Its modular latching and locking system stops thieves from getting to your stuff, and when you need to use your whole bed the BakFlip folds all the way open and stows behind your rear window. Plus, every model is custom-designed to your exact truck bed, for a precise fit and a quick installation.
Choose from three different models, each with slightly different materials and finishes: The classic BakFlip G2 features aluminum panels, while the BakFlip HD Tonneau Cover utilizes aircraft-grade aluminum frames and a modified core material to make it both lighter and stronger. The new BakFlip FiberMax is built with fiberglass-reinforced polymer on top and aluminum on the underside for the most optimal weight/strength stats, and its high-density EPS core stays cool to the touch. Every model installs in just minutes and is backed with up a 1 or 2-Year Warranty.
Check out the following video for more information on BakFlip Tonneau Covers:
UnderCover Flex Tonneau Covers
Since its introduction several years ago, the BakFlip's revolutionary design has influenced a new generation of hard folding truck bed covers. Among them is the UnderCover Flex Tonneau Cover. The Flex is similarly designed with a series of folding panels that open up to provide full bed access. Its fiberglass-reinforced polymer (FRP) panels provide awesome strength and impact resistance while being much lighter than aluminum panels.
One key feature of Under Cover Flex Tonneau Covers is their easy installation. A simple clamp design eliminates the need for drilling, and the cover doesn't interfere with stake pockets or rails. Weather protection is another strength - rubber seals, drain tubes, and solid hinges ensure that your gear will stay dry and safe, in any weather.
 
Undercover or BAK - What Is The Right Folding Tonneau?
Deciding on the right hard folding tonneau cover for your needs can be a tough call. There are many brands out there like BAK and Undercover that do a great job with the hard-folding design. So what's the right tonneau cover for your truck? Be sure to compare models side-by-side and determine which one has the most optimal set of features for your desires, from weight to weather protection. Your budget is also something to consider, so make sure when making price comparisons you're comparing the exact part numbers that fit your year, make, and model. And if you have any other concerns, our experts are ready to chat at 800-663-1570. Happy shopping!