A hinged-lid, hard top Tonneau Cover brings a level of impenetrable protection to your truck bed that can't be faked. When a criminal sees your thick slab cover, they'll move onto the next one without messing with it. The ultimate in strong defense, the heavy-duty nature of these Truck Bed Covers brings a peace of mind that should never be underestimated, while their hinged aspect makes them surprisingly convenient. A couple great companies that make these kinds of tonneaus are Ranch and Undercover. But which one is the choice for your truck?
Ranch Tonneau Covers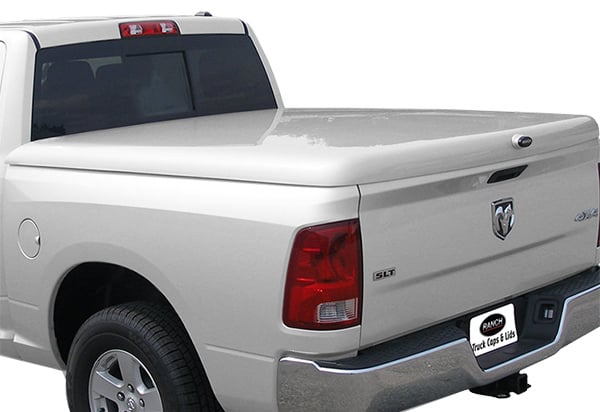 The full name of this company is "Ranch Fiberglass", so you can guess where their talents lie! When it comes to thick, durable Fiberglass lids for your truck bed, these guys are the experts in the field. Ranch Tonneau Covers outfit your truck with durable protection from both thieves and the weather. Better still, a Ranch Truck Bed Cover can be color-matched to your rig for a painted look that seems like it came from the factory itself.
Convenient as can be thanks to a no-drill installation and hydraulic arms that easily raise your tonneau when necessary, few brands blend strength and functionality as well as this one. Though they cost a pretty penny, when you see a Ranch Tonneau Cover on your truck, you'll know exactly where that money goes.
Undercover Tonneau Covers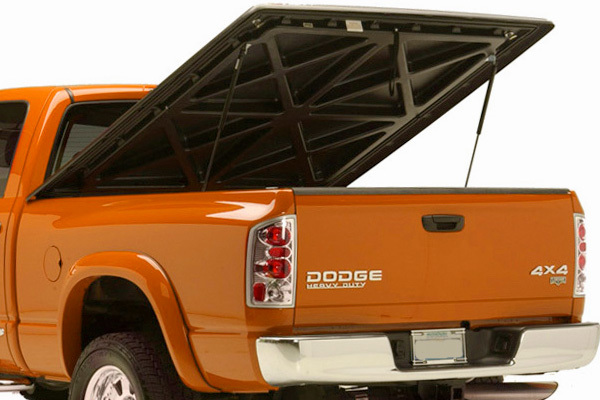 Long a fixture on the tonneau scene, Undercover Truck Bed Covers provide customers with durable ABS plastic protection against vandals, criminals, and Mother Nature. These thick corrugated slabs are virtually impenetrable, but they easily rise thanks to smooth-gliding hydraulic arms. Perhaps the best feature of Undercover Tonneau Covers is that every cover comes standard with its own LED lighting system so you can see inside your truck bed even when the cover is closed.
Just because something is durable and heavy-duty, that doesn't mean it has to be bulky and awkward. The standard features of an Undercover Truck Bed Cover bring a world of ease and convenience to your working life. You can't go wrong with these rugged hinged lid bed covers.
Ranch vs. Undercover: Which Is The Right Tonneau Cover For Your Truck?
Each of these brands of Hard Tonneau Covers offers plenty of heavy-duty ruggedness for customers. The choice boils down to you and your needs: your budget, the kind of work you do, and the kind of cargo you usually haul. You know your truck better than we do, and so you know what you need. For further help clarifying tonneau issues, check out our Tonneau Cover Buying Guide and Tonneau Covers FAQs pages. Best of luck with your pending Truck Bed Cover purchase, and have a wonderful day!
| | | |
| --- | --- | --- |
|   | | |
| Covers Starting At | $953.60 | $756.00 |
| Cover Materials | Hinged-lid Fiberglass slabs | Hinged-lid ABS corrugated plastic slabs |
| Number of Models Available | 2 | 2 |
| Available Accessories | LED wing, keyless entry w/ light, charcoal headliner | Any and all accessories included with tonneau purchase |
| Toolbox Models Available? | No | No |
| Drilling Required for Installation? | No | No |
| Color-match Paint | Yes | No |
| Warranty | Lifetime Warranty (covers not returnable due to color-match painting; only defective parts) | 3-Year Warranty |
| Shipping | FREE | FREE |
|   | | |