BAK Tonneau Covers are among the most popular Tonneau Covers on the market today. Trustworthy and well-built, they come in several different materials and styles. BAK gives customers so much to choose from, in fact, that it may be tough to figure out which cover might work for your truck. But before we start comparing models, check out the following video and discover the universal benefits of all Bakflip Tonneau Covers:
The four most popular bed covers made by BAK are the F1, the G2, the HD, and the Fibermax. Each of these Bakflip Tonneau Covers folds up for total bed access or folds down for partial-to-complete truck bed coverage. But which is the right choice for your particular truck? Read on as we do a side-by-side BakFlip comparison and you just might find the answer you're looking for.
BakFlip Models Comparison Chart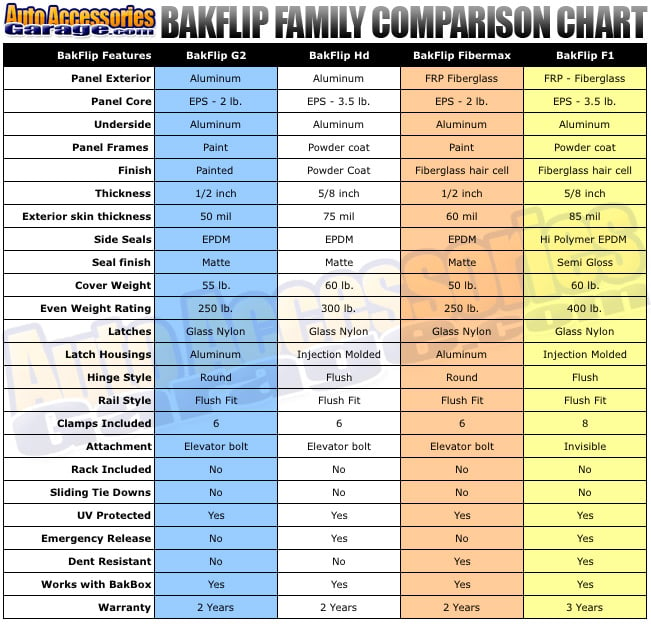 BakFlip F1 Tonneau Cover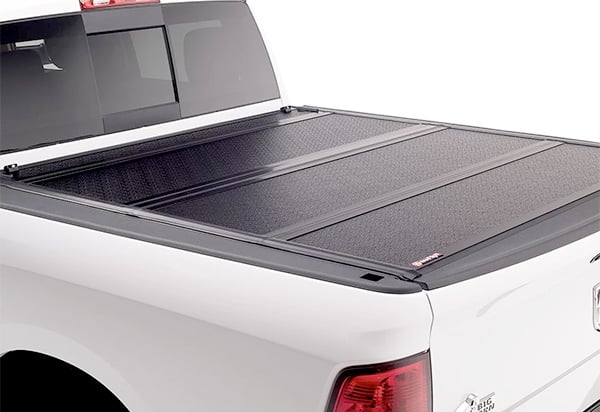 The BakFlip F1 Truck Bed Cover is billed as BAK's "most refined folding tonneau cover ever." The BakFlip F1 features as much technological advancement and stylistic flair as BAK is capable of producing. Easy-to-use while also innovative beyond most competitors, everything you could possibly be looking for out of a tonneau cover is available here. This includes a "no-profile" aerodynamic fit, a sophisticated latching/locking system, and an easy installation with no drilling required via invisible bolts. Your cover will look as though it came with the truck thanks to a precise, near-factory fit.
The F1's construction is a thing to behold, as well, its top Fiberglass Reinforced Polymer layer supported by an aluminum underside that maintains structural integrity. The benefits go on and on when discussing a BakFlip F1 Tonneau Cover. Though more expensive than its compatriot tonneaus, this is one bed cover that is absolutely everything you could ask out of a Folding Truck Bed Cover.
BakFlip G2 Tonneau Cover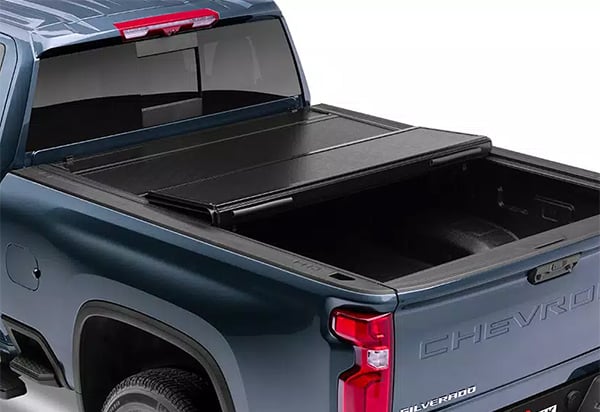 The BakFlip G2 Truck Bed Cover is a more affordable option than the F1. While not sporting all the bells and whistles of its more expensive brother, the G2 is a fine piece of engineering and style in its own right. Made of durable aluminum, the top layer of the BakFlip G2 mimics the textured surface of many different areas on your truck for a seamless stylistic match. EPDM rubber seals protect each individual cover panel from leaking during a heavy rain, and a low-profile installation improves your truck's aerodynamics in the name of better gas mileage.
The most affordable of BAK's tonneau cover offerings, the BakFlip G2 Tonneau Cover is the perfect cover for a truck owner who needs the most optimal attributes of a truck bed cover at a discounted price. The more innovative of BAK's features won't be working in your favor, but an all-around and versatile tonneau cover will be. As far as starter or budget Folding Truck Bed Covers go, there is no better option on the market today.
BakFlip HD Tonneau Cover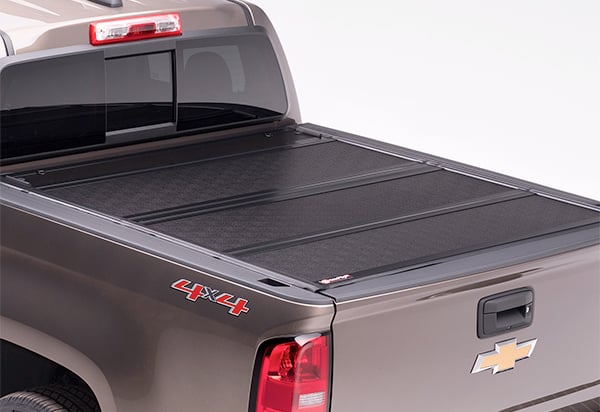 "HD" stands for "Heavy Duty", and that's the kind of protection you can count on with the BakFlip HD Truck Bed Cover. Lightweight and strong, the all-aluminum BakFlip HD is a more rugged alternative to the less-expensive G2. Finished with Powdercoat to resist corrosion and sporting panels 5/8" thick, this bed cover was designed to stand up to heavy use in the harshest conditions and most unyielding climates. Further augmenting this capability is the HD's UV-resistant outer shell and Flush Fit hinges, which afford it the same "no-profile" look as the F1.
With many of the F1's technological advances and strong enough to handle just about anything, the BakFlip HD Tonneau Cover is the perfect choice for working men and women for whom the changing of the season's does not affect work flow. This is one Folding Truck Bed Cover that earns its name. If heavy-duty is what you need, then the BakFlip HD is what you want.
BakFlip FiberMax Tonneau Cover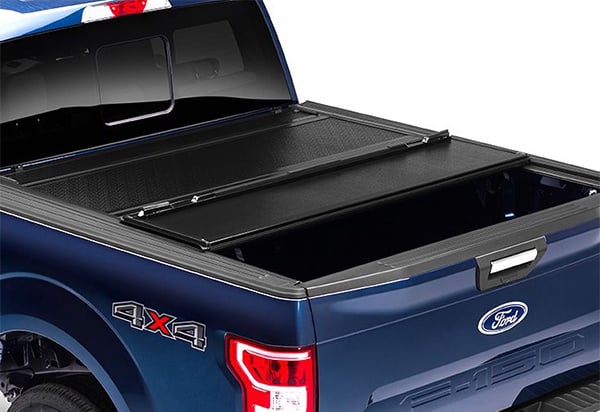 This bed cover would be the theoretical result if the F1 and the G2 had a baby. Made with many of the same features of the F1 but without the hefty price tag, the BakFlip FiberMax Truck Bed Cover is the more affordable option for those customers who want a Fiberglass Reinforced Polymer cover. Lightweight and durable, the FRP cover top of the BakFlip FiberMax Tonneau Cover protects against dents and scuffing while the aluminum base layer provides sturdy structural support. The weather is kept out via rubber bumpers, and an innovative hitch-and-latch system provides fantastic security and protection for your cargo from the elements.
Not everyone can afford the F1, and many people also do not want an all-aluminum Folding Truck Bed Cover. The BakFlip FiberMax slides firmly into position for these customers. While not BAK's top-of-the-line tonneau, this is a worthy option that mimics most of the F1's design and functional innovations in a lighter, more practical package.
Compare Key Features:
 
Price
from $719.88
from $829.88
from $819.88
from $698.00
from $929.88
Shipping
Free Shipping
Free Shipping
Free Shipping
Free Shipping
Free Shipping

Rating

Overall:
Performance:
Quality:
Appearance:

Install Time
30-60 minutes
30-60 minutes
30-60 minutes
30-60 minutes
30-60 minutes
Fit
Vehicle-Specific Fit
Vehicle-Specific Fit
Vehicle-Specific Fit
Vehicle-Specific Fit
Vehicle-Specific Fit
Frame Material
Aluminum
Aluminum
Fiberglass
Aluminum
Aluminum
Lock Type
Non-Locking
Non-Locking
Non-Locking
Non-Locking
Non-Locking
Material
Aluminum w/EPS Core
Aluminum
Fiberglass-Reinforced Polymer
Vinyl-Covered Aluminum
Fiberglass-Reinforced Polymer Top, Aluminum Underside
Opening Style
Folding
Folding
Folding
Folding
Folding
Sealing Design
Latch
Latch
Latch
Latch
Latch
Warranty
1-Year Warranty
2-Year Warranty
2-Year Warranty
1-Year Warranty
3-Year Warranty
 
More Details
More Details
More Details
More Details
More Details
Which Is The Right BakFlip Tonneau Cover For My Needs?
BAK Industries affords plenty of options to truck owners with their BakFlip line of Folding Tonneau Covers. Too much choice, however, can be paralysing for customers. When choosing among the various BakFlip Tonneau Covers, it's important to figure out what qualities are most important to you. We hope this was helpful. Good luck in your search for the perfect BakFlip for your needs. Happy Shopping!