Top 10 Best Ford F150 Tonneau Covers
Outfit your rugged, reliable truck with unparalleled convenience. Mounting a bed cover to your F150 protects your gear from inclement weather while also guarding against theft. Your cargo will remain safe, and your truck will look good. Tonneau covers also increase gas mileage, saving you money at the pump. As far as truck accessories are concerned, a tonneau cover is about the best way you can go.
Can't make up your mind? Let us help you out! We put our years of industry experience, customer reviews, and expert opinions to use and ranked our Most Popular Tonneau Covers.
Tonneau covers may be pricey, but they provide pickup drivers like you with a great deal of value. A Ford F-150 tonneau cover rewards investment by actively saving you money on gas. Similarly, they potentially prevent raised insurance premiums and a need to buy new gear resulting from theft. These bed covers fit Ford's most popular model pickup truck exactly, and pay for themselves in the long run.
Carting your gear in a pickup truck is handy and convenient, but it can also put your cargo at risk. Rainfall and dust storms can ruin your tools and electronics, while burglars can up and steal them when the time is right. The good news is, a bed cover for your f150 provides a reliable shield of protection against the elements, and our folding, and hard top models even turn your truck bed into a locking safe so thieves can't get in.

Luckily for you, AutoAccessoriesGarage.com has a wide selection of F150 tonneau covers to choose from. Whether you want retracting, folding, or roll-up styles; we have what you need at the price you're looking for. Best yet; every F150 tonneau cover ships to your door for free! When you shop with AAG, you're also getting the best price around. To prove it, we offer an industry leading 1-Year Price Match Guarantee. That means if you find a tonneau cover, or any accessory for your truck cheaper elsewhere, we'll beat that price by $1. Also, if you find it cheaper after your purchase, we'll protect that price for up to a year after purchase. Thousands of real customer reviews, hundreds of covers to choose from, and an Industry-leading customer service; see why AAG is the best choice for you and your F150.
How to Install a Tonneau Cover on a Ford F150
The style, brand name, and model of your new truck bed cover will inform the way it should be installed on your Ford F150. But while you shop for the perfect tonneau, we'd like to tell you about the most commons styles of truck bed covers to install on an F150, and how to install them.
Clamping
Clamping covers usually require no tools whatsoever. All of the necessary attaching fixtures are built right in and usually can be operated by hand.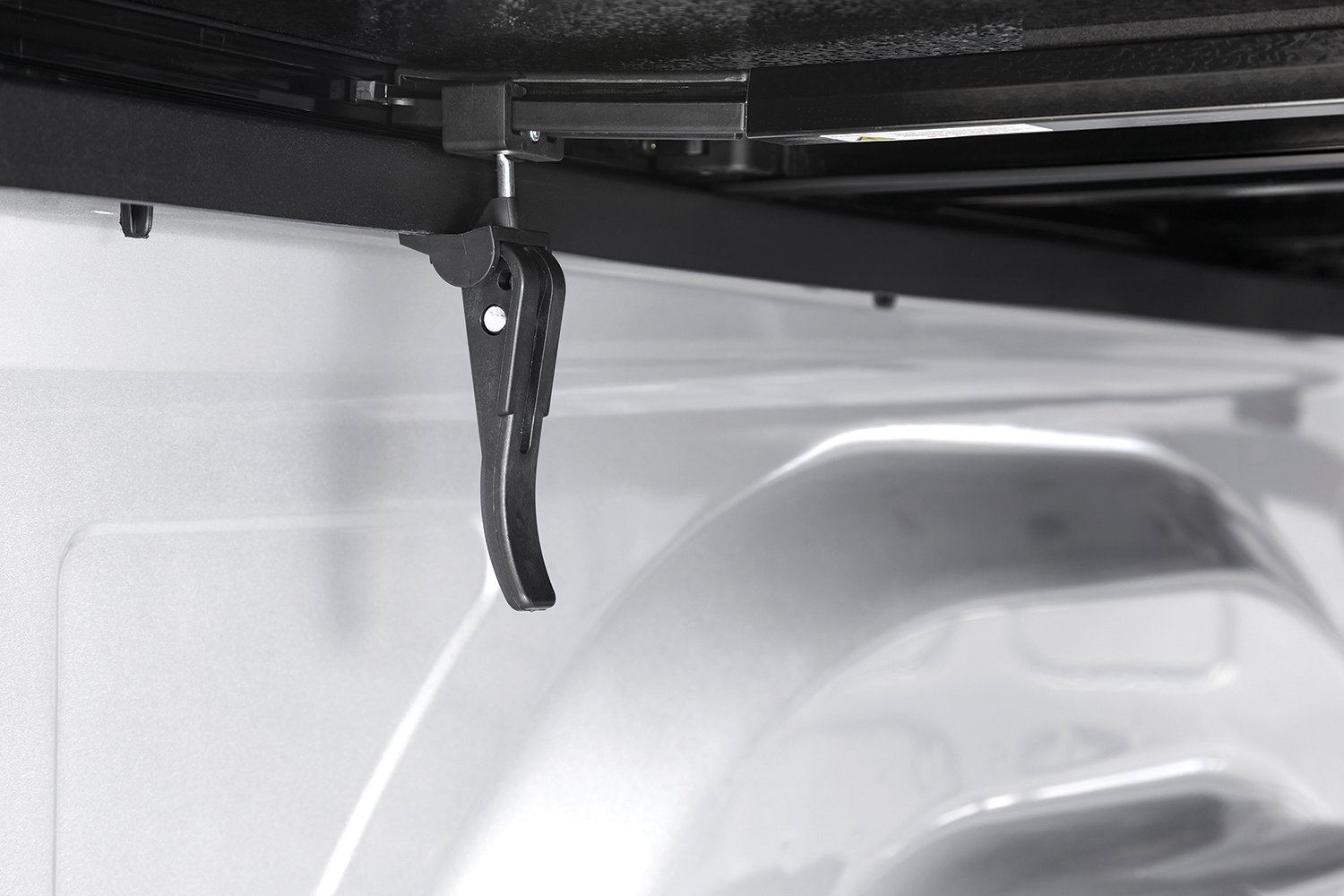 Always start by locating the manufacturer's instructions. They should let you know if you'll need any additional tools, though tools generally aren't necessary for installation a temporarily clamping cover on a Ford truck.
Place the tonneau on top of your F150's bulkhead, as close to your cab as possible. It will probably be rolled or folded in the box, and it's best to keep it that way as you put it in place.
After ensuring the cover is straight, you should be able to pull down each clamp, and tighten it against your Ford F150's bed rails.
Now, unroll or unfold the cover across the length of your F150's bed. At the end of your cover, near your tailgate you should now be able to tighten the rear latches in the same way you tightened the front clamps.
Close your tailgate to ensure that nothing is in the way, and you're done!
Retractable
Retractable truck bed covers are a great compliment to your Ford F150.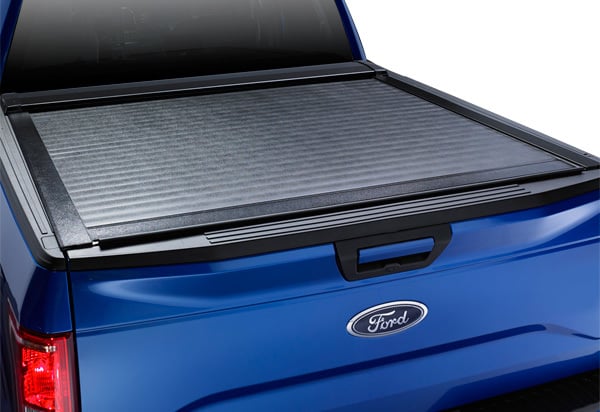 All tonneau covers vary, so first you'll need to locate the instructions and gather the necessary tools.
Every retractable truck bed cover has a canister that you'll want to place in the middle of your Ford F150's truck bed. The canister being centered is the most important part of this installation.
Retractable covers tend to include their own rails, so you'll want to lay those down on top of your F150's rails and attach them to the cannister. It's essential that every component is in the right position.
Construct and place each clamp as outline in your retractable tonneau cover's specific instructions.
Construct and place each clamp as outline in your retractable tonneau cover's specific instructions.
Now's your chance to install any included pull straps, drain tubes, or electrical components.
Once you've tested that everything is operating correctly, you're set!
Hinged Lid
A hinged lid truck bed cover is a solid, one-piece slab that opens with the aid of shocks.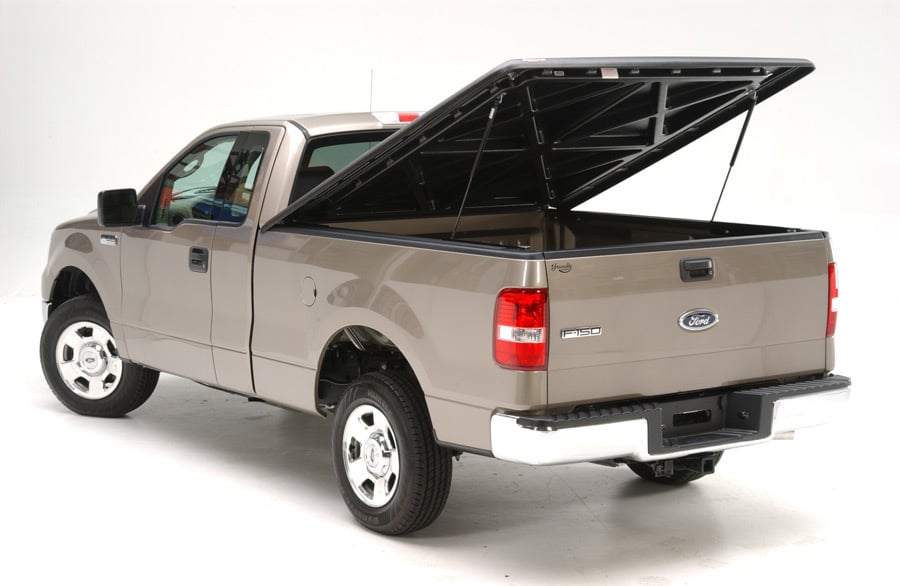 As always, open the box and take a look at the manufacturer instructions so you can determine if you have all the tools you'll need.
You'll probably need some helpers to help you lift it onto your Ford F150's bed. It's also smart to wipe down your tonneau and your ford with alcohol on the parts where tape will connect.
Ensure with the cover in place, that your gate still opens and closes.
Crawl under your tonneau and attach the included c-clamps as directed in the instructions.
Prop open your cover, you can do this by laying on your back and pressing up with your feet but it's easier to have some helpers with you. With the cover up, you'll be able to attach the bottom of the shocks to the appropriate knobs in your cover rails.
Now you can tighten all of the nuts, bolts, and gaskets and do your final inspection!
More Popular F-150 Accessories: Ford F150 Trailer Hitches, Ford F150 Headache Racks, Ford F150 Tow Bars, Ford F150 5th Wheel & Gooseneck Hitches & Ford F150 Retractable Tonneau Covers.
F-150 Tonneau Cover Reviews
Robert K
from Columbia, PA said:
This seems like a very good cover. It installed in mere minutes, and it is quite easy. I had seen this liner at an accessories store, but bought it online. I only give it 4 stars for overall and performance for two reasons. When driving down the road, it flaps in the wind like a drum. I had a TonnoFold on my previous truck, and it didn't do that. The other thing I don't like is that the clips at the rear don't lock down as described in the instructions. The one I saw at the store, and the instructions also show an orange clip to keep them locked. They are not on these clips. They are designed to keep the rear clips from protruding through the cover when you are folding it up.
Richard A
from Chesterfield, MO said:
Purchased March 2018 for a 2017 F150 supercrew with 6.7 foot bed and Ford drop in bed liner. Easily installed. Major complaint: cover leaks water excessively. Bed always fills with water during rain. Have reinstalled twice, carefully following instructions. Appreciate that the cover is not sold as waterproof but hey... my brother has an MX4 on a 2016. His cover is wider, better covers the side caps and leaks not at all in rain. Lesser complaint: rubber bumpers on underside came loose, reattached with gorilla glue. Appearance is great, function disappointing... Read more BakFlip MX4 Tonneau Cover customer reviews.
Tom O
from Arlington, VA wrote:
After considering many different (and cheaper) options, the REtrax Pro is definitely worth the extra money. With the on-line installation video instruction it was easy to install and the fit and finish of the product is top notch. I would absolutely recommend this product. Read more Retrax Pro MX Tonneau Cover customer reviews.
AL S
from Leesport, PA says:
Worked as advertised! Completely happy with the product. Installed on a 2014 F-150.
Stubert
from Corning, NY says:
Nice cover for the price. Looks just as I expected. Arrived quickly and installed in less than 10 minutes. The only NEGATIVE thing about this cover is the gap at the front corners of the bed, which makes it not seal well and allows a lot of wind to enter. AutoAccessoriesGarage.com does offer a modification for this by moving the support rail back toward the rear of the box. If you are looking for a nice cover this is it, if you want to do the modification, if not, this may not be the one. I enjoy it, it looks sharp and fits my intended use.
We offer Ford F150 Tonneau Covers for the following years & trims:
F150 FX2 Tonneau Covers
F150 FX4 Tonneau Covers
F150 Harley-Davidson Tonneau Covers
F150 King Ranch Tonneau Covers
F150 Lariat Tonneau Covers
F150 Platinum Tonneau Covers
F150 STX Tonneau Covers
F150 SVT Raptor Tonneau Covers
F150 XL Tonneau Covers
F150 XLT Tonneau Covers
F150 Lariat Limited Tonneau Covers
F150 Regular Cab Tonneau Covers
F150 SuperCab Tonneau Covers
F150 SuperCrew Tonneau Covers