If you're shopping for a new air filter then you are in for a treat. Not only is this one of the easiest modifications to make in the comfort of your own driveway or garage, but you'll also see a boost in horsepower, torque, and fuel economy immediately. Unlike the flimsy paper filter your car, truck, or SUV came with – performance filters are made from higher grade materials, work better, and last longer.
So which aftermarket air filter is right for your vehicle? With so many to choose from it can be hard to determine. At Auto Accessories Garage, not only have we researched all the top selling air filters, we seen them, touched them, and put them to use. With that in mind, we figured it might be good for us to help you in your search by ranking some of the best of the best. Presenting the 2018 edition of the Top 10 Best Engine Air Filters for Cars, Trucks, & SUVs.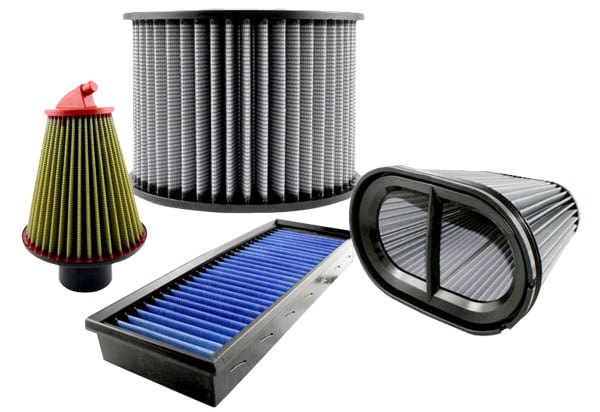 Can you get performance boosts across the board with a simple low-maintenance swap out? It sounds too good to be true but you really can with the aFe Pro Dry S Air Filter. This cleanable, reusable filter boosts horsepower, torque, and fuel economy by upgrading its surface area to allow a great air flow volume to enter your engine.
I bought two filters, one for each car. Both cars are running better and getting improved gas mileage.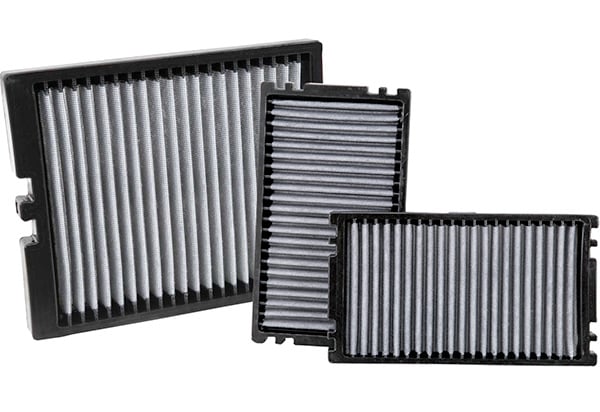 If it's not horsepower gains you want, but a cleaner, less allergy ridden interior, then the Cabin Air Filter from K&N is perfect for cleaning out mold, pollen, and dust before you ever have a chance to breathe them in. This filter is washable and reusable and it's even backed by a 10-Year/10,000 Mile Warranty.
It's a perfect fit for a 2014 Sierra 1500. Much higher quality than the cheapo stock filter. Supposedly K&N has a cleaning/smell good spray that you clean it with. I'll find out in a year.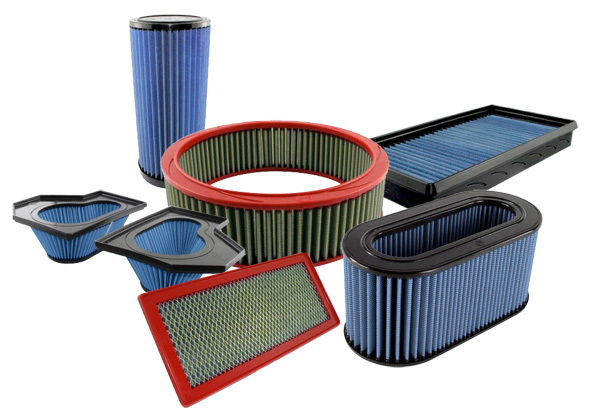 The trick with the aFe Air Filter can be found in the cotton gauze filter that scrubs dirt and debris out of incoming airflow. Purer oxygen in your engine means a better performance, pure and simple. Washable and reusable, this filter comes pre-oiled from the factory so it's totally ready to go as soon as you open the box.
This filter is high quality. Just drop it down in and watch your throttle response improve greatly. I didn't notice much change in MPG. For me this replaced my OEM filter which was garbage.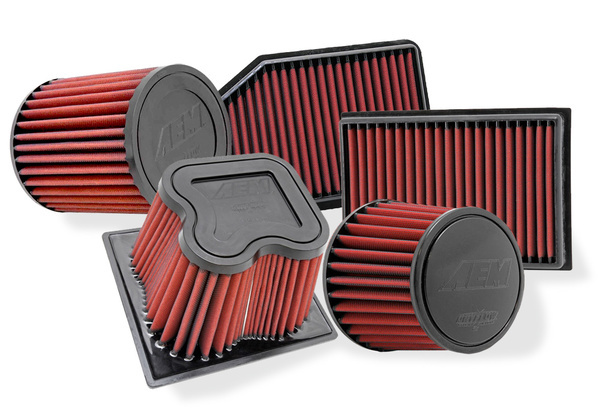 The value of a dry filter like the AEM Dryflow Air Filter is that you never need to bother with oiling it. That means easier maintenance, and no risk of over-oiling. A little bit of synthetic filter cleaner and water will keep this filter clean and in good standing for up to 100,000 miles. Plus it comes backed by a Lifetime Warranty.
Excellent craftsmanship. The quality of AEM products are always present in everything they make. Installation was as easy as replacing any factory air filter and I immediately felt the engine more responsive. I even get slightly better gas mileage. This is a win win!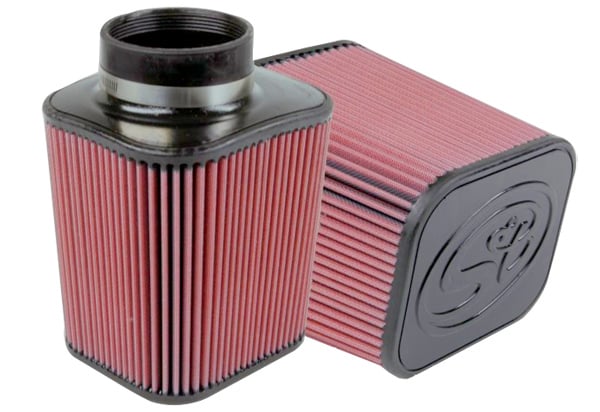 Thanks to an 8-layer filter, the S&B Intake Kit Replacement Filter is designed to maximize airflow for better protection. Made from 100% Cotton gauze, this filter is tested to the ISO 5011 Standard and comes backed by a Million-Mile Warranty. S&B developed this filter in their climate controlled test lab and the results speak for themselves.
Just can't beat it! I already see improved gas mileage and HP. Plus now when I go to get my oil changed the guys can't try to tell me I need a new air filter. I don't think they even look.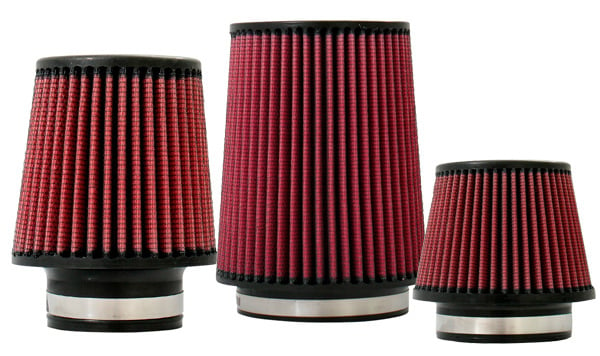 Dyno-tested for maximum performance, the Injen Universal Air Intake eschews restrictive paper filters for a cotton gauze design. The installation is quick and easy – one of the easiest things you can do yourself at home really. Plus this filter is completely washable and reusable. Injen backs this with a Lifetime Warranty.
I ordered the Injen replacement air filter from auto accessories garage, and not only did it ship very quickly, I didn't know which size I needed and the customer service operator was very friendly and told me exactly which filter was right for my car. Now the air filter has been replaced and my car is breathing clear again! I will definitely use auto accessories garage again!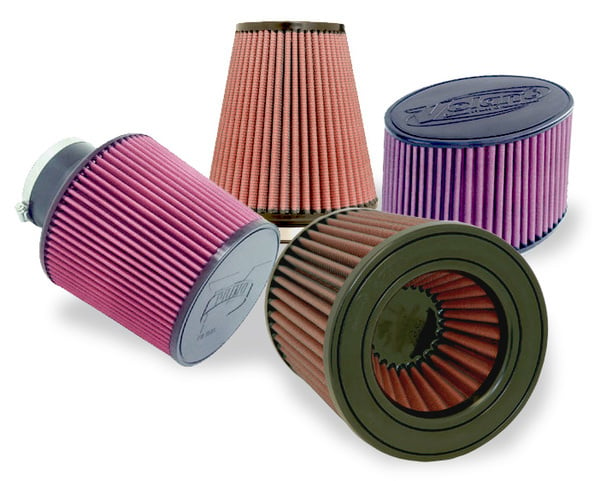 The word 'volant' means 'able to fly' and you'll really be flying once you get the Volant Primo ProGuard 7 Filter under your hood. Increasing horsepower and MPG, this filter also is designed to reduce heat conductivity and bring cooler air to your cylinders. Cooler air means a bigger bang and you'll feel it in your handling and performance.
Big fan of the Primo ProGuard. I have one in my Mustang already, I'm just buying a second one so I don't have to wait to let the first one dry after I wash it hahaha.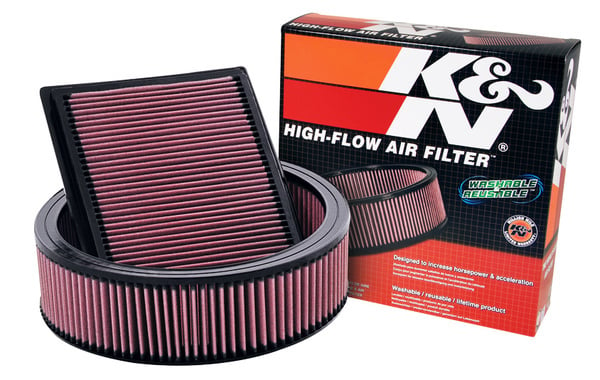 If you know much about getting cars race-ready and in performance condition, you know the name K&N. That's because K&N make a seriously mean Air Filter that comes custom made for the unrestrict airflow for your specific make and model of vehicle. But even as race-oriented as this filter is, it's still street legal in all 50 states.
I run K&N filters on all my cars,truck, and bike! I get a extra 100hp (just kidding) But I haven't worn one out yet. Performance, longevity, What more could you ask for?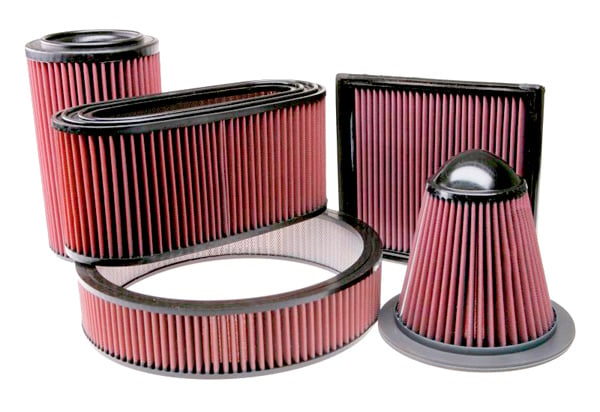 Exceptional filtration and improved airflow are two of the most important aspects of your air filter, and the S&B Performance Replacement Air Filter delivers on both in spades. Engineered to boost your specific make and model's HP and fuel economy, this 50-State Street Legal air filter is also completely washable and reusable and backed by a Million Mile Warranty.
The filter looks great and I expect it to stand tough for tens of thousands of miles to be honest. It seems large but it fit right into place in my Dodge Charger. I can definitely feel some more get up and go already.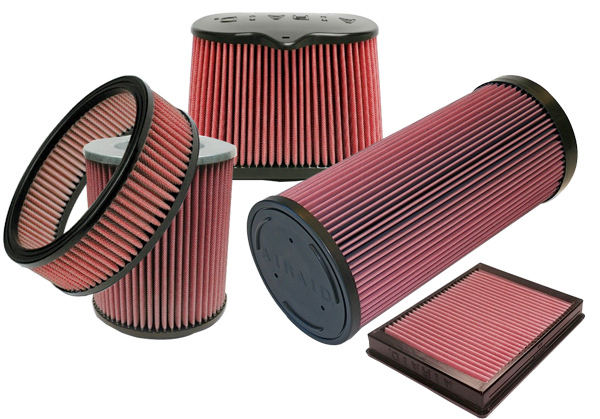 Built from the highest quality components available the Airraid Air Filter combines cotton gauze layers with a proprietary SynthaFlow fiber that catches the tiniest dirt, dust, debris that other filters couldn't possibly catch. Just was and reuse after 50,000 miles or so and you'll be in good shape. This 50-State Street Legal Filter is backed by a Lifetime Guarantee.
Great product and really unleashes a heck of a performance. I'm not brand loyal to many things but I will never by a filter that's not an Airraid.
Engine Air Filter Research Guide
Motor vehicles are built on the principles of internal combustion. But there can't be combustion without oxygen, so your car engine is always taking in as much air as it can. And your car's not picky – it'll take any air it can get. Dirty, smoggy, polluted, or even full of bugs, your air intake will bring it in and it will all cause damage to your engine and a reduced overall performance.
That's Where Your Air Filter Comes In
Your air filter captures bugs, dirt, pollen and more and ensures your engine will run at its top efficiency. Your air filter is also one of the easiest modifications to make yourself and one of the most affordable. If you've been wanting to see improved horsepower and better gas mileage, a new clean air filter should be your first stop.
Three Types of Engine Air Filters
There are three main types of engine air filters. Paper filters, oiled performance filters, and non-oiled performance filters.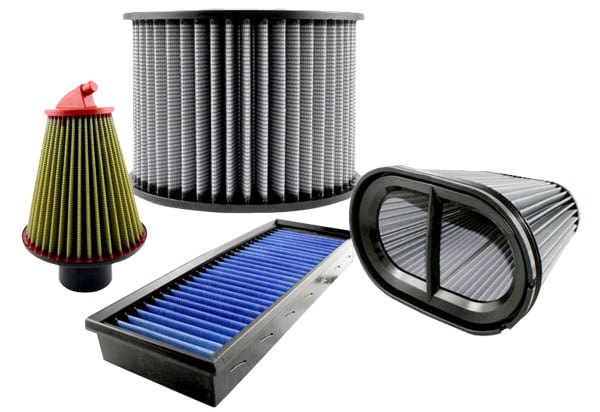 1. Paper Filters
Paper filters are by far the most common filter, and most likely what your vehicle came with. They are very low in price and do a decent job of filtering your engine. They are one time use only and need to be replaced every 15,000 to 30,000 miles depending on driving conditions. If you often drive through dusty dirt roads or highly polluted cities, you may need to replace your paper filter much sooner than someone who drives mostly in the suburbs.
2. Non-Oiled Performance Filters
Any type of performance filter will cost a little more than a paper filter – but most of them last forever and only require a quick cleaning instead of a full replacement. They also usually come specifically designed to fit your vehicle exactly. This custom fit and higher quality design means these non-oiled performance filters will really open up your engine's potential. Increasing horsepower and MPG, these also keep your engine in better shape than paper filters for the long haul.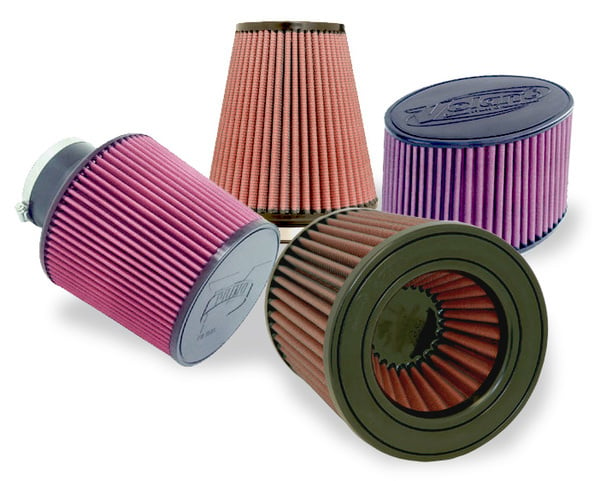 3. Oiled Performance Filters
Oiled engine air filters on the other hand, have a coating of oil through out. This moist layer will collect even more dirt and debris, as it sticks to the oily membrane while attempting to pass through. There's no cleaner engine performance than what you'll achieve with an oiled performance filter. Just like the non-oiled variety, most of these filters will last the life of your vehicle, and just need to be washed (and re-oiled) every now and then.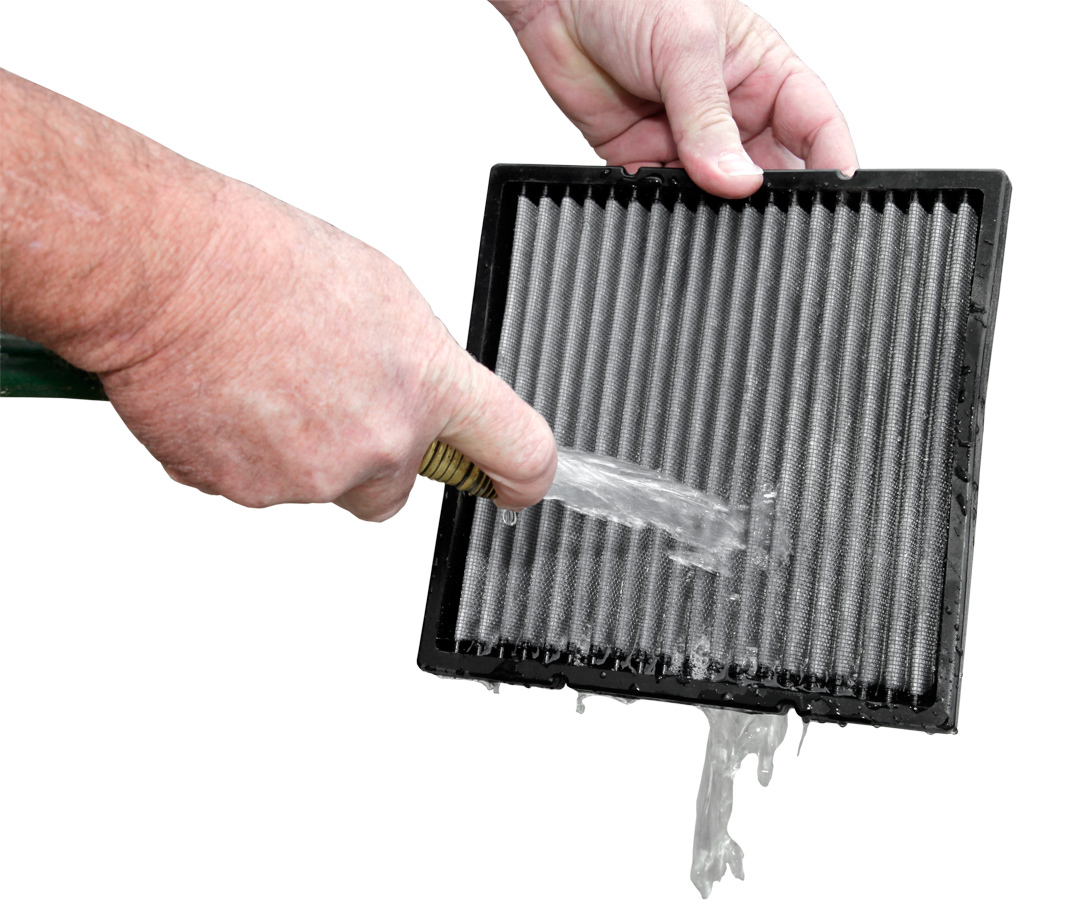 How Often Should You Change or Clean an Air Filter?
As mentioned above, for cheap paper air filters you generally want to replace them every 15,000 to 30,000 miles depending on your driving conditions. And you'll want to replace them every three years whether you've reached 15,000 miles or not – because they will start to crack and crumble after that long.
For performance filters, check the manufacturer instructions because they may vary. But with K&N for example, can ride for up to 50,000 miles before a cleaning is required – and when paired with one of their cold air intakes, they can go up to 100,000 miles before a cleaning is necessary.
No Matter the Style, Maintenance is Important
No matter the style of your air filter, proper cleaning and maintenance (or replacement in the case of paper filters) is essential for the health of your car. Failure to properly maintain or replace your air filter can cause serious damage to your Emissions Control System – not to mention draining your horse power and fuel efficiency.
How Do I Remove My Old Car Air Filter
Removing and replacing your engine's air filter is one of the easiest modifications you can do at home. Even people who have never popped a hood can tackle this project in just a few minutes.
Open the Hood and Look for the Filter Box
Pop your hood and locate your filter box. This usually isn't hard to do, it will be the black plastic box sitting right on top or beside your engine. Typically there's a sizable hose sticking out of one side. If you have any trouble finding it, check your research manual, or search online for a photo or video involving your particular make and model.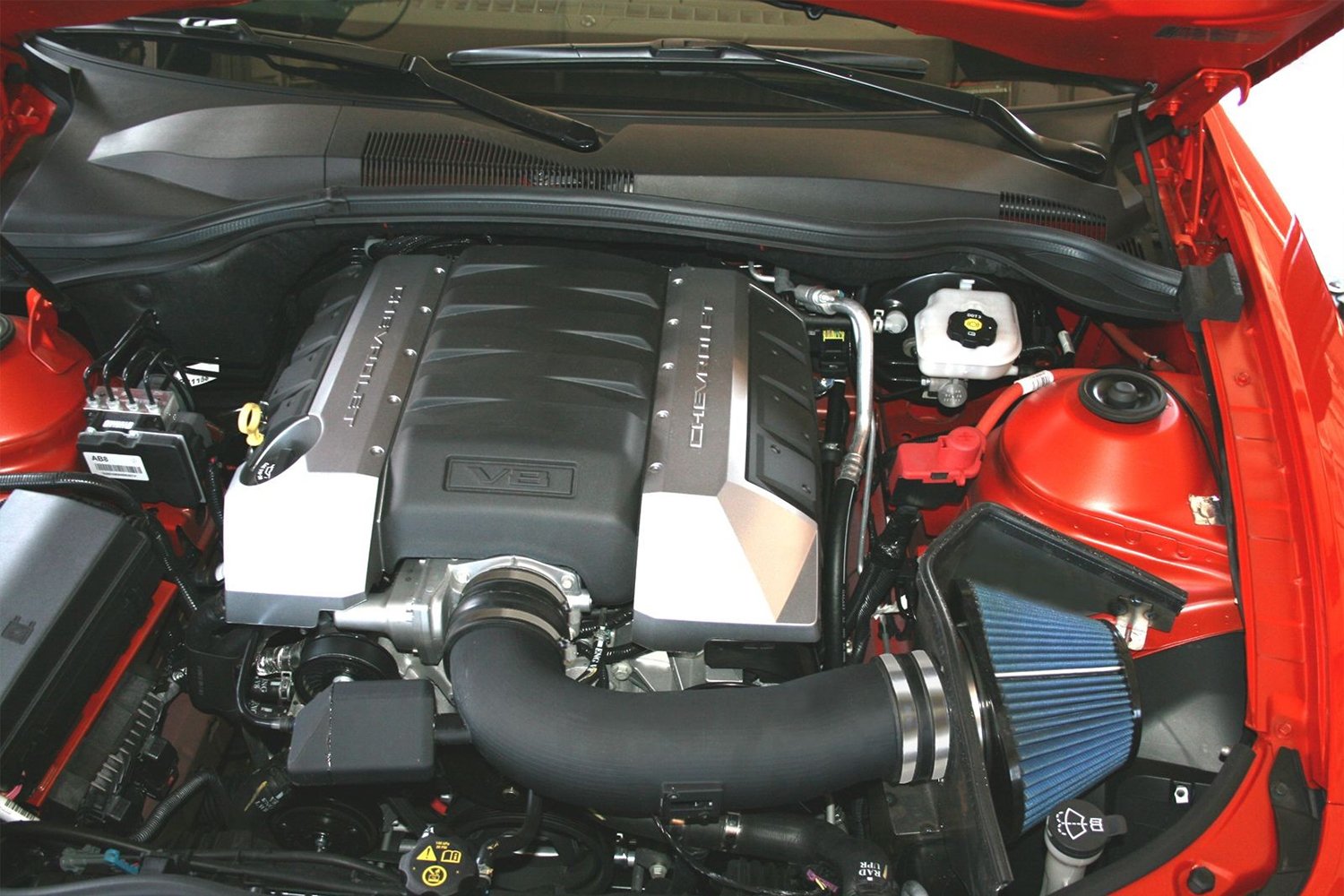 Remove the Old Filter
It really is that easy. It's not screwed in or anything. It's just kind of sitting there. If it's a paper filter then throw it away, and if it's a performance filter go give it a rinse and a re-oiling if necessary.
Put in the New or Cleaned Filter
It's not any more difficult than that. Your performance filter should fit right into place on your make an model. If you plan on replacing a paper filter, you can ask an auto store to match your old filter if you bring it in.
Summary
We hope you find this information informative. If you have any further questions about performance air filters, or even just need help getting yours installed, don't hesitate to give us a call at 800.663.1570.