Hooking up a Performance Air Filter to your engine is one of the fastest, easiest, and least expensive ways to extract more power, torque, and fuel efficiency from your engine. The additional airflow provided by these filters lets you get more power out of every drop of fuel. Plus, they even do a better job of cleaning the air than regular paper filters, keeping your cylinders and engine parts safe from dust and other particles. Compare two of the leading brands in air intake filters, aFe and K&N, and find the right air filter for your vehicle.
K&N Air Filters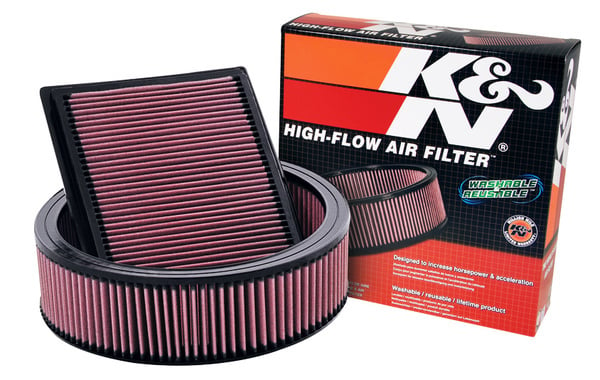 With decades of experience building high-performance air intake systems, K&N knows the ins and outs of engine air flow. K&N Performance Air Filters get just about as much acclaim as their intakes, and for good reason. In short, the performance gains are immediate, the installation is easy and secure, and their lifespan is virtually forever.
The K&N filter medium is made from 4-6 pleated layers of from cotton. They cotton is oiled, making it better at trapping dirt than dry filters. Plus, K&N Filters are washable and reusable for as long as you own your vehicle, so they're the last filter you'll need to buy. K&N stands behind that claim with a 10-Year/Million-Mile Warranty.
aFe Air Filters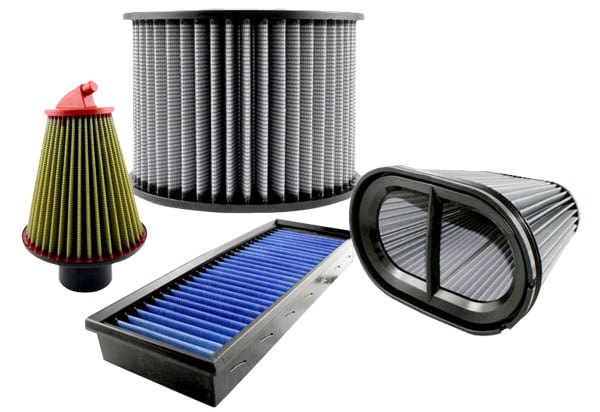 Just like K&N, aFe is a very popular and highly respected builder of performance air intakes. Their filtration systems are a big contributor to the performance and success of their intakes. Even if you're riding with a stock intake, you can still enjoy the benefits of a custom-designed aFe Filter.
aFe offers three different filter models, which are optimized for your particular needs. The standard aFe Air Filter is custom-designed to your vehicle for a perfect fit and a great seal on your factory air box. The aFe Pro-Dry S Filter is designed for the performance-oriented, with a two-layer oil-free design that maximizes air flow for jacked-up horsepower. And finally, for heavy-duty trucks and hard-working vehicles, go with the specially-designed aFe Pro Guard 7 Filter. This filter features seven layers of material for the cleanest air possible, but it's also designed to allow much greater air volume into your engine than stock filters.
K&N or aFe Air Filters - Which Brand Is Better?
You've seen now how K&N and aFe Air Filters can improve your vehicle's performance and efficiency. So what's the right air intake for your car, truck, or SUV? Check out the chart below to compare each brand's features side-by-side, and be sure to read our real customer-written Air Filter Reviews for hands-on performance reports. Then, if you want to know even more, you can call our customer service team at 800-663-1570 and they'd be happy to answer any questions. Good luck with your search!
| | | |
| --- | --- | --- |
|   | | |
| Starting From |  $31.20 |  $95.85 |
| Materials | 4-6 Layer Cotton Gauze | 5-7 Layer Cotton Gauze |
|  Cleaning Inverval | Up To 50,000 Miles | Up To 50,000 Miles (Depending On Model) |
| Finishes | Red | Blue, Silver, Yellow |
| Warranty | 1,000,000-Mile/10-Year | Lifetime |
| Shipping | FREE | FREE |
|   | | |