Airaid PowerAid Throttle Body Spacer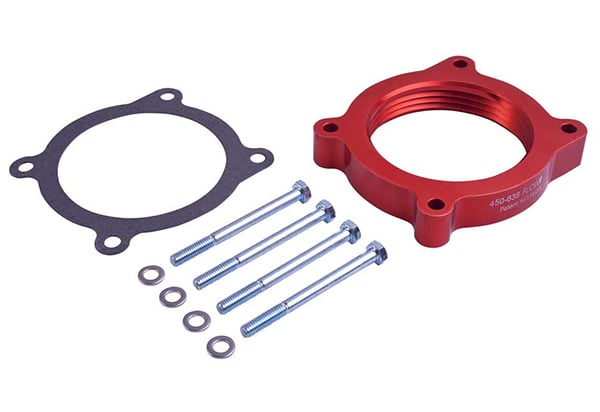 Sorry, this product is no longer available.
Click Here
to shop other available
Throttle Body Spacers
Same Day Shipping if ordered by 2pm CST*
Wring more powerful combustion from your engine with an Airaid PowerAid Throttle Body Spacer
Aircraft-quality billet aluminum construction
Designed with a helix shaped bore that creates a "tornado" inside your intake for dyno-proven air mixture optimization
Installs between your throttle body and intake manifold in under an hour with household tools
All installation hardware included
30-Day Warranty
*Ships same day unless otherwise noted when you add to your cart. Applies only to in-stock items.
Bolt on an instant performance upgrade - the Airaid PowerAid Throttle Body Spacer utilizes a unique design and top-quality materials to enhance your air/fuel mixing capabilities. This means higher efficiency for your engine and increased low-end performance and mileage for you.

The Airaid Throttle Body Spacer is crafted from billet aluminum with a unique, dyno proven helix-shaped bore. The helix design spins the incoming air into a "tornado" pattern. This air flow shape mixes with fuel ultra-efficiently, thrusting an ideally atomized air/fuel mix into your combustion chamber. With such an efficient combination you'll find far better performance on the low end and improved fuel efficiency.

Your Airaid Throttle Body Spacer bolts onto your engine in under an hour with Airaid's included installation hardware. Airaid backs your Throttle Body Spacer with a 30-day "No Hassle" warranty.
Note: Thanks to the Magnuson Moss Warranty Act: US Code - Title 15, Chapter 50, Sections 2301 - 2312, the factory warranty of your vehicle is protected by law, even after the addition of aftermarket parts.
Airaid PowerAid Throttle Body Spacer

Customer Reviews
Overall:
Performance:
Quality:
Appearance:
Average Install Time: Under 30 minutes
Ronald F

who drives a

Dodge Charger



2020-08-18
Eric U

who drives a

Ford Mustang



2016-01-11
If you're going to install a cold air intake, this only takes an additional 5 minutes to install because everything is already off. I have no idea if it makes a difference but it's only 100 bucks.
Install Time: Under 30 minutes
Bryan F

who drives a

Toyota Tacoma



2015-11-11
Works pretty good. I noticed a little bit of MPG increase, a little bit higher throttle response, seems to be a little more torque. I just don't like the whistle. I guess I will have to get used to it, other than that it's a great product
Install Time: Under 30 minutes
Nick V

who drives a

Chevrolet Silverado Pickup



2014-06-01
No difference in anything can't really hear the whistle sound not to happy bout it
Install Time: Under 30 minutes
Looks and sounds GREAT!!! Whistles really loud, i love it. Got here 2-3 days, easy install.Definitely recommend AAG.com.
Shawn R

who drives a

Scion xB



2014-01-18
Very easy to install. If I kept my foot out of it, I would get better gas mileage. But can't help it. SOUNDS SOOOO GOOOOD.
Install Time: Under 30 minutes
Buscher

who drives a

GMC C/K Pickup



2011-07-06
The airaid spacer seem to definitely make a difference in throttle response and low end torque. I did do an actual odometer check on mileage and it seemed to be higher then previous checks. I really like the whistles it wasn't as loud as I planned. My family owns a local mechanic shop and I have recommended to many customers. I think it also helps fuel combustion. I hope that I can get some customers to order one and see what they think.
Chad C

who drives a

Jeep Grand Cherokee



2011-03-20
Bolt in intallation. Gain 7hp and 2 more MPG
Install Time: Under 30 minutes
Lou A.

who drives a

Toyota Tundra



2011-03-18
Easy installation. Seems to make a difference low to mid-range acceleration. Will know more about gas savings after more miles driven.
Install Time: 30-60 minutes