Injen Short Ram Intake System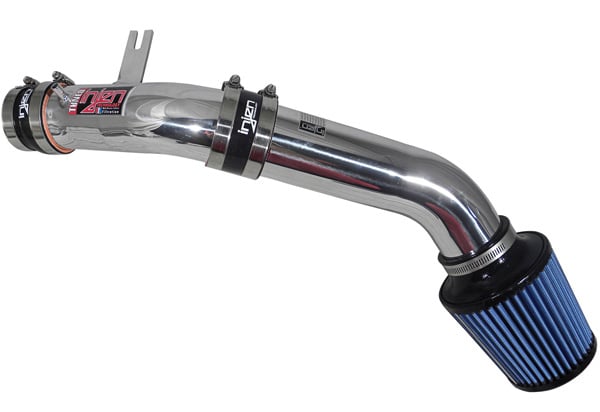 Our Price:

$209.95

- 419.95

Shipping:

FREE SHIPPING
Greatly improves your engine's efficiency for immediate boosts in horsepower and torque, along with improved fuel economy
Injen crafts the IS Series Short Ram Intake from aerospace-grade T-6061 aluminum for an incredibly strong, lightweight and anti-corrosive system
Painstakingly polished to a high-gloss finish
Includes an Injen high-performance air filter with built-in velocity stack
Injen's groundbreaking rubber "vibra-mount" system cushions against road vibrations
Available in Black or Polished Finishes - Weathered Black or Red finishes available on some models
Backed by a Limited Lifetime Warranty
The Injen IS Series Short Ram is a traditional, under-hood intake system that is placed in the stock location of the factory air-box system.
Each system is built from T-6061 aluminum alloy to ensure the lightest design possible. CNC mandrel bending transforms your IS Series Short Ram Intake into a smooth, unrestricted cold air conduit that is dyno-proven for maximum, reliable horsepower gains. The Injen IS intake system is available in polished or black finish or weathered black or red on select models, and comes with stainless steel clamps, silicone hoses and detailed instructions for simple, at-home installation.
Every IS system is certified or pending by the California Air Restheirce Board and backed by Injen Technology's limited Lifetime Warranty. 50-state street legal!
Injen Short Ram Intake System

Customer Reviews
Overall:
Performance:
Quality:
Appearance:
Average Install Time: Under 30 minutes
RRo Mee

who drives a

Mitsubishi Montero Sport



2019-03-16
Nice snug fit, clean look, DEFINITE pickup in throttle response and much quieter than I expected but love the Crocodile hiss when ignition turns off!
Install Time: Under 30 minutes
Todd P

who drives a

Honda Civic



2014-03-18
Installed very easily with great results. Noticeably better throttle response. Very pleased.
Install Time: Under 30 minutes
MICHAEL T

who drives a

Mini Cooper



2013-03-18
Looks Great!!!! Runs better with improved throttle response. Will check mileage on next trip, looks like I should get 1-2 mpg improvement.
Install Time: 30-60 minutes
Randy T

who drives a

Mitsubishi 3000GT



2012-07-26
The product is outstanding. Simple to install, adds horsepower and the sound is awesome. Every car should get this conversion.
Install Time: Under 30 minutes
Tyler T

who drives a

Honda Civic



2011-10-18
Very good product! Looks good and sounds even better! A little performance noticed, more after I add intake manifold, header, and DC catback! A+
Install Time: Under 30 minutes
SiKiller

who drives a

Honda Civic



2009-05-09
The product was great, and the install was easy. This is the best short ram intake for honda's. I have a 98 Civic HX and the performance is great, you really feel a difference after 4k. The sound is superb, it's got a nice deep sound. You will not go wrong with this IS1550. Don't be fooled by the cheap intakes on ebay or craigslist.
bigmushu 04 tiburon

who drives a

Hyundai Tiburon



2009-03-14
Great product, easy installation. I had to make a small mod to the horn bracket but aside from that, easy to install. I especially love the sound it makes now when I shift gears.
bigjoe17

who drives a

Toyota Camry



2009-02-07
Overall I love this air intake, I know that there are not many out there for the 1999 Camry. My only concern, despite an easy installation, is the fact that you can now actually hear the intake when the car is ignited. This noise soon goes away after the car warms up, but there are no valves blocked or any Check Engine light glowing so I'm assuming that this literally is the noise of the air intake. However, passing other cars does not have a drag like it used to. I hit the accelerator to pass a car and to my surprise went from a mere 15 mph to 45 mph in an 30 mph lane. And I am now on my second full tank of gas and am hoping that after normal driving I will get to experience an improvement in my overall Mile Per Gallon.
Sam Mitchell

who drives a

Acura Integra



2008-08-02
Got this for my Integra. Ordering was a breeze and I got a tracking # the next day. I got the box in 4 days! The install took me and my son about an hour. I really like the boost in acceleration.
Rauel M.

who drives a

Toyota Supra



2008-07-09
The IS was pretty easy to install on my '95 supra -since I had never done one before. You'll notice the difference in sound right away. Looks great under the hood and noticeable boost in acceleration too. Haven't seen the gas improvement but that's probably because it's so fun to open it up on the highway!