Hooking up a Performance Air Intake is one of the fastest and most affordable ways to give your vehicle a significant boost in performance. Our Ram Air, Short Ram, and Cold Air Intakes are designed to feed more oxygen to your engine's cylinders, which coaxes extra combustion power out of every drop of fuel. This means with just an hour of your time and some household tools you'll enjoy awesome horsepower, increased acceleration, and even better fuel economy. Both K&N and Airaid are leaders in the intake industry, and they're excellent choices when shopping for an intake system. Let's take a look at both brands so you can make an educated decision between Airaid or K&N Intakes.
K&N Air Intakes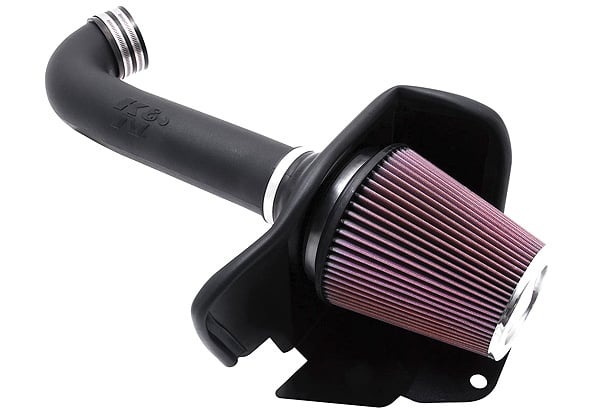 K&N may be known as the king of the air filter, but they also know more than a thing or two about intake system design. Every K&N Intake features high-flow designs, with mandrel bends that maintain a consistent diameter throughout the whole tube. Choose from a variety of K&N Air Intake styles, such as full-length cold air intakes, short ram intakes, and a versatile hybrid kit that can be transformed from a cold-air to a short-ram in just minutes.
High-flow, cotton gauze and oil K&N Air Filters are the brand's claim to fame, and every system includes one. These filters effectively trap harmful particles like dust, but unlike stock filters they don't create a power-robbing bottleneck in your system. Whether yours is an FIPK Intake or the K&N Typhoon Air Intake, the included filter will help you achieve even more acceleration and horsepower, and the filter will keep your air supply clean.
K&N Filters are also simple to install. This video the installation process for a K&N FIPK system.
Airaid Air Intakes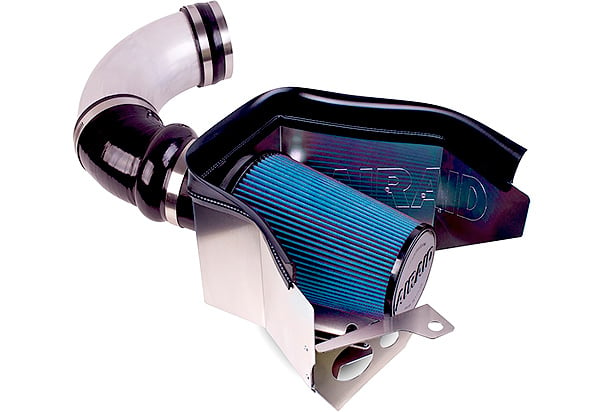 Airaid has been building air intake systems since 1997, and their advanced, dyno-proven technology has been helping engines run harder, faster, and cleaner from the get go. Airaid Intakes provide extra torque and power, with high-flow custom designs and durable construction you won't find in other systems. Choose between the standard Airaid Cold Air Intake that replaces your tube, filter, and air box, or just upgrade your tube with the Airaid Intake Tube for affordable performance boosts. Or you can split the difference with the Airaid Jr Air Intake and upgrade the intake tube and filter while keeping your factory air box. For those tinkerers who love fabricating custom gear, check out the Airaid UBI Universal Intake, which lets you build your own custom intake.
Like K&N, most Airaid Intake Kits include a high-performance filter. These filters feature cotton gauze, synthetic fiber, and an aluminum or stainless steel mesh. Their casings have a hand-poured urethane coating, making them super durable for the most demanding use.
Airaid or K&N - What's The Right Air Intake For Your Vehicle?
Airaid and K&N are both leaders in air intake design and performance. So which one should you choose? Consider factors like your driving style, your performance needs, and your budget when determining the right air intake system for your vehicle. This chart compares some of each brand's key figures. If you want more info, check out our Air Intake System Reviews, written by real-world performance enthusiasts and daily drivers who have direct experience with these products. Plus, you can always give our helpful customer service crew a call at 800-663-1570 if you have any more questions.
| | | |
| --- | --- | --- |
| | | |
| Starting From | $67.71 | $58.56 |
| Materials | Crosslink Nylon, Polyethylene | Aluminum, Cross-Link Nylon |
| Styles | Cold Air, Universal/Build-Your-Own Kits | Cold Air |
| Finishes | Black | Polished, Blue, Red, Silver, Black |
| Available Accessories | Intake Tubes, Throttle Body Spacers | Air Filters, Gauges, Performance Chips |
| Warranty | Lifetime | 10-Year/1,000,000-Mile |
| Shipping | FREE | FREE |
| | | |