If you want serious performance gains without huge costs or installation hassles, hooking up a Performance Air Intake is the way to go. We offer a variety of Short Ram, Ram Air, and Cold Air Intakes that pump extra oxygen into your cylinders for enhanced combustion. This makes for monster gains in acceleration and horsepower, as well as enhanced fuel efficiency, all in an affordable package that takes little time to install. Check out K&N and aFe, two of the top air intake names, and compare their different features to find the right air intake for your vehicle and your driving needs.
K&N Intakes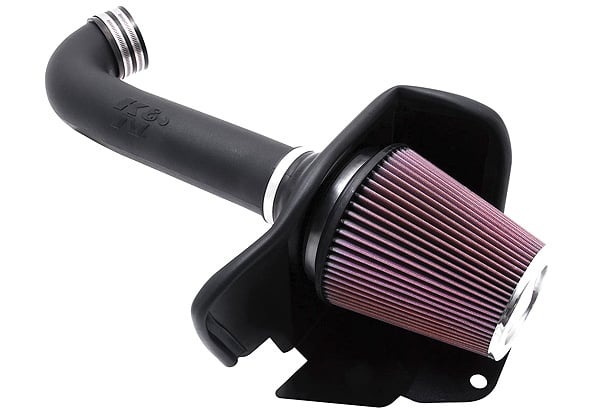 K&N, one of the farthest-reaching names in air intakes and filters, earned that spot by designing and building some of the highest-performing systems over the last four-plus decades. Every one of our K&N Intakes features unique designs that provide optimized air flow for serious power gains. They're available in a variety of styles, from the truck-friendly K&N 77 Series Intake to the versatile FIPK Intake.
The key to K&N's high performance (and their decades of domination) is their high-flow air filters. K&N Filters feature an oiled cotton gauze design that traps dust and other harmful particles to keep your engine's air supply clean. Plus, unlike stock filters, K&N's Performance Filters maintain excellent flow with minimal restrictions. Every system, from the 57i Air Intake to the K&N Typhoon Intake, includes one of these famous filters, so you're sure to get awesome performance and maximum engine safety.
K&N Intakes are also easy to install. This video shows what it takes to install the K&N FIPK system.
aFe Air Intakes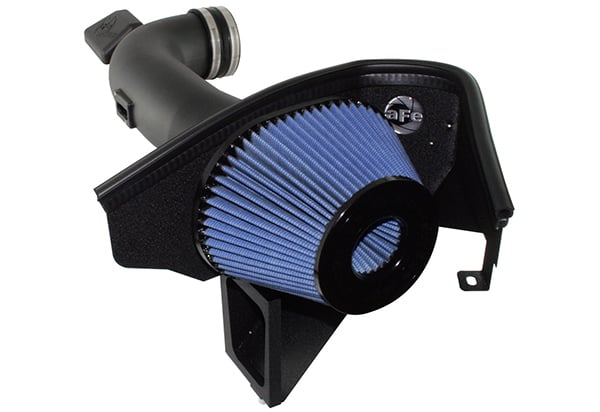 aFe stands for Advanced Flow Engineering, and that's certainly an appropriate name. This team has been building high-quality intakes since the year 2000. aFe Intakes boast high-flow, custom-tuned designs that give your vehicle a whole new level of performance. These aren't empty claims, either: for certain vehicles and engines the aFe Air Intake provides a whopping 50 horsepower boost! These intakes include your choice of filter options: pick the original Pro 5 R, the heavy-duty Pro Guard 7, or the easy-to-maintain, oil-free Pro Dry S.
aFe carefully designs their intakes to get the most performance out of the least amount of materials and parts. Therefore, your aFe Intake may include an air box, intake tube, and filter, or it'll come with just a replacement intake box and filter. This ensures you'll get the most optimal performance, without any unnecessary expenses or installation woes. For even more super-charged performance, pick up an aFe Throttle Body Spacer and get a more even, consistent air/fuel mixture. Every aFe Intake is backed with a Lifetime Warranty, and installs quickly with the tools you have laying around the house. Take a look at the video below for a detailed installation process.
aFe or K&N - What's The Right Air Intake For Your Vehicle?
aFe and K&N are both highly trusted names when it comes to air intake performance. So which one is the right air intake for your vehicle? The answer may depend on your vehicle type, your performance needs, and your budget. The following chart lays out each brand's key features so you can make a more direct comparison. For even more detailed testimonials, check out our Air Intake Reviews, which are all written by real-world drivers with real-world experience using these intakes. Plus, if you have any more questions, feel free to give our highly trained customer service team a call at 800-663-1570.
| | | |
| --- | --- | --- |
| | | |
| Starting From | $149.00 | $58.56 |
| Materials | Aluminum | Aluminum, Cross-Link Nylon |
| Styles | Cold Air | Cold Air |
| Finishes | Black, Polished | Polished, Blue, Red, Silver, Black |
| Available Accessories | Throttle Body Spacers, Intake Manifolds | Air Filters, Gauges, Performance Chips |
| Warranty | Lifetime | 10-Year/1,000,000-Mile |
| Shipping | FREE | FREE |
| | | |