Awe-inspiring power, exciting acceleration, and tough torque. Those are just three of the benefits that you'll instantly gain when you hook up a Performance Air Intake. The problem is, there are so many air intake brands out there that you might not quite know which kind to go for. Read on and learn about K&N and Takeda, two industry-leading brands, and find the right air intake system for your particular vehicle and your performance needs.
K&N Air Intakes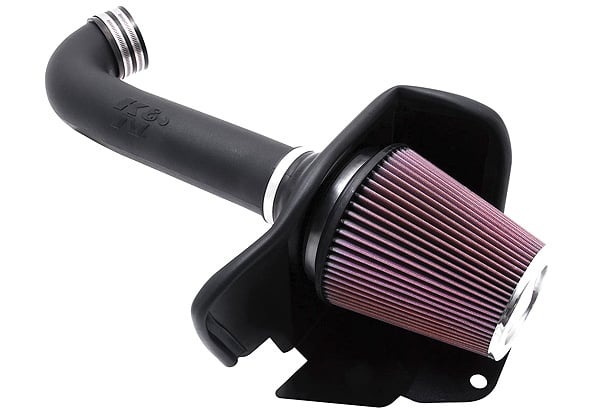 K&N filters are among the most popular and most trusted, but this company also rules at the art and science of air intake design. K&N Intakes feature mandrel-bent tubes for maximum flow. Because mandrel bends maintain a consistent diameter, the air flows just like a straight piece of pipe. K&N Air Intake are sold in a variety of styles, from full-length cold air intakes that place the filter low and away from the engine to short ram intakes that provide a fast, high-flow rush of air.
Of course, K&N wouldn't rob you of their high-flow, cotton gauze oil air filters. Every kit, from a 77 Series Air Intake to the K&N Typhoon Air Intake, includes one of these filters, so your engine's cylinders will be debris-free. Unlike your stock filter, which stops up your air flow before it even gets to the tube, K&N Performance Filters let all that air pass right through. This filter will help you achieve even more acceleration and horsepower, all while keeping your engine safe from harm.
K&N Filters are simple to install, too. This video shows off the installation of a K&N FIPK system.
Takeda Air Intakes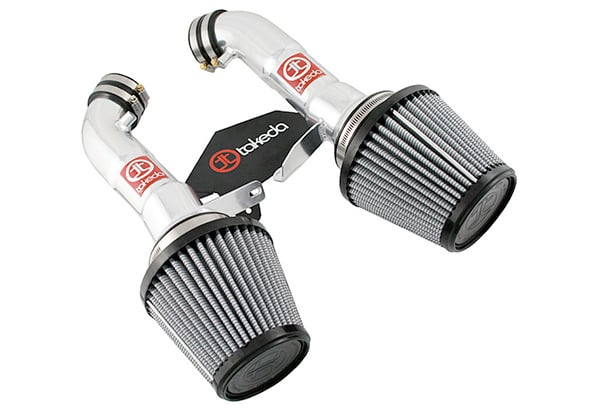 Takeda intakes, made by aFe, are crafted from with top-shelf materials and they boast high-tech, Japanese-influenced engineering. Their designs are real-world tested to supply race-ready power and torque gains to your engine. Takeda Intakes are made with high-quality aluminum, which is both super strong and super light - perfect for weight-obsessed racers. Their intake tubes include a glossy anodized finish that looks great under the hood and resists rust and corrosion for years of hot style. Every intake also includes a 4-layer synthetic Pro Dry S filter, which allows for much higher air flow compared to stock filters, while keeping debris and dust out of your engine's cylinders.
Takeda Air Intakes come in three different styles, depending on your year, make, and model. The Attack Cold Air Intake includes a long tube so the filter sits low and behind the front bumper. This draws in denser, colder air than if the intake was next to your hot engine. On the other hand, the easy-to-install short ram Retain Intake offers fast, high-flow performance, and you don't need to remove your bumper to install it. Finally, you can split the difference with the versatile Link Conversion Intake. With this model you can remove a section of the tube to immediately convert it from a cold air to a short ram and get the performance you prefer. Whatere Takeda Intake style you choose, it's backed with a 2-Year Warranty.
K&N or Takeda - What Is The Right Intake For Your Vehicle?
Shopping for an air intake can get pretty daunting with so many brands out there. To help you make a more detailed comparison between Takeda and K&N Air Intakes, take a look at the chart below. We've got plenty of other resources to help you shop for an intake, including real-world Air Intake Reviews written by your fellow drivers, and an Air Intakes FAQ that answers the most common questions people have about these systems. Finally, our customer service crew is always on the line to help, so you can call us at 800-663-1570.
| | | |
| --- | --- | --- |
| | | |
| Starting From | $179.00 | $58.56 |
| Materials | Aluminum | Aluminum, Cross-Link Nylon |
| Styles | Cold Air, Short Ram, Hybrid | Cold Air |
| Finishes | Polished | Polished, Blue, Red, Silver, Black |
| Available Accessories | None | Air Filters, Gauges, Performance Chips |
| Warranty | 2-Year | 10-Year/1,000,000-Mile |
| Shipping | FREE | FREE |
| | | |