Whether you tear up the race track or just commute to work and back, your vehicle needs a trusty, well-performing set of brakes. Your brake system can be complicated to maintain and their problems can be hard to diagnose. Read on and settle some of the questions you may have about your brakes.
Frequently Asked Questions About Brakes
Longevity:
Brake Types & Styles:
Noises & Vibrations:
Top Three Lists
Answers to FAQs
How long do brake pads and rotors last?
The lifespan of your brake components depends on a wide set of factors, from the type of pads and rotors you have to your personal driving style. Most brake pad companies and mechanics agree that pads typically last between 30,000 and 70,000 miles. Brake rotors can last quite a bit longer (as much as 3 times as long as pads), but again this depends on many factors like your driving conditions and brake system maintenance. If you're in the market for new brake pads, click here to compare the mileage warranties on our top 5 brands.
Lifespan of your brakes based on average annual miles traveled via The Federal Highway Administration (FHWA)
| | | | | |
| --- | --- | --- | --- | --- |
| Age | Male | Female | Average | Average Lifespan of your Brake Pads (50,000 miles) |
| 16-19 | 8206 | 6873 | 7540 | 6.63 years |
| 20-34 | 17976 | 12004 | 14990 | 3.34 years |
| 35-54 | 18858 | 11464 | 15161 | 3.30 years |
| 55-64 | 15859 | 7780 | 11820 | 4.23 years |
| 65+ | 10304 | 4785 | 7545 | 6.63 years |
| Average | 16550 | 10142 | 13346 | 3.75 years |
When should I have my rotors turned?
Helpful Tip: OEM rotors have enough material on them to allow for 1 to 3 turnings. Some performance brake rotors are made very thin at the factory and cannot be turned. Your mechanic will be able to determine if your rotors can be resurfaced.Brake rotors can wear unevenly or become slightly warped over time, compromising your braking performance. "Turning" brake rotors means putting them onto a lathe and shaving off a small amount of the braking surface. This is also known as "machining" or "resurfacing," and the process essentially gives your rotors a new surface that's straight, smooth, and true.
Most mechanics and dealer service centers will recommend you have your rotors turned every time you have your brakes serviced or replace your pads. This will ensure better pad wear and improved braking performance without the expense of completely replacing the rotors. There's always a tradeoff, however - turning rotors shortens their lifespan, and by losing mass your rotors will lose some heat dissipation, making them slightly more prone to overheating and brake fade (see What Is Brake Fade? for more information).
Which type is better, drilled or slotted rotors?
Whether you want drilled or slotted rotors depends on your driving style. Both drilling and venting rotors improve the performance of your Hyundai Elantra brakes, for example, but they're ideal for different types of use. Slotted rotors are usually the preferred choice for heavy-duty, high-performance use due to their higher structural strength. Drilling provides similar benefits to slotting, but holes can make rotors susceptible to cracking under severe use like heavy-duty racing. Drilled rotors have an attractive look that's preferred by street and light-duty track drivers who don't do as much stressful braking.
The following video offers some insight into the difference between drilled and slotted brake rotors:
What are Big Brake Kits for?
Stock brake systems on modern cars generally work fine for average daily street driving. If you're a performance enthusiast, however, your driving patterns will easily push your stock brakes beyond their capabilities. Horsepower-boosting modifications and upgrades to your suspension and tires can quickly add up and overpower your brakes. One way to give your vehicle stopping power to match your going power is with a big brake kit. These kits include oversize rotors and either caliper relocation brackets or completely new calipers.
Big brake kits provide improved braking performance in two ways. First, the larger rotors of a big brake kit have a higher heat capacity, which offers far more brake fade resistance under high stress. Plus, the larger diameter of the rotors gives the calipers and pads extra leverage, making it physically easier to stop the wheels compared to stock rotors.
Can I install my old brake kit onto my new car?
No. Brake calipers and other parts are specially designed for exact years, makes, and models. It is very rare that calipers, rotors, and brackets from one vehicle will be compatible on another. Nissan Sentra brakes, down to the smallest component, will not work in place of Toyota Tundra brakes. That difference is large, yes, but installing even a slightly incompatible system onto your vehicle can cause compromised performance and make it dangerous to drive. Unless your new car is the exact same model and year as your old one, you should not try to transfer your brake system.
Why are my brakes squeaking when I step on the pedal? Is this a problem?
Not usually. Like death and taxes, a little bit of brake noise is one of those unavoidable aspects of life. Stop-and-go traffic, dusty conditions, and even humidity can cause pads to harden or "glaze", which makes the friction surfaces generate noise on contact. Often noisy pads can be sanded down with common sandpaper to eliminate the hardening. Another phenomenon known as "crystallization," alters the pads so much that they would have to be replaced to eliminate the noise.
Brake noise can also be indicative of a weak link elsewhere in your brake system, and the noise may be your first warning of oncoming brake failure. If your brakes are consistently making an inordinate amount of noise, we recommend you have your entire brake system checked out and serviced.
My brakes squeal when I drive and the noise stops when I step on the pedal. What is wrong?
Many brake pads are embedded with wear indicators that are only exposed once the pad is worn down to a certain thickness. The indicator, usually a metal shim, rubs against the brake rotor while you drive and emits a high-pitch noise that warns you that your pads need to be replaced. If this noise is occuring in your truck, have your Chevrolet Blazer brakes checked promptly and get the pads replaced as soon as possible. Excessively worn pads can cause premature rotor damage and even brake failure, which is at best expensive and at worst extremely dangerous.
Why does my brake pedal vibrate when I step on it?
If your brake pedal is pulsing when you step on it, it's likely caused by warped or excessively worn-down rotors. Worn out suspension parts and large bearing clearances may also be the culprit. You may need to have your rotors turned or replace some suspension components.
What is "brake fade?"
In a nutshell, brake fade is what happens when your brakes absorb too much heat to function properly. Brakes slow your vehicle down by applying friction, which gets converted into heat. Once your brakes get too hot they lose their heat-storing capacity and therefore can't generate any more friction. The best brakes have superior heat resistance and dissipation, so they can stand up to the heaviest-duty braking situations. Performance brake pads and rotors are often designed with vents, slots, and advanced compounds to enhance their ability to handle heat.
Which way do I install vented rotors?
Many rotors feature directional vents that are designed specifically for your right or left side to achieve maximum cooling effects. If you do not have them installed on the correct side, airflow and cooling will be severly limited and you will not achieve ideal braking performance. The vanes on a directional rotor should face back, like the arms on a pinwheel. The vanes on the top should be angled toward the back of your vehicle.
Will bigger caliper pistons make me stop better?
While larger caliper pistons will provide more clamping pressure, that won't necessarily improve your brake performance. If the pistons are excessively large for the vehicle you will experience excessive pedal travel as well as an imbalance between front and rear braking, which actually results in longer stopping distances. There is such a thing as too-strong clamping forces - they can cause premature lock-up, making brake modulation difficult. This is another reason you should be sure to only install brake kits and components that are designed specifically to your exact application.
Will aftermarket brakes void my warranty?
By federal law, installing aftermarket brake systems or components will not void your warranty unless your dealer can prove that any damage you are making a warranty claim about was directly caused by your aftermarket parts. For example, if you install a big brake kit and your windshield wipers stop working, your wipers are still covered.
Top 3 Brake Rotors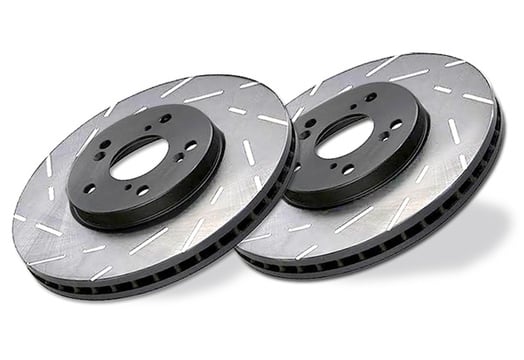 Specifically designed for a quiet and cool performance, the Ultimax Slotted Brake Rotors from EBC are direct replacements for your stock brake rotors, making them exceedingly easy to swap out. A top-quality copper-inclusive grey iron construction makes these rotors the perfect choice for high-performance drivers.
Helped a lot on stopping and adds a cool look to my 1987 BMW 325is. The same day I put a set on a friends mr-2, worth the price!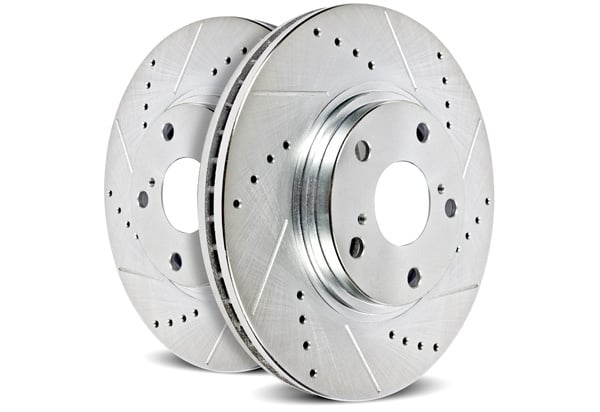 Being both cross drilled and slotted, Power Stop's Cross Drilled and Slotted rotors offer some of the best heat and gas dissipation available. Each slot and drilled hole are specifically designed to your particular make and model of vehicle based on meticulous analysis. And best of all they offer a OEM direct replacement fit with no modifications required.
I am happy with my new rotors. Great quality, and look great too. After the initial break-in period the stopping power is much better than Nissan OEMs.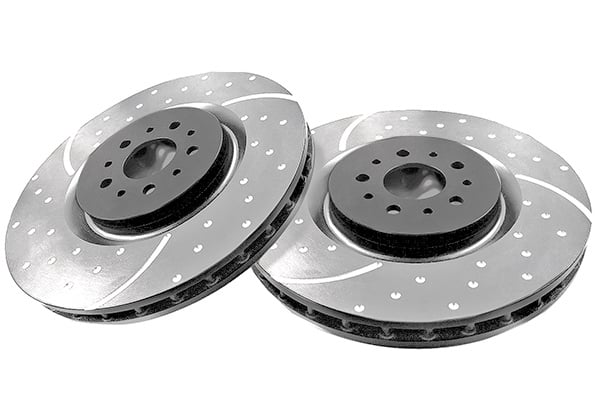 The powerful braking you get from EBC Sport Rotors is unparalleled. Custom made for your vehicle, these rotors offer a smooth, balanced, and completely wobble-free ride feel. Specifically designed to never crack or rust, these rotors are in it to win it and come in pairs for your car, truck, or SUV.
Paired with red stuff pads these rotors are awesome. You'll noticed the difference like night and day!
Top 3 Brake Pads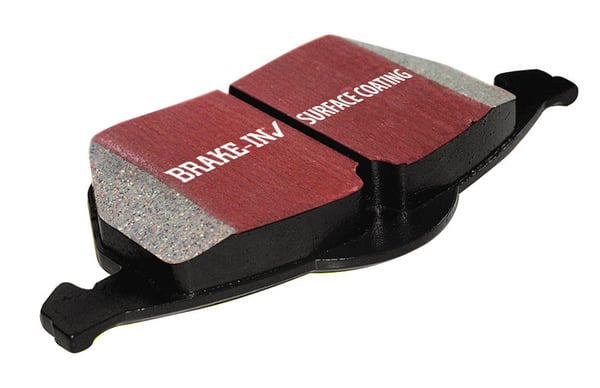 With a custom-blended metallic filament and synthetic aramid fibers, the Ultimax Brake Pads from EBC make your braking exceptionally strong and quiet as a church mouse. A center-line slot fends off cracks from heat expansion and each pad comes powder coated to ward off rust and corrosion.
Good hearty brake pad that is a good match with the Dba slotted and crossed drilled rotor.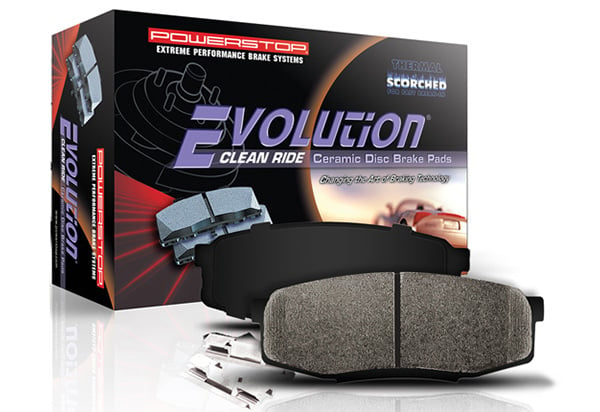 100% non-ferrous, Power Stop Evolution Brake Pads completely decimate metal-to-metal sounds and the associated metal-to-metal wear and tear. Made from a Kevlar-enhanced ceramic, these pads emit the minimum amount of noise and dust and are designed to offer superior stopping power, break-in time, and durability.
I have these pads paired with Powerstop cross-drilled rotors, and I can stop on a dime and get 9 cents change. They are a clean and quiet brake pad. Highly recommended!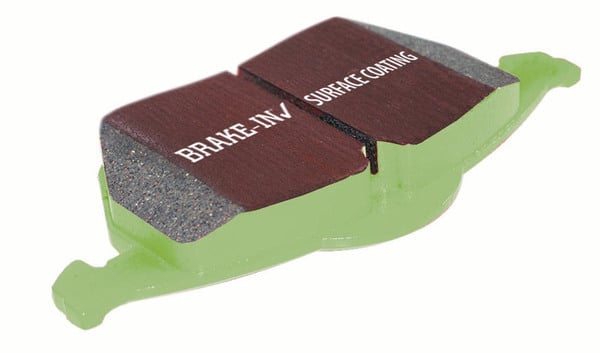 Quieter stops with 30% less dust can be yours when you install a set of EBC Green Stuff Brake Pads. Ideal for muscle cars and import sedans, these pads employ synthetic aramid fibers to protect each pad from thermal damage. A center-slotted design means cool air can vent in, and heat build-up can vent out.
Very nice brakes. Exceptionally easy to install on this car. Braking power went from having to 2-foot it to get stopped, to lightly resting my foot on the pedal to nearly lock it up.
Conclusion
We hope this Brakes FAQ guide has helped you answer some questions you have about brake systems and components. If you have any other questions about the information in this guide, please call our experienced Customer Service staff at 800-663-1570, or start browsing our wide-selection of pads, rotors, and more by clicking the button below.