ARB Bull Bars
The off-road enthusiast's life is not easy, and your vehicle sure does take a licking. That's why there are ARB Bull Bars: to make sure that your baby keeps on ticking! These brush buards function as a full front bumper replacement in addition to a standard bull bar. That means better front end protection for your truck or SUV in the most aggressive and intense rock-crawling conditions. When you go with an ARB Bull Bar, rest assured that you are in the hands of a company that knows its stuff.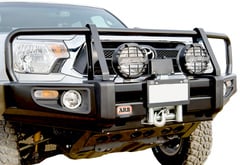 From $829.00
Free Shipping
Quick View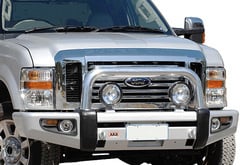 From $1,516.00
Free Shipping
Quick View
About ARB Bull Bars & Grille Guards
It's never been easier to shop for ARB Brush Guards than it is at AutoAccessoriesGarage.com. The process is straightforward enough: tell us what kind of truck or SUV you drive, and we'll tell you if there is an product for it. Go over the pictures and check out the individual product info. And when you place your order, your new bull bar ships to you for free. It's not our job to make your life more difficult, but rather less full of hassle. At AAG, you can be sure that we take the responsibility very seriously.
ARB Bull Bars & Grille Guards Reviews
Donny W
from West Monroe, LA wrote:
This is a very nice bumper, it is well made and fits my 2005 Tacoma very well. It takes an afternoon to install it with a winch and the fog lights, etc... after the factory one is off. Get a 12 pack of beer and a couple friends because its not a one man job. Only down fall is that the roller fair lead that was supposed to come with the kit was not there, I will call them on it. Rick at Auto Accessories is the man to talk to if you have any problems. (VERY NICE GUY). Read more ARB Deluxe Bull Bar customer reviews.
Raymond
from Sebring, FL says:
This bumper is engineered to fit properly on my 2007 Tacoma. I have tried others out there that need to be re-worked just to fit the truck, not this one. The ARB bumper is very impressive in design, quality and appearance. Installation is easy and directions are detailed and clear. The bumper is heavy duty and very well built. Five stars all the way.
Michael Y
from Hillsboro, OR wrote:
The service was amazing and fast. So I give AutoAccessories a 10. Now the arb bumper should be clear the factory fog lights dont fit, and the arb ones you have to purchase are 92.00, also for how much the bumper cost the welds should be cleaner, some are so bad at angles they look like Ive hit someone or someone hit me. Instruction wise it was clear and easy to do except for not using images that clearly show the exact bolt, washer and nuts needed for each step. Lucky for me I know them enough to figure it out but Im sure there is those out there that wouldn't be able to. So ARB gets a 6.5 out of 10. Install time would have been shorter but I cut my primary hand to the bones before hand and that slowed me down substantially.
Hunter C
from Turtle lake , WI said:
It looks and works great. Had a little trouble getting it on but overall really good bumper. Read the directions before installing makes life easier and you won't have to take the bumper off 3 times.
Edward S
from elgin, OR says:
Love it! Everyone who sees it wants one! Very durable and stylish!
Nicholas S
from Port Townsend, WA wrote:
The bull bar I ordered looks very good on the truck! The installation was a little hard but I love it!