Trident Bull Bars & Grille Guards
Put an unstoppable shield between the front of your truck or SUV and anything that it could get in its way with a Trident Bull Bar or Grille Guard. With the rugged materials used for construction, these brush guards will protect your hood and grille from flying debris, even unexpected fender benders. You can also choose between a variety of styles and finishes to fully customize your rig. You'll find Trident brush guards and bull bars at the best prices when you shop AutoAccessoriesGarage.com.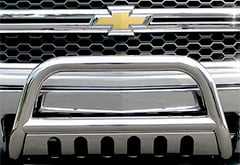 From $169.46
Free Shipping
Quick View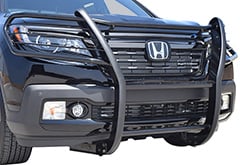 From $389.00
Free Shipping
Quick View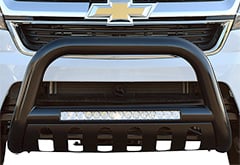 From $295.62
Free Shipping
Quick View
About Trident Bull Bars & Grille Guards
Fortify your front-end fashion the right way with Trident Grille Guards and Bull Bars. At AAG, finding a shield for you exact make and model of truck or SUV is easier than ever. Just punch in the info on what you're driving and we'll see to it that all you'll see are the parts that will fit your ride. Plus, all of our Trident brush guards include free shipping – which sort of makes a good deal even better. Treat your truck right with Trident, and treat your wallet right with Auto Accessories Garage.
At AAG, we take pride in our customer service which is exactly why when you're checking out our Trident Bull Bars and Grille Guards, we'll be available by phone, email, or live chat and ready to help. Whether you have a question about the available finishes, need help comparing different models, or simply need to track your package after ordering, we're here with answers. Our Trident brush guard reviews and high-resolution photos help you make an informed decision. Choose AAG, and shop Trident with confidence.
Trident Bull Bars & Grille Guards Reviews