Chevy Express Bull Bars, Grille Guards, and Brush Guards
Find the industry-leading brands of Chevrolet Express Bull Bars, Grille and Brush Guards here. Your Chevrolet Express's headlights, bumper, and grille are safe from destruction when guarded by a grille guard. Express bull bars & grille guards supply bold style while also safeguarding your front end from harmful hazards like branches and light impacts. Van bull bars & grille guards are available with tough Polished Stainless Steel and Powder-Coat finishes to achieve the style you need. The best Chevrolet Express bull bars and grille guards with competitive prices are here at Auto Accessories Garage.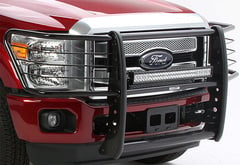 From $402.99
Free Shipping
Quick View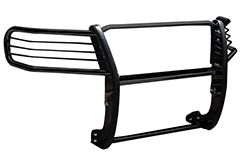 From $591.49
Free Shipping
Quick View
Express Bull Bars & Grille Guard Reviews
Sherwin C
from Monticello, KY wrote:
You will need help installing this. I struggled with it for about four hours until my neighbor came and helped me I suggest you don't tighten everything down until you get it all put together and lined up, other than the above mentioned I love the way the guard looks it really improved the look of my van. Read more Go Rhino 3000 Series Grille Guard customer reviews.
We offer Chevrolet Express Bull Bars & Grille Guards for the following years & trims:
Express 3500 Bull Bars & Grille Guards
Express LS Bull Bars & Grille Guards
Express LT Bull Bars & Grille Guards
Express G2500 Bull Bars & Grille Guards
Express G3500 Bull Bars & Grille Guards
Express G1500 Bull Bars & Grille Guards
Express 1500 Bull Bars & Grille Guards
2020 Chevy Express Bull Bars & Grille Guards
2019 Chevy Express Bull Bars & Grille Guards
2018 Chevy Express Bull Bars & Grille Guards
2017 Chevy Express Bull Bars & Grille Guards
2016 Chevy Express Bull Bars & Grille Guards
2015 Chevy Express Bull Bars & Grille Guards
2014 Chevy Express Bull Bars & Grille Guards
2013 Chevy Express Bull Bars & Grille Guards
2012 Chevy Express Bull Bars & Grille Guards
2011 Chevy Express Bull Bars & Grille Guards
2010 Chevy Express Bull Bars & Grille Guards
2009 Chevy Express Bull Bars & Grille Guards
2008 Chevy Express Bull Bars & Grille Guards
2007 Chevy Express Bull Bars & Grille Guards
2006 Chevy Express Bull Bars & Grille Guards
Popular Chevy Express Bull Bars & Grille Guards