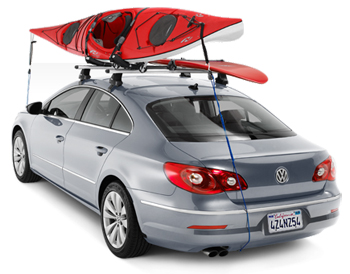 Road tripping is the quintessential American getaway. The open road, the ever-changing scenery, and the infinite detours and discoveries you make along the way make for a unique, unforgettable experience. There's one big challenge every road tripper faces, however - where do you put all your luggage without suffocating your passengers?
Luckily, there's a solution. Roof racks and cargo carriers let you store gear outside your vehicle so you can take everything you need without cramming your cockpit. Read on and learn how roof cargo racks and carriers can help you make the most of your next road trip, and find out how to choose the best racks for your vehicle and your cargo-hauling needs.
Roof Racks
You can vastly improve your vehicle's storage capacity by mounting large cargo overhead. The roof rack forms the base of your cargo hauling system. This rack makes a perfect platform to mount your luggage or cargo carrier, and you can use it to mount other equipment like bike racks and ski racks. You can choose from a variety of luggage roof rack kits and pieces, depending on how your stock vehicle is equipped.
Complete Rack Systems
If your vehicle isn't equipped with a factory roof luggage rack, don't fret - we carry a full line of complete rack systems and rails that give your bare roof a secure place to mount cargo. Racks from ProRac are available for a wide variety of vehicles. You can build your rack system from scratch, too. Start with a set of ProRac Lo-Pro Tracks and add ProRac crossbars to complete the package. Instead of a modular system, you can also install a permanent mount ProRac roof rack. This rack includes a pair of fixed crossbars that mount directly to your roof without tracks for high strength and security. Another great brand, Rhino-rack, provides a number of versatile rack system options including the Euro Square Bar Roof Rack System and the 2500 Series Rack System.
Base Rack Systems & Crossbars
If your vehicle already has stock roof rails, go with the Thule roof rack system, which is custom-designed to mount flawlessly to your factory-installed rails. Thule roof racks feature strong crossbars and are compatible with various carriers, ski racks, and bike racks. Because they're custom-made to your exact vehicle, our crossbars and base rack systems simply drop right into your factory racks - usually with no tools required.
Compare Our Most Popular Cargo Carriers & Roof Racks
Price
from $89.65
from $309.90
from $69.20
from $228.60
from $287.10
Shipping
Free Shipping
Free Shipping
Free Shipping
Free Shipping
Free Shipping

Rating

Overall:
Performance:
Quality:
Appearance:

Install Time
Under 30 minutes
Under 30 minutes
30-60 minutes
30-60 minutes
30-60 minutes
Fit
Universal Fit
Vehicle-Specific Fit
Universal Fit
Vehicle-Specific Fit
Vehicle-Specific Fit
Colors
Warranty
1-Year Warranty
Lifetime Warranty
1-Year Warranty
Lifetime Warranty
Lifetime Warranty
More Details
More Details
More Details
More Details
More Details
Cargo Carriers & Bags
Hauling gear overhead is great for keeping your sight lines clear and your passengers comfortable, but what if it starts pouring outside? Is your valuable luggage and camping equipment protected from Mother Nature's various methods of assault? You should consider keeping your cargo covered when going on those long trips. The best way to do this is by storing your gear in a rooftop cargo carrier or roof cargo bag.
Cargo Carriers
Stow your gear in a secure, durable overhead compartment with a rooftop cargo carrier. These tough boxes mount easily onto your roof rack's crossbars and provide a handy place to haul your cargo. Carriers for SUVs and cars like the Thule Atlantis Box and the Thule Boxter Cargo Box are made from impact-resistant composites for supreme durability, and they shield your goods from even the worst weather. Plus, many of them have huge storage capacities despite their low-profile look, so you won't be at a loss for cargo space.
Did You Know? Cargo carriers are specially designed not just to look cool - their smooth lines and curves maintain your vehicle's aerodynamics for a drag-free ride and excellent fuel economy.You probably take some valuable and expensive gear with you on road trips, whether you're going on a fishing excursion or helping your daughter move into her college dorm room. Keep your stuff safe with a cargo carrier. These rooftop boxes are designed to keep your valuables safe from theft and prying eyes. Rather than simply tying luggage to your roof, these boxes shield your goods out of sight. Plus, many carriers including the ProRac Explorer and the Thule Sidekick feature a locking mechanism to keep potential thieves away.

Cargo Baskets
You might have some luggage and gear that won't fit in a cargo bag or rooftop cargo carrier. If that's the case, pick up a cargo basket. These tough metal baskets clamp onto your roof rack and make a handy place to tie down your gear. With a Yakima or Curt roof rack you can carry just about anything you can imagine overhead.
Cargo baskets aren't just limited to your roof. You can also add some extra capacity behind your vehicle with a trailer hitch cargo carrier like the Curt Basket Style Cargo Carrier. These cargo boxes and baskets mount to your trailer hitch to carry up to 500 pounds of extra stuff. With a carrier on your hitch, you can haul everything from luggage and lumber to coolers and crates.
Cargo Bags
A cargo bag acts like a giant backpack for your car, truck, or SUV. By strapping one of these bags to your roof you add flexible cargo hauling capabilities to your vehicle. Many rooftop cargo bags like the PackRight Sport 3 car top carrier and the Thule Ranger rooftop cargo bag are crafted from water-resistant materials to shield your gear from the weather. Plus, a few roof cargo bags from PackRight can be mounted to your vehicle even if you don't have a roof rack. Understanding these differences is important for determining what is the best rooftop cargo bag for your needs.
Take a look at the following video to see how easily a PackRight cargo bag mounts to your roof rack and protects your gear.
Equipment Racks
Once you're set up with a roof rack you can accessorize it with a wide variety of add-ons that let you easily carry large and awkward cargo like kayaks and skis. Our sport racks mount to ProRac and Thule racks to turn your vehicle into a versatile cargo-hauling machine. Here are some of the extra racks you can add to your vehicle:
Ski Racks & Snowboard Racks

There's nothing like hitting the slopes after the first big snowfall of the season. The problem is, driving with a bulky bundle of skis and snowboards running up the middle of your cockpit is not quite as fun. That's why manufacturers developed snowboard racks. These racks clamp onto your roof rails and carry up to 6 pairs of skis or 4 snowboards above your vehicle. Our ski & snowboard racks & carriers are also designed with oversize latch buttons so you don't even have to remove your gloves to get your board.
Surfboard Racks
You don't have to call your buddy with the pickup truck every time you want to hang ten. With a surfboard carrier mounted to your roof rack you can take your board to the beach the second the waves call your name. Surfboard racks are easy to install and carry a variety of boards. For maximum board security, go with the Inno BoardLocker surfboard rack. This rack includes a locking mechanism that keeps thieves and other beach bums from snagging your boards.
Kayak Racks & Canoe Racks
Canoes and kayaks make for great fun on lakes and rivers, but they can be hard to transport. That's not the case with our canoe racks & kayak carriers. Thule and Inno kayak racks let you haul your watercraft over your vehicle. They self-adjust to fit the curves of your boat, keeping it safely mounted and centered on your roof. For the easiest loading and unloading, check out the Thule Hullavator kayak carrier or the Thule glide and set kayak rack. These racks feature assisting designs that make mounting and removing your kayak hassle-free. Canoes pose a challenge due to their large size, but they're not a problem with versatile canoe carriers.
Final Thoughts
Hauling your luggage and toys is a cinch when you're equipped with the right gear. We hope this guide on vehicle storage, as well as our customer-written reviews help you make a more informed decision when shopping for cargo hauling gear. If you have any questions about the information in this guide please contact our knowledgeable Customer Service Department at 800-663-1570.
This page was written by Packy AutoAccessoriesGarage