It takes just minutes to install a Dashboard Cover to your interior, but the great looks and protection make a whole world of a difference for the life of your vehicle. Dash Mats come in all kinds of materials and styles, from velour to suede, and from standard colors to wild custom prints. There are also several different brands out there. Let's look at two leading brands, DashMat and Coverking, to help you find the best Dash Cover for your style and your needs.
DashMat Dashboard Covers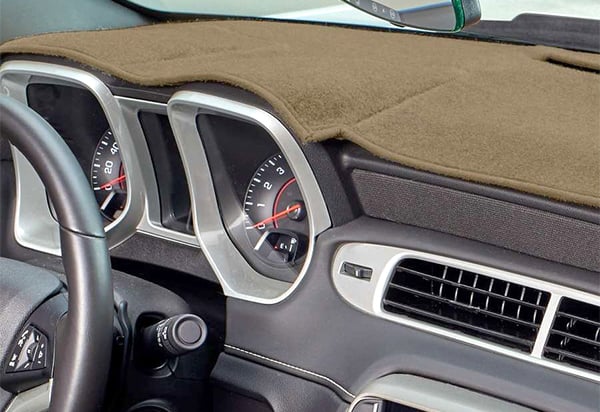 DashMat is one of the most counted-on names when it comes to interior protection. There's a DashMat Dash Cover for all kinds of vehicles, going as far back as the 1970s. Every one is custom-made to your exact dashboard, ensuring a completely precise fit and full coverage that maintains use of all your vents and factory options.
You can choose from several different materials for your cover, as well. The DashMat Suede Dashboard Cover features a high-quality synthetic material that feels and looks just like nice suede, instantly adding some extra luxury to your interior. If you want more of a carpeted look, check out the DashMat Ultmat. This cover is made from a durable needle-punch carpet and soft-molded to your dashboard's contours. The result is a tough, color-fast dashboard cover that stands up to the sun's harsh rays and looks great for years.
DashMat Dashboard Covers are also very easy to install. Check out this video and see what it takes:
Coverking Dashboard Covers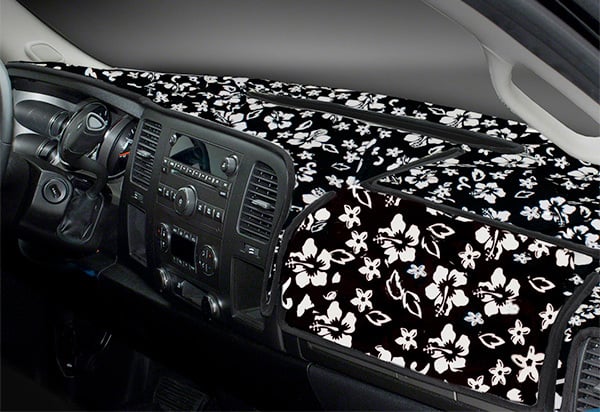 Coverking made their name over the past few decades by crafting high-quality custom car covers and seat covers. It only follows, then, that when they took to crafting dashboard mats they hit the ground running. Coverking Dash Covers are known for their top-quality materials, supreme fit, and even their different style options. The same design and manufacturing technology that goes into their famous car covers goes into these dash mats, so you know quality is guaranteed to be top-notch.
Like DashMat, you can choose from a variety of materials for your Coverking Dash Cover. The ever-popular Coverking Poly-Carpet Dashboard Mat is made from low-pie polyester carpet that resists the glare, warping, and other damage the sun causes. The Coverking Velour Dashboard Cover is a soft and fancy-looking material that dresses up any interior - plus, they match Coverking's Velour Seat Covers, so you can get a complete look. You can even pick up a Coverking Velour Rear Deck Mat and get the area behind your back seats covered.
Coverking also helps you stand apart from the pack, with a wide variety of available prints. Coverking Fashion Print Dash Mats come in designs like camouflage, Hawaiian, and animal prints. And just like the rest of their mats, Fashion Print Dash Covers feature a precision custom fit.
Coverking or DashMat - What Is The Best Dashboard Cover?
Both DashMat and Coverking manufacture high-quality, excellent-fitting Dashboard Covers. So which one do you choose? Primarily you should consider factors like your budget, the kind of material you want, and whether you want a solid color or a specialty print. Make sure to Look at the comparison chart below and check out our Dashboard Cover Reviews - and if you have any other questions our customer service team is on call at 800-663-1570.
| | | |
| --- | --- | --- |
| | | |
| Starting From | $36.00 | $39.46 |
| Materials | Poly-Carpet, Suede, Velour, Molded | Carpet, Velour, Suede |
| Styles | Dashboard Covers, Rear Deck Covers | Dashboard Covers |
| Finishes | 10+ Colors, 7+ Fashion Prints | 12+ Colors |
| Warranty | Lifetime | 1-Year, Lifetime (Depending On Model) |
| Shipping | FREE | FREE |
| | | |
This page was written by Packy AutoAccessoriesGarage