Corsa Exhaust & Tips
Overhaul your vehicle with a Corsa Exhaust System, and enjoy torque and horsepower increases that will do a little bit of everything for your ride's performance. These systems and tips come in custom-designed, vehicle-specific configurations that get the most out of your car or truck's engine while making it look great. Go with Corsa Exhaust, and you can count on MORE POWER!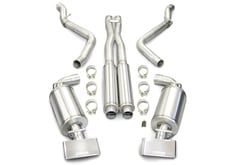 From $286.99
Free Shipping
Quick View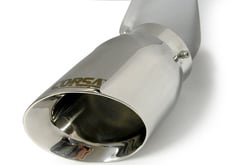 From $179.99
Free Shipping
Quick View
About Corsa Exhaust
It feels so good when you find an exhaust company you can trust. Rest assured, you've done so here, as Corsa Exhaust does the job and then some for your ride. Whether that's in giving you a high-performance full system upgrade that you're guaranteed to love or a set of hot polished tips that finish everything off just so, what you need is here. Look around and we know you'll love what you find.
There's just nothing else quite like putting an exciting, power-enhancing exhaust under your vehicle. That's what Corsa Exhaust makes sure they provide for every single one of their customers. The product line isn't huge, but that's simply because they've focused on doing one thing better than just about anyone out there. Of course, if you first mission out the gate is upping the performance on Corvettes, intense focus is a requisite.
Shopping for Corsa Exhaust at AutoAccessoriesGarage.com is easy as can be. Tell us your vehicle, and we'll tell you what Exhaust Systems and Tips are available for it. Read the product write-up and check out the pictures. If it's right for your needs, make a purchase and your new merchandise ships for free. When questions arise, consult our dedicated and knowledgeable Customer Service team, never more than a phone call or live chat away. At AAG, it's our job to make your life less difficult, however we can do so.
Corsa Exhaust Reviews
Christopher A
from Grand Rapids, MI wrote:
Once I finally got the old exhaust removed, this new Corsa exhaust fit's perfect. Built quality is excellent the sounds is a good medium volume. It has a deeper & louder growl for the first ~10 seconds after a cold start but quickly quiets down. Read more Corsa Exhaust System customer reviews.
Jim R
from Kingsburg, CA said:
Product was very good, instructions not so good. If you are not handy with tools you might have problems. I ended up taking the whole exhaust system (from cat back) off to get the stock resonator off using a floor jack as a helping hand other than that it was very simple install. Sounds really good at startup, I can't really hear it going down the road. If I were to do it over I probably wouldn't not for over 200 bucks for a piece of pipe.
Michael D
from Dawsonville, GA wrote:
I am by no means a mechanic. And I couldn't talk to you about specs and all that. I knew what I wanted my truck to sound like, and this exhaust achieved exactly that. Aggressive tone on acceleration, no droning, and what feels like a horsepower increase, but may just be an unbridling of the already available horses. Either way, sounds good, looks good, feels good. Definitely recommended.
Prashant S
from Burnsville, MN wrote:
Product sounds good but less than what I expected but I'll take it. Shipping was awesome. Will definitely shop here in future!! Way to go guys :)
"Hodge"
from Bethel, ME says:
High quality, easy to install, awsome tone, growls when you stand on it and quiet on the interstate. Pricey but worth every penny. I would highly recommend this system to anyone.
Garry L
from East Berlin, PA wrote:
Overall, pleased with the Corsa system. Sounds great, looks good, and was fairly easy to install. It took some time to get both tailpipes aligned so that they were even and straight at the back of the car.