Doug Thorley Header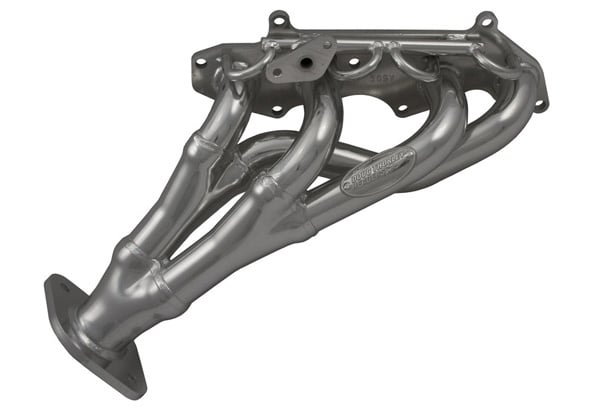 Our Price:

$417.27

- 1,427.57

Shipping:

FREE SHIPPING
Legendary header performance that's over 50 years in the making
14-gauge steel tube construction for excellent life span, custom designed to fit your exact vehicle
Available in three different styles to complement your vehicle and needs
50 State smog legal for many applications - includes all required smog equipment and mounting locations
Custom gasket for no-leak fit and performance included on applicable models
Ceramic-Thermal coating resists and absorbs engine heat for cooler, more efficient performance
Includes O2 sensor bosses
Lifetime Warranty
Doug Thorley's tradition of excellence in performance upgrades started in the 1950s and continues to this day. By combining craftsmanship with devoted attention to details, they have created high quality headers for the hot rod scene.
Your next Doug Thorley Header is available in one of the following configurations:

Tri-Y Headers: engineered to match firing sequences and minimize exhaust resistance. Maximum torque and power gains through 4500 RPMs, increased fuel economy.

Shortie Headers: designed to fit vehicles with limited space under the hood. Easy to install, specially designed to maintain emissions mounting positions for compliance with the strictest smog standards. Improves performance, enhances gas mileage.

Long Pipe Headers: popular for high performance street scene, tuned for maximum power throughout entire RPM range thanks to larger, longer primary tubes. Improve your mileage by 2-3 MPG.

All Doug Thorley Header models are constructed of 14-gauge steel for ultimate longevity. Custom designs and tunes are engineered to perform and fit flawlessly under your hood. Coated inside and out with a Ceramic-Thermal Coating that protects your header from the elements and withstands up to 1,400 degrees F, these Doug Thorley headers promote exhaust velocity and absorb up to 40% of the engine temperature to keep your engine cooler and running more efficiently.

Your Doug Thorley Header comes with O2 sensor bosses, smog equipment, and a custom gasket for 50-state legality in many applications, and a leak-free fit. Backed by a Lifetime Warranty.
Doug Thorley Header

Customer Reviews
Overall:
Performance:
Quality:
Appearance:
Average Install Time: 2+ Hours
Showing 10 of 12 reviews. See All Reviews.
John V

who drives a

Toyota Tacoma



2020-03-21
It sounds good and looks nice on the truck. It was back ordered but once I got it, it fit perfect and looks good.
Jose Luis S

who drives a

Toyota Tacoma



2018-10-05
High quality, professional made, increased HP in my 2001 Toyota Tacoma 2.4L, I highly recommend, Thanks.
Install Time: 30-60 minutes
Jerod P

who drives a

Toyota 4Runner



2017-08-17
Ok, everyone knows that these are hard to install, but for 96-98 autos, these are extremely hard to install. I knew I couldn't do it so had a shop install it. It took them over 10 hours, since they had to relocate the transmission dipstick, the transmission kickdown cable, and a wiring bracket. All required extra fabrication. The flange provided does not fit on the exhaust pipe either, that had to be modified as well. The quality of the headers though, is top notch. Can't beat the product. But the install almost makes the whole thing not worth it which is why I gave it 3 stars.
Randy Bailey

who drives a

Toyota Land Cruiser



2016-10-28
I had bought the jba brand and when they arrived I was disappointed with the over all quality so I returned them and ordered the doug thorley brand. These are far better made a world of difference from the packing of the box to the ceramic coating to the clean welds. Auto accessories garage is tops. Great customer service and super value.
Derrek J

who drives a

Ford F250



2016-09-03
I have had the headers on my Super Duty for about a month now. Install was straight forward, everything fit as it was supposed to. The only thing I did not like that was in the kit was the exhaust clamps, I feel it should have been a band clamp instead. I would order 2 band clamps ahead of time when installing these headers. I had 12 broken studs, so I had a lot of time into it, but not including stud extraction, install time took about 4-5 hrs. I am a diesel mechanic, and do this stuff everyday. With these headers you will no longer have to worry about broken studs, unlike with manifolds, which was the main reason I went with headers. I also choose these because of the built in my pipe, Fords is very restrictive, and lastly for the thick tubes and flange. I have pulled with these headers quite a bit now and have noticed a decent increase in power, and feels like a slightly wider power band. The truck no longer down shifts on certain hills I would have had to before. After a month I have checked the bolts twice, re-torqued the bolts a week after install, they all moved a little, after that have not had any problems, no exhaust leaks. I am very happy with this purchase.
Paul C

who drives a

Hummer H2



2016-08-03
Very good build quality, noticed a better throttle response also.
Lincoln C

who drives a

Toyota Tundra



2016-07-31
Looked great, great performance but very hard to install.
Alton H

who drives a

Toyota Land Cruiser



2016-05-07
Header quality was great, and fit was good. Overall good experience and would recommend to anyone.
Jason W

who drives a

Toyota Tundra



2016-03-19
This set of headers took 7+ hrs to install with 2 people (one of which is a service manager at a dealership). Whoever designed these headers clearly didn't do an installation on them, otherwise, they'd have gone back to the drawing board. Be prepared to spend a ton of time turning nuts very slowly in confined spaces. There are numerous nuts, mostly on the passenger side, that are difficult to access with anything less than a foot of socket wrench extensions or only an open-ended wrench. On the driver's side, there is one nut that you MUST put on first (third cylinder from the front, top side of the cylinder), or you can't get it on, due to clearance issues. On top of that, it's hard to reach AND see, and it took one person guiding the other's wrench to tighten it. Performance wise, I haven't noticed anything better than stock on my test drive, and the sound is about the same as the stock manifold. I replaced the OEM due to gasket failure and the terrible quality of the OEM manifolds. In short, have several different lengths of wrench extensions, thin and thick walled sockets and deep sockets as well.
Jeff B

who drives a

Suzuki Samurai



2015-11-10
Very nice install. Was a breeze.
Install Time: Under 30 minutes
Showing 10 of 12 reviews. See All Reviews.