When you want to boost your vehicle's power output, toughen up its sound, or even dress up your exterior style, upgrading your exhaust system is the way to go. The premier exhausts give you all three benefits, of course, and both Magnaflow and Flowmaster know how to do it right. We are often asked by customers if they should decide between the two brands, so we thought we'd lay them side-by-side to help you decide on the right exhaust system for your needs.
Flowmaster Exhaust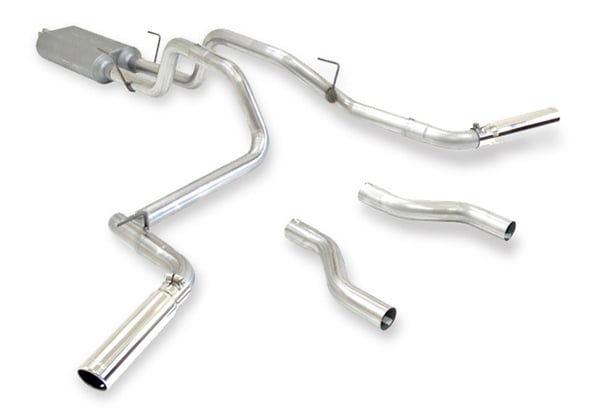 One of the most popular names in exhaust, Flowmaster has been satisfying performance enthusiasts since the early '80s. To this day they continue to inspire, with systems like the Flowmaster Force II and American Thunder. All Flowmaster Exhausts are made here in America, so you know they're built with pride. Plus, they've got the unique, awe-inspiring sound you can only get from a Flowmaster. Every system features aluminized steel construction, with true mandrel bends for the smoothest possible flow and fully custom designs for an easy installation.
Hook up a full system like the Flowmaster American Thunder, or simply replace your muffler for an improved sound and performance. Flowmaster offers a wide variety of chambered mufflers to suit your needs, from the super-aggressive Flowmaster 40 Series to the power-enhancing Flowmaster 70 Series Muffler. Plus, every Flowmaster exhaust and muffler is backed with a 3-Year Warranty.
Magnaflow Exhaust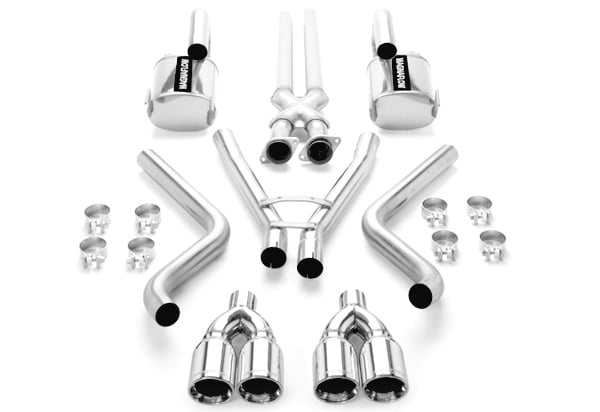 Magnaflow Exhausts filter out harsh sounds and bad resonances, resulting in a growl that's throaty, tough, and smooth. They're also designed to give you some extra horsepower (in some cases up to 10%!), and you might even see an improvement in your fuel economy. Magnaflow crafts their exhausts from stainless steel that fights corrosion and lasts year after year. Their real mandrel bends also provide maximum exhaust flow, improving your economy and power potential. Plus, every Magnaflow Exhaust is backed with a Lifetime Warranty, so this is a system you can count on for as long as you own your vehicle.
Magnaflow also offers a line of catalytic converters that are designed to clean up your emissions while freeing up the power-robbing restrictions that your stock catalytic causes. Magnaflow catalytic converters feature a honeycomb-shaped catalyst that maximizes exhaust flow while still cleaning the pollutants out of your exhaust gases. The result: a vehicle that's performing at its peak while staying street legal.
Magnaflow or Flowmaster - What's The Right Exhaust for You?
Both Magnaflow and Flowmaster provide excellent performance gains and an awesome sound, but a lot of it comes down to what you're really looking for in an exhaust system, as well as your budget. Opinions on exhausts are also highly subjective due to their various sound qualities, so be sure to read our exhaust reviews and see what your fellow drivers and enthusiasts think. In the meantime, take a look at the following comparison chart to find the bet exhaust brand for your needs:
| | | |
| --- | --- | --- |
| | | |
| Starting From | $196.89 | $288.51 |
| Materials | Aluminized Steel | 409 Stainless Steel |
| Styles | Single or Dual Exit | Single or Dual Exit |
| Designs | Cat-Back, Axle-Back, Header-Back, Turbo-Back | Cat-Back, Axle-Back, Downpipe-Back, Turbo-Back, DPF-Back |
| Available Accessories | Mufflers | Mufflers, Catalytic Converters |
| Warranty | 3-Year | Lifetime |
| Shipping | FREE | FREE |
| | | |