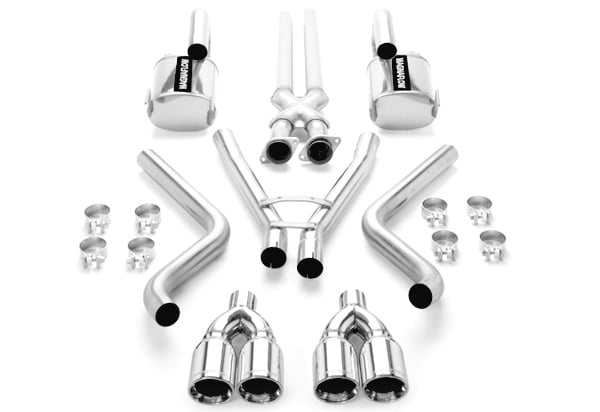 One way to improve your vehicle's performance, sound, and even looks is by hooking up a new performance exhaust system. You might think all those twisting, turning pipes make for a challenging installation, but the fact is exhaust installation really is a simple process.
Virtually every exhaust system from AutoAccessoriesGarage.com is custom-designed to your exact vehicle. This means installing an exhaust is just a matter of swapping it out for your stock parts. There's no need for bending, and usually you don't need to do much cutting. Whether you're installing a Magnaflow exhaust to your muscle car or a Borla exhaust onto your diesel truck, every exhaust installation is basically the same.
Exhaust Installation Instructions
Give yourself plenty of space to work around and under your vehicle. Raise your vehicle on a lift or heavy-duty jack stands. Note: Make sure your vehicle is safely supported before working under it.
Detach your stock exhaust from the catalytic converter. The stock pipe is usually attached to the catalytic with a clamp that can be easily loosened. If there is no clamp or you can't free it up, you might have to cut the exhaust pipe after the converter.
Your exhaust is most likely suspended with a series of hanging brackets or hooks. Starting from the converter side, lift the stock exhaust off the brackets and take it out.
Helpful Tip: When you first assemble your exhaust system, don't tighten all the clamps down completely just yet - give yourself some wiggle room so you can get everything in place more easily. Put your performance exhaust system together, making sure you closely follow the manufacturer's specific instructions.
Place your new exhaust into position. Virtually all of our exhaust systems are custom-designed to your exact vehicle, so they should fit your stock mounting brackets without modifications.
Tighten all the clamps around your exhaust system to secure everything in place.
Lower your vehicle from the jack or lift and run the engine to check for leaks.
Hit the road with more power and an inspiring sound!
It'll take some time for your exhaust system to settle in, and the high temperatures of exhaust gases can cause some pipes to very slightly change shape or loosen up. In about 2 weeks, go back under your vehicle and re-tighten all exhaust clamps and hardware.
Check out the following video, which shows a Gibson exhaust installation up-close:
Conclusion
While it may seem like a complex task, you don't need to be an ASE-certified mechanic to install most exhaust systems. Just take your time and make sure you've got all the tools and hardware you need before you hit any snags. If you have any more questions about exhaust installation, feel free to give our knowledgeable Customer Service team a call at 800-663-1570.