Your vehicle's carpeting faces countless hazards day in and day out, and they aren't going to protect themselves. So what do you do about it? There are plenty of carpet mats, rubber floor mats, and winter floor liners out there to choose from, and they're made by a plethora of manufacturers. Let's take a look at two of the most popular brands out there, to help you decide whether you want to go with WeatherTech or Husky Floor Mats.
WeatherTech Floor Liner Benefits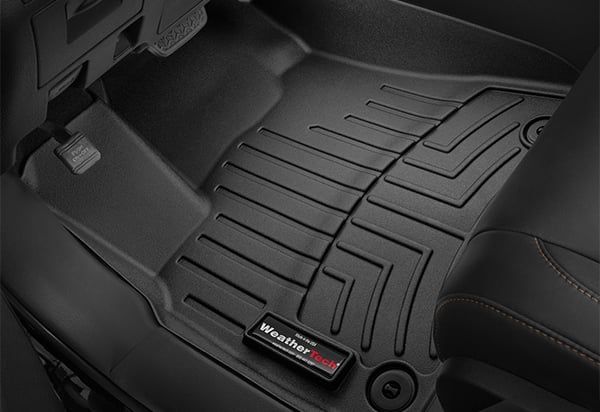 WeatherTech is quickly asserting itself as a dominant force in the world of car floor mats. And with good reason, too - these folks don't cut any corners when it comes to manufacturing and design technology. Plus, the company and their manufacturing facilities are located right here in the U.S.A. - so you know you're getting a product that's built with American pride.
WeatherTech Floor Liners are available in two different designs. Their standard floor mats are made from heavy-duty rubber and semi-custom designed to your vehicle type. These mats can easily be trimmed down for a precise fit. Weather Tech DigitalFit Floor Liners, however, feature fully custom designs that perfectly match the contours of your floor for total coverage. They're also molded from a semi-flexible tri-extruded material that's rugged and holds its shape for years. WeatherTech Floor Liners and DigitalFit Floor Liners are backed with a 1-Year and 3-Year Warranty, respectively.
Husky Liner Floor Mat Benefits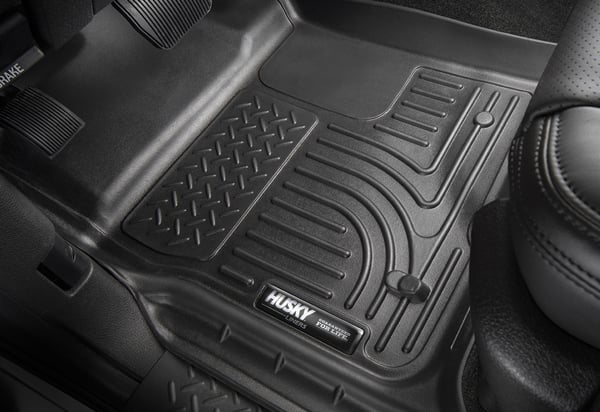 Husky Liners has been in the floor mats game for over two decades, and their experience shows. Husky Liners Floor Liners and Cargo Mats feature tough materials, tight custom fits, and designs that are both functional and stylish. Husky Floor Mats are made by experienced personnel who really care about their craft, and most of them are backed with a Lifetime Warranty.
There are several different designs of Husky Liner Floor Mats to choose from. Whether you need just a little bit of shielding or full-blown heavy duty protection, there's a set of Husky Floor Mats for you. Choose the traditional Husky Liners, WeatherBeater Floor Liners, or X-act Contour Liners for fully custom-fit protection, or pick up some trim-to-fit Husky Heavy Duty Floor Mats for high-demand situations. Every one of these all-weather floor mats is molded from heavy-duty thermoplastics to resist splitting and cracking, and you simply hose them off to clean them.
This video shows how Husky Liners are ready to handle even the worst spills.
Husky Liners or WeatherTech?
So the big question is, in the Husky Liners vs. WeatherTech debate which do you choose? It truly depends on what you're looking for in a floor mat. Take a look at some of the comparisons below and find out which is the right choice for your needs:
 
Price
from $56.95
from $74.95
from $54.95
from $44.95
from $99.95
Shipping
Free Shipping
Free Shipping
Free Shipping
Free Shipping
Free Shipping

Rating

Overall:
Performance:
Quality:
Appearance:

Install Time
Instant
Instant
Instant
Instant
Instant
Fit
Vehicle-Specific Fit
Vehicle-Specific Fit
Vehicle-Specific Fit
Vehicle-Specific Fit
Vehicle-Specific Fit
Colors
 
Logo Available
No
No
No
No
No
Material
Rubberized Thermo-Plastic
High-Density Tri-Extruded
Rubberized Thermoplastic
Rubber
Seepage Free, Rubber-Like
Retention System
Factory Retention Grommets/Cutouts
Factory Retention Grommets/Cutouts
 
None
Factory Retention Grommets/Cutouts
Shape
Tall Side Walls
Tall Side Walls
Tall Side Walls
Flat Edges
Tall Side Walls
Underside Texture
Spikes
Smooth
Spikes
Smooth
Nibs
Warranty
Lifetime Warranty Against Breaking Or Cracking
3-Year Warranty
Lifetime Warranty
10-Year Warranty
Lifetime Warranty
 
More Details
More Details
More Details
More Details
More Details