Jet V Force Plus Power Control Module 67027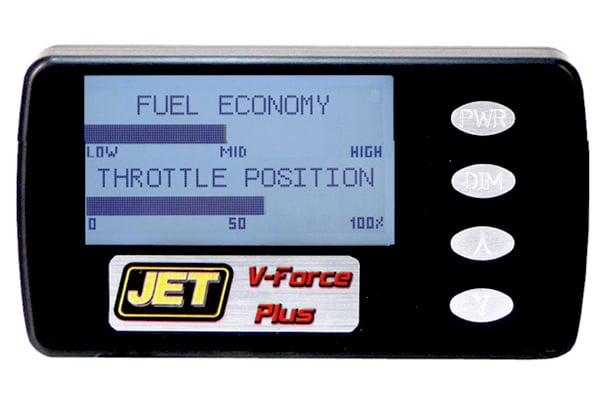 Our Price:

$289.46

Shipping:

FREE SHIPPING

Part Number: 67027
UPC: 064330041317
V-Force Plus Power Control Module
$289.46
Free Shipping
Ships between 10/12/22 - 10/18/22
Improved horsepower and throttle response
14 different monitoring screens
Allows for extensive recalibration of your vehicle's fuel maps
Optimizes ignition advance curves
Fully backlit LCD display
Backed by a 6-Month Warranty
The Jet V-Force Plus features the same power tuning technology used in Jet's performance modules. It recalibrates your vehicle for maximum performance, increasing your engines horsepower and efficiency. Even more, it's backlit LCD display, with 14 different screen views, you'll be able to monitor everything from fuel economy to the manifold pressure.

Your Jet V-Force Plus features an inline tuning device that uses a microprocessor to optimize ignition spark advances and recalibrates the fuel maps for improved horsepower, torque, acceleration, and throttle response. It's backlit LCD display with built-in dimmer allows you to select from

The Jet V-Force Plus works great with other aftermarket upgrades including performance exhaust systems, air intake systems, and mass air sensors. It comes with multiple ways to mount to your vehicle and is backed by a 6-Month Warranty.
Jet 67027 fits:
2000-2002 Infiniti G20
1995-1998 Nissan 200SX
1990-1998 Nissan 240SX
1993-2010 Nissan Altima
1990 Nissan Axxess