Performance chips can give your vehicle a serious boost in overall performance. There are a lot of things to consider when finding the perfect chip, modulator, tuner, or monitor. After all, some are compatible with gas engines, some diesel, some both – and many tuners are designed for sports car and racing applications in mind while others are best for tuning large trucks and SUVs. But whether you want to add more horsepower to your sports car so you can race faster at the drag strip, or to your full-sized truck so you can tow other full-sized trucks, a performance chip is the way to do it.
But it's important to keep in mind, not all performance chips are legal in every state, so many drivers – especially in places like California – will need to double check local ordinances against their desired performance chip. Just another area where we here at Auto Accessories Garage are happy to share our expertise. Our product specialists are in every day to help you find a performance chip or tuner that's not only compatible with your engine, but also compatible with your state and local laws.
With so many options on the market, we here at Auto Accessories Garage decided it might be a good idea to tell you about some of our all-time favorite performance chips, tuners, and modules (complete with customer reviews) to give you a jump start on your research. Read the reviews and take a look at our Top 10 Best Performance Chips of 2023:
The Best Performance Chips, Power Programmers & Tuners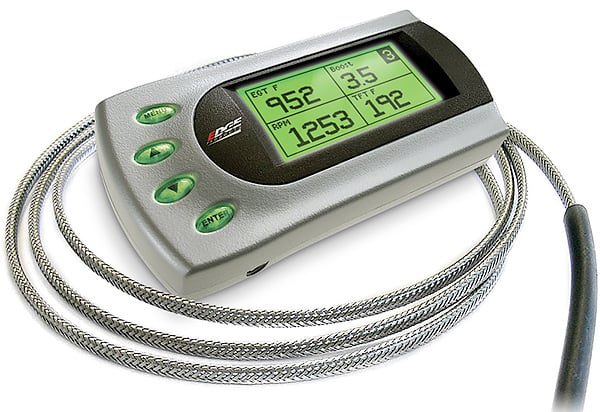 The Edge Evolution Programmer will improve everything from performance to handling. Gas-powered vehicles can expect to see increases of up to 35 HP and 50 ft./lbs. of torque. Diesel applications can expect to see up to 100 HP and over 200 ft./lbs. of torque. The state-of-the-art design is easy to program and can be updated over the internet with a USB connection.
This is about as good as it gets. I'm a gear head not a tech nut, but the set up wizard and everything else on this software makes it really easy to get the most out of your mechanics.

Read More Edge Evolution Programmer Reviews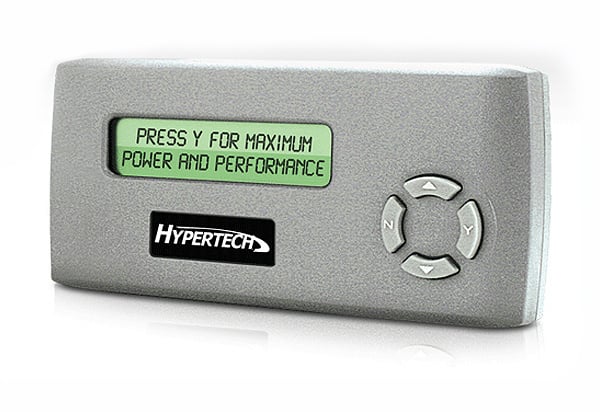 Backed by a Lifetime Warranty, the Hypertech Max Energy Programmer is has cracked the code to manage engine temperatures without sacrificing power or performance. A simple plug and play installation generally takes less than ten minutes to install, and this device can be easily updated via internet by USB cable.
Does what I hoped it would do. Really wakes the engine up, shows you that there really is potential under there.

Read More Hypertech Max Energy Programmer Reviews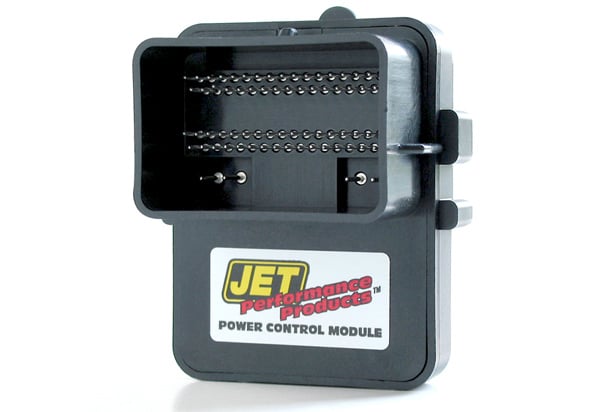 Maximizing performance gains is the name of the game with the Jet Performance Power Control Module. This device helps fine tune your engine for better acceleration, more towing power, and huge gains in horsepower. But the beauty of it is it does all of this without costing you any additional fuel. Plus, this module is 50-State Street Legal.
Just want to say this jetchip Works. I noticed as soon as the tires spun out. Off the line launch and highway use is incredible. Noticable Gains on my stock car. Its a 2001 V6 [sports car] and I can't wait to install the intake and exhaust.

Read More Jet Performance Power Control Module Reviews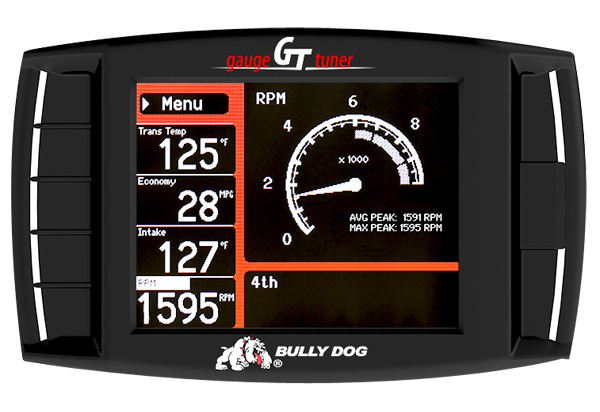 Compatible with both gas and diesel engines, the Bully Dog Triple Dog GT Tuner will turn your truck, SUV, or sports car into the meanest dog on the lot. A proprietary Driving Coach software records your habits and offers advice in real time that will allow you to increase fuel economy but as much as 37%. Speed limiter and speedometer calibration are also included.
I've had it in for one day and I already see improvements. Makes my truck fast, fun, and efficient.

Read More Bully Dog Triple Dog GT Tuner Reviews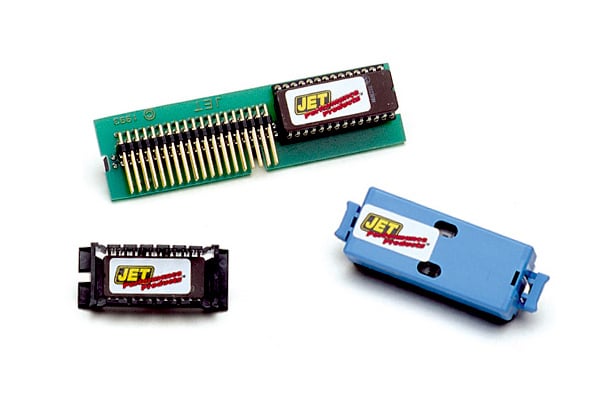 Not every product will promise an additional 23 HP after a simple plug-and-play installation, but the Jet Performance Chip is one such product. This chip is available in Stage 1 and Stage 2 and it's totally street legal in all fifty states. Installation usually takes just thirty minutes and this chip will improve fuel efficiency and allow you to tune the full range of your DST.
Some reviews say Jet chips dont work, but with the modifications I have done to my truck, without the Stage One chip my truck just doesn't run rite. Great product, great price.

Read More Jet Performance Chip Reviews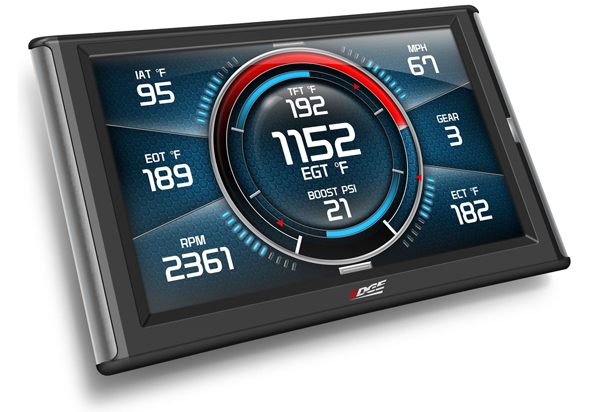 Setting custom shift points, a specific shift firmness, and managing your torque and fuel pressure are not things every driver is even interested in. But for those of us who are, the Edge Evolution CTS2 Programmer is here to help. Amplifying horsepower by up to 180 for diesel rides or 50 for gas rides is just one of many features this programmer will offer.
Definitely puts you back in control of your "modern" vehicle. I couldn't drive without one honestly. Can't hardly buy a manual trans anymore, and I can't stand the shift points the factory comes up with!

Read More Edge Evolution CTS2 Programmer Reviews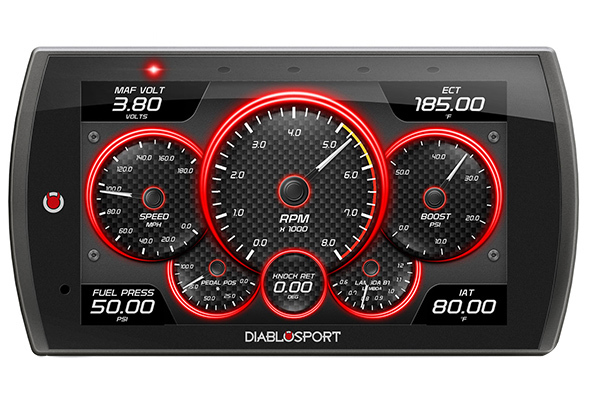 With a 5" touchscreen and a full-color display, you'll definitely look cool with a DiabloSport Trinity 2 EX Performance Programmer. This sleek and stylish programmer will help boost HP by as much as 23, and TQ by up to 24 foot-pounds. And thanks to optimized read and write times, this device will keep you notified up to the second on what your engine is up to.
This was just what I expected. Packaging was nice and the tuner was even nicer.

Read More DiabloSport Trinity 2 EX Performance Programmer Reviews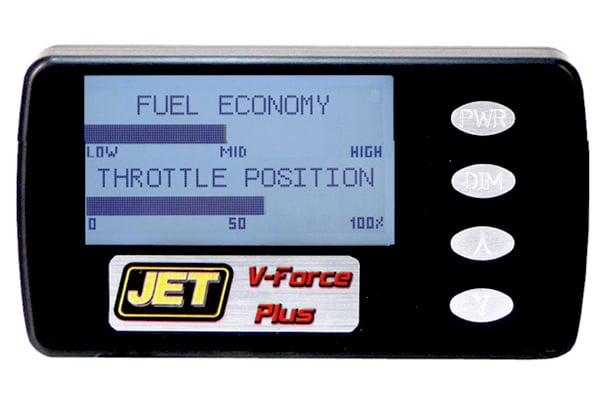 When it comes to control modules, it's hard to do much better than the Jet V Force Plus Power Control Module. With a fully light LCD display screen and fourteen different monitoring screens, this module will give you a clear and complete snapshot of what is going on under your hood, and how you can change it.
Packaging was great, unboxing was nice. Outside of a pair of pliers, everything else you need is in the box. Very convenient and easy.

Read More Jet V Force Plus Power Control Module Reviews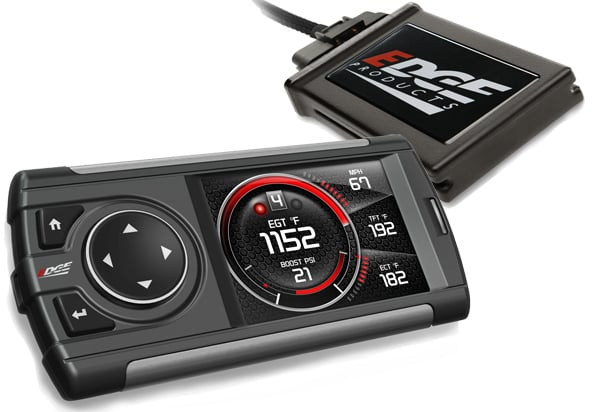 When your ride needs a little extra juice, you'll surely find a way to squeeze it out with the Edge Juice Attitude CS2 Programmer. Though it varies by make and model and a hundred other factors, Edge will tell you this device could add as much as 180 horsepower to your vehicle and up to 440 foot-pounds of torque.
Yep. Can't believe I waited so long on this one. I knew there was gold in them hills, just needed this juicer to help get it out!

Read More Edge Juice with Attitude CS2 Programmer Reviews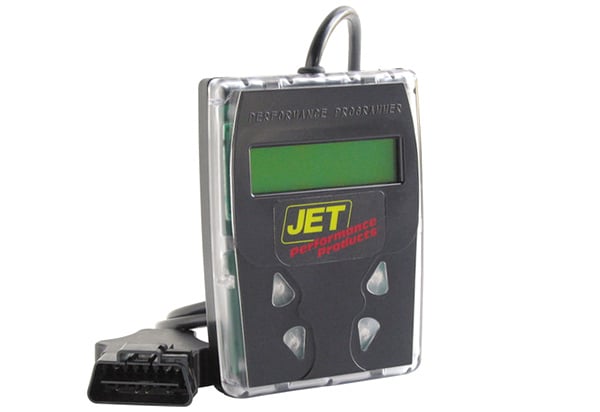 With the Jet Performance Programmer, you can add anywhere from 22 to 29 additional horsepower to your vehicle, not to mention 40 lbs. of torque. This unit arrives with preloaded programming configurations and also allows you to add your own so you can manually tweak your specific engine to perfection. Under-the-dash installation takes just about thirty seconds!
I thought the Jet Performance Programmer was easier to install in my 2012 Camaro SS than it's described to be. There are noticeable increases all the way through the power band.

Read More Jet Performance Programmer Reviews
What's the Best Fit for Your Vehicle? Enter Your Info Below to Find Out!
How Performance Chips Work
Every modern car, truck, or SUV is equipped with a built-in computer that controls functions from air/fuel ratios and gear shifts to ignition timing and gauge calibration. Your vehicle is programmed at the factory to accommodate everyday drivers who are focused less on performance and more on convenience. If you want to maximize your performance, whether you're racing, towing, or dominating the highway, the way to do it is by hooking up a Performance Chip.
Performance Chips and Engine Control Modules alter the way your on-board computer communicates with your engine's vital systems. By tweaking ignition timing, gear changes, and other systems, these chips pull extra power out of your vehicle and maximize your engine's potential.
Air/Fuel Ratio
To put it simply, your engine provides power by creating small controlled explosions in your cylinders. This process, called combustion, relies on an igniting element (like your spark plugs) as well as a carefully-balanced combination of fuel and oxygen. Your on-board computer tells your fuel injectors how much gas to send to the cylinders, which determines your air to fuel ratio. Unfortunately, your factory settings aren't tuned for maximum power, and you aren't getting the most out of every piston cycle.
Jet Performance Chips, Bully Dog Programmers, and other modules fine-tune your oxygen and fuel mixture to draw the most energy out of your cylinders. The result: more powerful and controlled combustion and excellent performance across your entire RPM range.
Ignition Timing
About Your Warranty: Hooking up a Power Programmer or Performance Chip won't void your vehicle's factory warranty. Warranty laws state that you can install aftermarket parts and remain under warranty unless your dealer can prove that the new part directly caused damage. Still, be careful when you dial in new rev/speed limits and other settings - If you aren't careful with your performance tuning you can cause damage to your engine that won't be covered by your warranty.The combustion in your engine not only depends on your air/fuel mix - it's also highly dependent on timing. When fuel gets sparked at its optimal time it generates a powerful explosion. Change the spark timing by a fraction of a second, however, and you'll lose a considerable amount of power.
Control Modules and Power Programmers from brands like DiabloSport and Hypertech adjust your ignition timing to maximize your combustion, improving both your engine's power and efficiency.
Rev Limiter
The rev limiter on your car or truck is programmed to restrict your engine's RPM range and automatically upshift to a higher gear when you reach a certain engine speed. This feature is designed to protect your engine from damage, but it's often set too conservatively and robs your vehicle of power potential.
By hooking up Superchips Programmers, Diablo Sport Programmers, or modules like the Hypertech Sport Programmer you can reprogram your rev limiter and gain access to your engine's full RPM range for more horsepower across the board. This also means your automatic transmission upshifts at a higher RPM, giving you more low-gear power for rubber-burning acceleration.
Speed Limiter
Like a rev limiter, your speed limiter is designed to protect your vehicle from damage. All tires are rated to safely operate up to a certain speed. Most cars and trucks are equipped with a speed limiter to keep you within your stock tires' safe speed range. If you upgrade to faster high-performance tires, however, your stock speed limiter will hold back your vehicle's potential. Power Programmers and some Control Modules let you re-adjust the speed limiter and take advantage of your high-speed tires. The Edge Evolution Tuner and Superchips Cortex let you alter or eliminate your speed limiter for restriction-free racing performance.
Recalibrate for Tire/Gear Changes
On-board computers don't automatically know when you modify your rear gear ratio or bolt on a set of bigger rims. Changing tires or gear sizes alters your gauge readings as well as your automatic transmission's shift points, throwing off your vehicle's fine-tuned performance. Every time you make these kinds of modifications to your vehicle you need to let your computer system know to ensure you're getting the most out of your upgrades. Performance Chips for diesels and gas vehicles make it easy to adjust your computer to accommodate for these changes. By just pressing a few buttons on the Hypertech Programmer or DiabloSport Tuner your modified vehicle's gauges and other systems will all work together fluidly.
Enhance Your Fuel Economy
Don't think that reprogramming your onboard computer for more power automatically means that you'll be guzzling more gas. In fact, many of our Power Programmers improve your engine's combustion so much that you get more power and burn less fuel to get it. There are also modules that are dedicated solely to cutting down on your gas consumption. The Hypertech E-Con and Superchips Mileage XS Fuel Economy Programmer fine tune your engine to save money at the pump.
Easy Installation
Virtually all Performance Chips and Power Programmers are remarkably easy to install and use. Most, from Superchips Performance Chips to Edge Programmers are simply "plug and play" devices and work right out of the box. Check out the video below, which explains how the Jet Performance Programmer can upgrade your speed and power in just minutes:
Compare Our Most Popular Performance Chips
Price
from $242.96
from $121.49
from $274.46
from $499.80
from $329.99
Shipping
Free Shipping
Free Shipping
Free Shipping
Free Shipping
Free Shipping

Rating

Overall:
Performance:
Quality:
Appearance:

Install Time
Under 30 minutes
Under 30 minutes
30-60 minutes
Under 30 minutes
Fit
Vehicle-Specific Fit
Vehicle-Specific Fit
Vehicle-Specific Fit
Vehicle-Specific Fit
Vehicle-Specific Fit
Warranty
Lifetime Warranty
2-Year Warranty
6-Month Warranty
1-Year Warranty
Lifetime Warranty
More Details
More Details
More Details
More Details
More Details
Types of Performance Chips and Programmers
There are a few different ways you can tap into your onboard computer and tweak your performance. Each programmer type offers different levels of flexibility and control over your vehicle. Here are some of the different chips and programmers we offer:
Control Modules
Control Modules give you a "hands-off" way to upgrade your performance. These devices simply plug into your electrical system under the hood and do their work invisibly. They receive the data coming in from your vehicle's sensors and analyze it to determine the best adjustments to make. It then sends its own commands to your ownboard computer to make the changes needed for superior performance. Simply plug it in and forget about it - the Control Module does all the work for you.
Control Modules are handy because they constantly and automatically communicate with your onboard computer without you having to input any data of your own. Each one is custom-programmed to your exact year, make, and model vehicle to ensure maximum performance and efficiency with all of your stock gear. They install in under 15 minutes, without having to do any cutting, splicing, or soldering. Many Bully Dog Performance Chips, Jet Performance Chips, and Edge Performance Chips come in a variety of stages or power levels to suit your driving and performance needs.
Power Programmers
Rather than connect under the hood, Power Programmers plug in to the OBDII port under your vehicle's dashboard. These programmers let you punch in some info about your vehicle, including the type of driving you want to do and what kind of modifications you've made to your car or truck. Power Programmers then talk to your onboard computer with commands tailored to your needs.
Power Programmers make a great tuning upgrade because they give you more control over your vehicle's systems than Control Modules. You can use programmers like the Superchips Flashpaq and Hypertech Performance Chips let you update your gauges and calibrate your vehicle when you make changes to your tire size and gear ratio. Plus, you can tune your performance engine with a Power Programmer to run on regular octane fuel instead of expensive premium grade gas. All this control and power comes from a module that plugs into your port and takes only 10 minutes to program.
Performance Monitors
If you want to know every little thing that's going on in your engine, hook up a Performance Monitor to your vehicle. Our Performance Monitors display all kinds of information beyond just what your gauges tell you. These parameters include pressures, temperatures, and levels for your fluids and exhaust gases as well as air intake temperature, mass air flow, and transmission temperatures. You can choose which gauges you want to display at all times, as well as access the info you need with the touch of a button. Performance Monitors like the Bully Dog Watchdog Monitor can also run performance tests on your vehicle for stats like horsepower and torque, and you can use them to keep track of your 0-60 and 1/8-mile times, keeping you informed about every aspect of your car or truck's performance. Some monitors even have special software that trains you to adjust your driving habits for better fuel efficiency.
Many Performance Monitors also offer some tuning capabilities, making them both a handy gauge display and a power-enhancing Control Module. Units like the Hypertech Hyper Pac and the Edge CTS Programmer let you view your vital stats while tuning your engine for higher performance, stronger towing, or enhanced fuel efficiency. Many monitors are also embracing state-of-the-art touchscreen technology, like the powerful Banks iQ Dashboard PC.
Choose The Best Power Programmer For Your Vehicle
There are many different Performance Chips and Programmers out there. How do you choose the best Performance Programmer for your vehicle? Here are some factors to consider:
Vehicle Type
Our Power Programmers are custom-designed to your vehicle for supreme performance, whether you like to haul 5th wheel trailers in your big rig or zip around the track in your sport compact. Each vehicle's computer has its own finely-tuned parameters and settings, so you should make sure you're purchasing a tuner that's made for your exact car or truck. The best way to ensure this is by using the Vehicle Selector on our home page or the Performance Chips page. Once you choose your make, model, and year, we'll only display the programmers and monitors that work with your engine.
Driving Style and Desired Performance
Helpful Tip: We can talk your ear off about how great our programmers are, but you're better off hearing about them from your fellow drivers. For real-world testimonials about these products, read our Performance Chips Reviews, written by power-hungry enthusiasts just like you.Once you've narrowed down the chips and programmers that work for your vehicle, it's time to think about how you drive and what you want out of your engine. Let's say you drive a 2008 Ford F-150, which has several programmer options. If you're looking for more acceleration and quicker performance, look into a race-inspired programmer like the DiabloSport Predator. If high torque for heavy-duty hauling is what you're after, consider upgrading with the Jet Performnace PCM (Power Control Module). This replacement PCM boosts your power and torque across the whole RPM band for more towing power.
Many drivers simply want to tune their engines for higher fuel efficiency or to use 87-octane gasoline rather than some vehicles' recommended 89 or 91-grade fuel. If gas economy is a concern, consider a Superchips Tuner. Their easy-to-use programmers optimizes your engine to draw the most power out of every drop of gas and can calibrate your vehicle to run on lower-octane fuel. You can also improve your economy the help of a Performance Monitor. Monitors like Bully Dog Monitors analyze your driving habits and give you advice on how to drive in a more efficient manner.
Modifications
Finally, you need to consider any air intakes/exhausts, gear ratio changes, or other performance upgrades you've made to your vehicle. A standard Control Module like the Edge EZ Tuner may be great for stock vehicles and lightly modified engines, but if you've made significant changes to your car or truck you need a programmer with a few more options. Modules like the Jet V-Force Plus and the Bully Dog Triple Dog offer a variety of tuning mods that let you dial in the optimal performance based on your aftermarket upgrades. When properly paired up with your mechanical upgrades, a Power Programmer can tie your modifications all together to turn your vehicle into a high-power, high-performance machine.
Final Thoughts
We hope this Performance Chips and Power Programmers Learning Guide has taught you a little more about how to upgrade your vehicle's electronic systems. If you have any questions about the information in this guide, please feel free to call our knowledgeable Customer Service Team at 800-663-1570.