Iron Cross Nerf Bars & Running Boards
Iron Cross running boards and nerf bars boast the kind of quality craftsmanship and durability you expect from products that are proudly built in the USA. These truck steps are made from tough materials, include heavy-duty stepping pads for sure footing, and their custom hardware maks for a precise fit. Iron Cross crafts their nerf bars and running boards with true American quality. And at AutoAccessoriesGarage.com you'll also get the best one-on-one customer service around.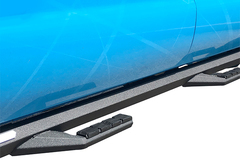 From $555.75
Free Shipping
Quick View
From $585.00
Free Shipping
Quick View
About Iron Cross Running Boards & Side Steps
There are so many idfferent accessories available for your truck that finding a company to trust can be difficult. Never fear, though, not with great options like Iron Cross running boards & side steps here. You can always count on two things with these guys: the highest quality possible, and a fantastic look. Both of these stem from their absolute devotion to their products, and to you.
Because a company is nothing without its customers, Iron Cross Running Boars are as good as they can possibly be. That goes to innovative processes and slick looks, front and center. It's also part and parcel of the simple installation to factory holes that should never require any drilling. Find them yourself, buy them yourself, install them yourself, and sit back to think, "Wow, that looks great!"
Setting up your truck with a set of Iron Cross running boards or nerf bars is easier than ever with AutoAccessoriesGarage.com. We'll show you only thesteps that fit your particular vehicle, so you don't have to waste any time tracking down a custom-made part. We'll even ship your Iron Cross nerf bars absolutely free, so you can save up for your next upgrade. Choose AAG and get the best prices, service, and shopping experience.
Iron Cross Running Boards & Side Steps Reviews
Justin T
from Vacaville, CA says:
Great product, easy install with a second set of hands or in my case a floor jack. Instructions were pretty straight forward and so was the install. I would call them very low profile, they really tuck up under the truck.
Gordon S
from Loveland, OH said:
These are heavy well made running boards that make my wife feel secure when she steps on them. The only down side would be the poor instructions for installation. But, I figured out what to do after looking at all of the parts and where the boards would attach.
Gary H
from Loganton, PA said:
I really like the how they fit my Tundra I'm sure they will protect from stone chipping, they are solid, with no give as you step on them as well, plus look mean. Thanks for a great product.
Earl D
from Odessa, FL wrote:
Very satisfied with product and everything was as stated. Would recommend to anyone looking for this type of item.
Russ
from Cove, OR said:
Installation was a snap. I had all the parts plus one extra bolt. These steps should really keep the rock chips down. Although the construction allows for de-icer/sand/sinders to get inside of tubing with the open channel design during winter months and driving on freeways that have beens salted or sanded. Over time this could erode the bottom of (step-tube). All in all I love the product and would recommend them to a friend. Installation took 10 minutes to understand 5 minutes to install.
William R
from St. Louis, MO says:
I put these on a Ram 2500. I got compliments from the mechanics at the dealership. They were easy to install, but I think a third grader wrote the instructions. You have to reverse the written directions from the driver's side to the pass side, but they don't tell you that. The pics are only from one side. I read many reviews from other brands. I think I made the right choice.