ProRYDE Suspension
Level out your truck or SUV the right way with a Leveling Kit from ProRYDE. These kits are easy to install, and they even give you the power to adjust your height to your tastes. ProRYDE Leveling Kits are custom-designed to mount right to your OEM suspension, without drilling into or removing stock parts. Best yet, they won't negatively impact your ride comfort so you can still enjoy a smooth ride.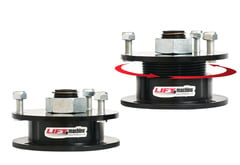 From $229.00
Free Shipping
Quick View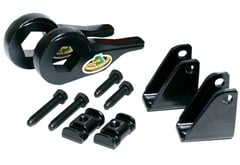 From $219.00
Free Shipping
Quick View
About ProRYDE Suspension
There are several benefits to lifting your truck, both functional and aesthetic. It's one of the best ways to transform your truck's attitude and give it a whole new stance, as well as give your fenders room to fit those huge new tires. And if you plan on hitting some rugged terrain in your truck, that extra height will provide some crucial clearance.
You know you want to lift or level your truck, so the question now is: how do you go about it? Well, you've come to the right place. These ProRYDE Lift/Leveling Kits are custom-designed to your particular vehicle, so they'll be a perfect fit, guaranteed. They're also crafted from rugged materials that are ready to withstand serious abuse. Powder Coat finishes ensure a long rust-free life, and their excellent designs retain your truck's factory ride quality. It's like you get everything you want, without losing anything you need.
At AutoAccessoriesGarage.com, we make shopping a little bit easier. You'll only see the ProRYDE Leveling Kits that fit your exact year, make, and model, and our detailed descriptions and product reviews help you find out everything you need to know about our products. Plus, our customer service team is on the phone and online if you have any specific questions about ProRYDE Suspension products. We'll ship everything for free, too. AAG is here to help, in any way possible.