If you're looking to really step up your truck or SUV's handling, performance, and ride feel, the first thing to do is to add a set of Performance Shocks. We offer a wide variety of shocks by a wide variety of brands, and each has their advantages for certain types of vehicles. If you've got a truck or SUV, both Rough Country and Rancho deliver awesome performance and ruggedness. Check the two brands out in detail below to find the right shocks for your truck.
Rough Country Shocks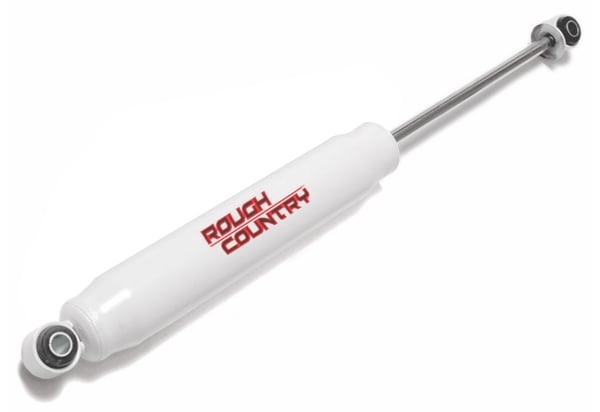 Rough Country was one of the first companies to jump into the off-road parts industry. In fact, they just about founded it. Since the early '70s Rough Country Shocks have helped drivers traverse countless trails and back roads, providing top-notch handling and ride quality for any situation. They're also built super-rugged to withstand just about any situation you can throw at them.
Rough Country offers two styles of shocks: the nitrogen-charged Rough Country Nitro 9000 Shocks, and the hydraulic Hydro 8000 Series Shocks. Both models feature burly hardened chrome steel piston rods, military-spec fillings, and Velocity Sensitive Valving that self-adjusts based on the piston rod speed for unbeatable ride quality. If you're riding on oversize tires or carrying a heavy snow plow, check out the Rough Country Steering Stabilizer. These pistons give you vibration-free steering and extend the life of your tires and other suspension components.
Rough Country Shocks and Stabilizers are built from some of the toughest stuff around, and each product is backed with a Lifetime Warranty.
Rancho Shocks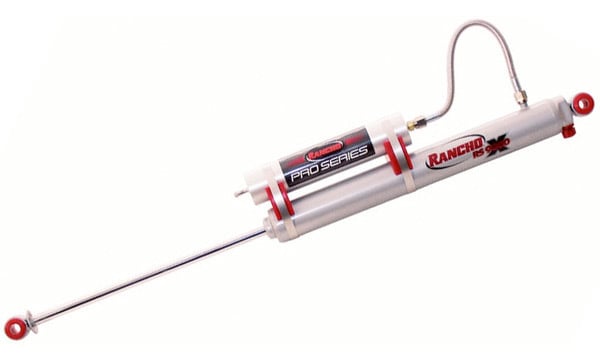 For over 50 years drivers have been counting on Rancho Shocks to improve their handling both on and off the road. They offer shocks for all kinds of truck and SUV drivers, whether you use yours in your daily commute or in your off-road rock climbing expeditions (or both!). Check out Rancho RS9000X Shocks, which are equipped with an external reservoir, or the offroad-designed RS7000MT Shocks. These shocks feature a monotube design that's perfect for the high demands of heavy-duty driving. If you want to eliminate your truck's front-end rake and get a tough lifted look, go with the Rancho Quick Lift Leveling Kit. This kit includes a beefy set of coil-over shocks that add up to 2.5" to your front end height.
Rancho Shocks feature tough urethane bushings, double-chromed rods and graphite-enhanced teflon bands, which all add up to create a virtually indestructible design. Rancho is proud to build shocks you can count on for years to come, and that's why every one is backed with a Lifetime Warranty.
Rough Country or Rancho - What Are The Right Shocks For Your Vehicle?
There are several factors to consider when you're shopping between Rancho and Rough Country Shocks. Consider the kind of driving you plan on doing, whether you're cruising around the neighborhood or climbing boulders, as well as the type of vehicle you drive. With our Suspension FAQs and customer-written Shocks Reviews you can get some extra details about the right shocks for your needs, and the chart below lays Rough Country and Rancho side by side. Plus, if you have any more questions, you can always contact our customer service team by email, online chat, or by phone at 800-663-1570.
| | | |
| --- | --- | --- |
| | | |
| Starting At | $37.95 | $55.49 |
| Available Models | 3 | 5 |
| Designs | Monotube, Steering Stabilizers | Monotube, Twin Tube, Coilover Lowering Shocks |
| Finishes | White | White, Silver |
| Warranty | Lifetime | Lifetime |
| Shipping | FREE | FREE |
| | | |