When you want to go out and crush it on the trails, you need a suspension that's up for the job. Chances are your stock parts just won't cut it - time for a Performance Suspension. We offer a wide array of suspension lift kits, shocks, and stabilizers that give you much greater control over the ground beneath you. Take a look at Fabtech and Rough Country, two of the leading brands in off-road suspensions, and find the right suspension parts for your truck or SUV.
Rough Country Shocks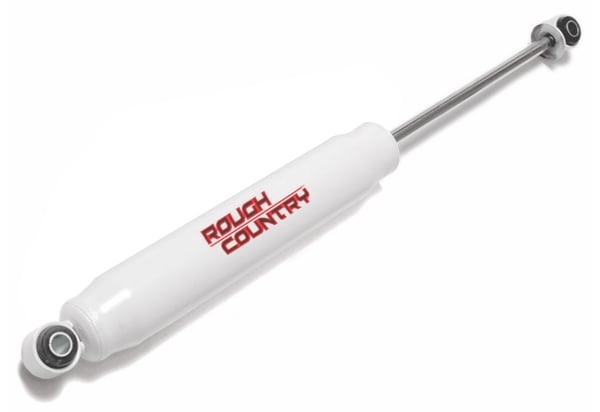 Rough Country's off-road roots start back in the early 1970s. From back roads and trails to streets and highways, Rough Country Shocks have given countless truck and SUV drivers and enthusiasts superior handling as well as a more comfortable ride quality. Rough Country also builds their shocks from super-tough materials, so they're ready to handle the worst abuse you can give 'em.
As for shocks, you have two options: Hydro 8000 Series Shocks feature a hydraulic design, whereas the Rough Country Nitro 9000 Shocks are charged with nitrogen gas. Both models feature Velocity Sensitive Valving, which automatically adjusts the damping based on the speed of the piston rod. Plus, their military-spec fillings and hardened chrome steel piston rods make for amazing durability and long life. For trucks with heavy winches, snow plows, or oversize tires, check out the Rough Country Steering Stabilizer. Acting like a shock for your steering system, these devices minimize steering vibration while extending the life of your other suspension components and tires.
Every Rough Country Shock and Stabilizer is built to last, and comes backed with a Lifetime Warranty.
Fabtech Suspension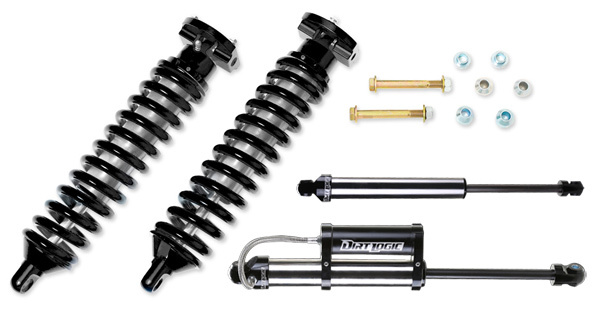 Are you looking for extra height and a dominating stance on your truck? Fabtech Suspension is the way to go. Fabtech is one of the top leaders and innovators in off-road suspension design and manufacturing. They're constantly in pursuit of the most state-of-the-art technology, which leads to award-winning products that perform flawlessly and last a lifetime.
Fabtech Lift Kits, the flagship of their line, include everything you need to lift your ride by up to a whopping 8 inches (depending on your vehicle). Or, if you're just looking to beef up your off-road durability and ride feel, go with Fabtech Dirt Logic Shocks. Then, once you're lifted up, add a Fabtech Steering Stabilizer for better handling and smoother steering. Every Fabtech Suspension Kit and part is built from incredibly tough materials and includes a Lifetime Warranty.
Rough Country or Fabtech - What Is The Right Suspension For Your Vehicle?
With so many suspension brands out there, you need to think about your driving style, visual tastes, and budget to find the right shocks or lift kits for your truck or SUV. Check out our Suspension FAQs and real-world Shocks Reviews to get some extra details, and look at the chart below to compare Rough Country and Fabtech side by side. Plus, if you have any more questions, you can always contact our customer service team by email, online chat, or by phone at 800-663-1570.
Most Popular Fabtech & Rough Country Suspensions
Price
from $254.08
from $24.95
from $35.45
from $38.17
Shipping
Free Shipping
Free Shipping
Free Shipping

Rating

Overall:
Performance:
Quality:
Appearance:

Install Time
30-60 minutes
2+ Hours
Under 30 minutes
Instant
Fit
Vehicle-Specific Fit
Vehicle-Specific Fit
Vehicle-Specific Fit
Vehicle-Specific Fit
Finish
Black
Kit Includes (Depending On Vehicle)
Add-A-Leaf Springs

---

Blocks

---

Coil Spacers

---

Mounting Hardware

---

Shackles

---

Shocks

---

Strut Spacers

---

Torsion Bar Keys
Material
Steel
Max Lift
8"
Shock Type
Monotube
Warranty
Lifetime Warranty
Lifetime Warranty
Limited Lifetime Warranty
More Details
More Details
More Details
More Details