Whether you're working hard in your truck or playing hard in your 4X4, you need a reliable source of pulling power. Pulling yourself out of ditches and sticky mud requires lots of power and torque, so you better make sure you're equipped with a powerful enough Winch. Our Recovery Winches are available in many different styles for many different applications, from ATVs to full-size trucks. Take a look at two leading brands, Mile Marker and Warn, to find the best winch for your vehicle.
Mile Marker Winches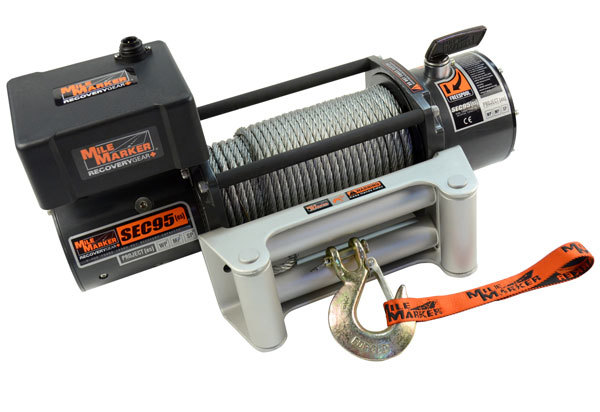 Mile Marker is a highly sought-after builder of winches and recovery accessories. How sought after? Well, Mile Marker Winches are the exclusive choice for the U.S. Military's Humvee fleets deployed all over the world. That's because they're built with super-solid construction, advanced technology, and super-convenient features that make recovery easier and safer than ever.
Mile Marker Recovery Winches, such as the Mile Marker VSX12 Winch, feature the company's state-of-the-art "MiFi Technology." This solid-state control provides variable speeds and helpful user feedback, with no solenoids to fail or break down. And with series-wound motors, automatic load-holding brakes, and tough cables, Mile Marker Winches are up for any job. Every Mile Marker Winch is backed with a 2-Year Warranty.
Mile Marker also manufactures a wide variety of accessories to help you get the job done right and safely. Check out the Mile Marker Winch Accessory Kit, which includes everything from straps and shackles to mechanic's gloves and a carrying case. You can also pick up most of these accessories on their own, as well.
Warn Winches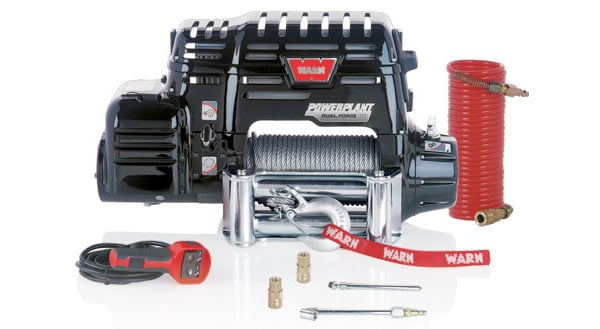 Warn Industries got its start all the way back in 1948, building locking hubs to convert surplus Warld War II Jeeps into road-ready vehicles. It's when they released the Warn Winch in 1959, however, that Warn became a household name. With many decades of experience behind them, and all kinds of innovation ahead of them, Warn Winches truly set the standard in recovery performance.
There are several available models of Warn Winches, each with rugged features optimized for a variety of applications. For smaller vehicles and light-duty use, go with the Warn M6000 Portable Winch. Its short-drum design packs 6,000 pounds of recovery power into a compact package that installs and removes quickly. On the other hand, if you need massive pulling power and total off-road convenience, go with a Warn Powerplant Winch. This unit combines a heavy-duty winch (up to 12,000 lbs.) and a high-powered air compressor, so you can do it all. Warn Winches are all backed with a Lifetime Warranty.
Warn or Mile Marker - What Is The Best Winch For You?
No matter your working or off-roading demands, there's bound to be a Warn or Mile Marker Winch out there for you. But how do you choose the right brand for you? The chart below points out the similarities and differences in their benefits, so you can compare side-by side. Also consider factors like your budget, the kind of rope you prefer, and how much weight you intend to pull. Plus, read our real-world Winch Reviews, written by real customers, and find out what people who have used them in the field have to say. Finally, you can always give our resourceful customer service team a call at 800-663-1570 if you have more questions.
| | | |
| --- | --- | --- |
|   | | |
| Starting From |  $107.84 |  $613.51 |
| Weight Rating | 2,000-12,000 lbs. | 6,000-12,000 lbs. |
| Available Accessories | Snatch Blocks, Wireless Remote, Winch Cover, Gloves, Accessory Kits | None |
| Warranty | 2-Year | Lifetime |
| Shipping | FREE | FREE |
|   | | |