K2 Snow Plows
A snow plow from K2 is one tough customer, and the right fit for your truck or SUV. When you go with this company, you go with an all-steel plow designed to hold up under truly insane working conditions. A variety of accessories work with your K2 Plow to ensure that you get the absolute best scraping and shoveling, the kind your driveway or parking lot deserves. Put another way: ditch the hassle and work with K2 Snow Plows!
About DK2 Plows Winter Accessories
Shop for your K2 Plow at AutoAccessoriesGarage.com and enjoy a free and easy experience. It's not our job to stand in your way, it's our job to facilitate, and that's what we try to do with every customer who stops by. We provide large photos of our K2 Snow Plows & Accessories along with a detailed description to ensure you get exactly what you need. If you find out that's the case, then your K2 ships for FREE! Allow us to help you out, and AAG will show you a new way to shop for auto parts.
K2 Snow Plow Comparison Chart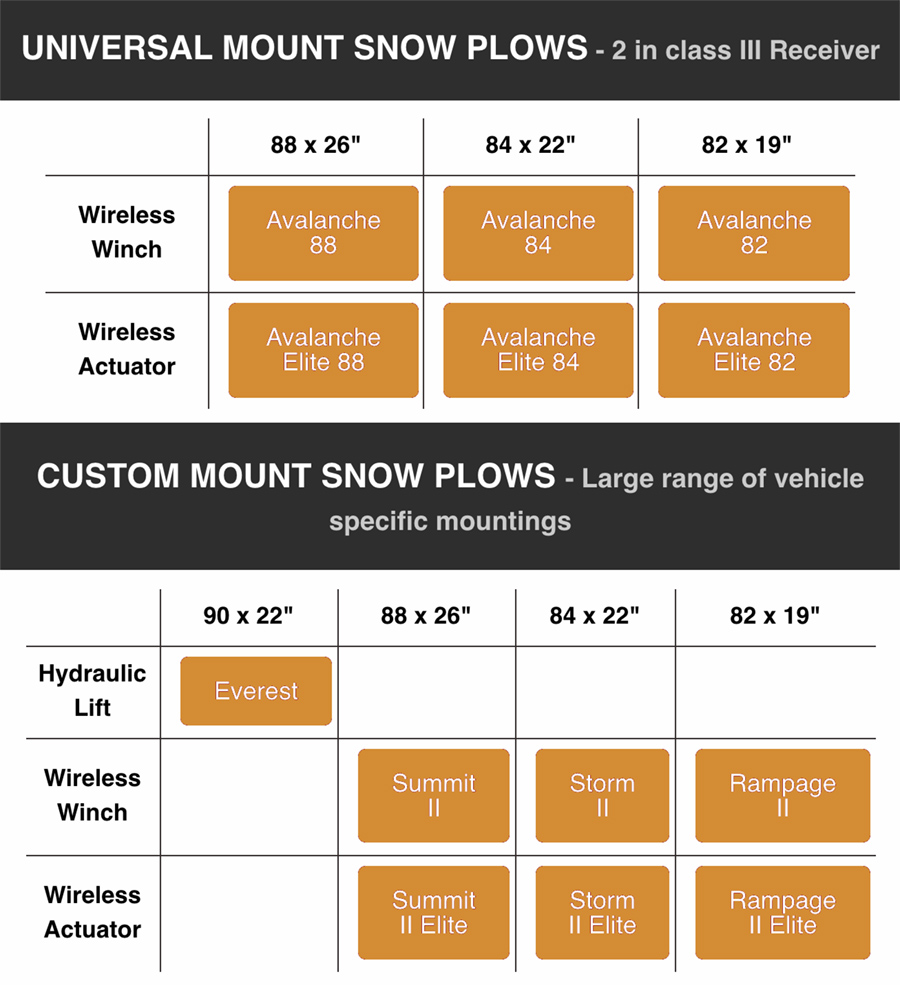 DK2 Plows Winter Accessories Reviews
Chris P
from Cavetown, MD says:
2003 F250. At first, the mount did not look like it would fit, but it did. I had to take the bumper off. That was easier than I expected. Assembled the plow, just took my time doing it. Attached the electrical, again, I took my time doing it. Works well so far. Not much snow yet.
Joe Koke
from Watervliet, NY said:
Great product. This is my second DK2 Storm plow. I was thrilled they did away with the 2" receiver mount and went with a truck frame wide mount. Here was the headache, I got the plow, the wireless remote, and the free light kit but had to wait and still waiting for the truck mounts. Not Auto Accessories fault. They are the middle man but Auto Accessories bent over backwards working with the manufacturer to get these mounts shipped. They are in transit as of today 1/4/19. Should be at my door on 1/7/19. Thank you Candice for being a really great help in all of this. This is why I shop Auto Accessories folks.
Jeffory C
from Lake Mills, IA wrote:
Great plow for the money was easy to assemble only took a few hours. I received the wrong mounting bracket so have not completed install yet. The returns department was great to work with shipped correct bracket out the same day now just need some snow can't wait to try this thing out.
Paul M
from West Chester, PA wrote:
Perfect for what I need. The drive is a half mile long so I put this on my SUV and off I went. It has worked great so far. Fairly easy to install even easier to operate. Read more DK2 Snow Plow customer reviews.
John F
from New Rochelle, NY wrote:
Website was great and easy to deal with. Staff answered all off the questions. Plow was very easy to install, with 2 guys it took about 2 1/2 hours. Well worth the price I paid. Shipping was warp speed...ordered Sunday night got the plow Tuesday afternoon.
Cary M
from Petersburg , MI says:
Overall it was very easy to put together. The only issue was the power connectors for the winch. When I initially plugged them in after mounting the power unit and wiring everything I could not get the winch to work. I fiddled with the connectors, prying the metal parts so they would touch when plugged together I was finally able to get power to the winch. After that everything works just fine.