Du-Ha Storage Accessories

From $161.95
Free Shipping
Quick View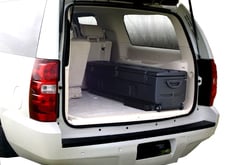 From $389.95
Free Shipping
Quick View
Founded in Minnesota in 2003, Du-Ha changed the truck accessories industry with their unique interior storage systems for pickups. They offer rear seat and under-seat storage solutions for Chevy, Ford, Dodge Nissan, GMC, Toyota, and Honda trucks.
DU-HA stands for Down Under Holding Apparatus. Du-Ha underseat storage boxes let you organize your pickup using under and behind seat storage for maximum discreteness. Du-Ha storage cases also double as a legal gun rack in most states, making it a preferred accessory for hunters and outdoor enthusiasts. Certain trucks let you use a Du-Ha both behind the seats and under, for double the storage capacity. Plus, Du-Ha Underseeat Storage boxes are available in a wide range of interior-matching colors for a fully custom look.
Install a Du-Ha Storage Case in your truck and keep your gear organized. Every Du-Ha storage case is custom-made to your year, make, and model truck, ensuring a perfect fit and matching looks.