KW Suspension Accessories

Popular KW Suspension Categories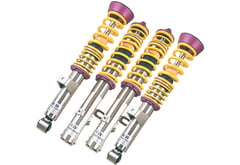 From $839.79
Free Shipping
Quick View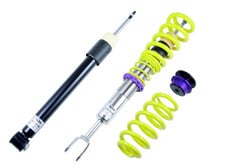 From $1,436.49
Free Shipping
Quick View
KW Suspension began in 1996 as a three-man operation in a 150 square foot workshop. Since then they have grown exponentially into an internationally renowned group of companies producing some of the world's finest and most technically advanced suspension products. Today KW Automotive employs over 200 employees with a footprint spanning 160,000 square feet.
KW Suspension is pleased to offer their exciting line of race suspension parts for street drivers and weekend enthusiasts. KW's comprehensive product range lets you suit the technology to your individual needs. KW Automotive's headquarters in Germany is home to their main product research and development facilities. KW performs all of their design, manufacturing, and testing on-site. Over 18 full-time staff members are dedicated to developing new dampening solutions and further developing existing products.
KW Suspension solutions offer the highest performance for your vehicle, whether for the street or for the track. Every product is tested thoroughly to ensure maximum performance, durability, and lifespan.