When you hook a performance air intake up to your engine, you're opening up a whole new world of power. The higher amounts of dense, cool oxygen these intakes feed into your cylinders helps boost combustion, which results in greater horsepower, torque, and efficiency. There are many air intake brands out there to choose from, so how do you find the right air intake for your vehicle? Take a look at two of the leading brands, Injen and aFe, to help you make the right decision for your driving style and your vehicle.
Injen Air Intakes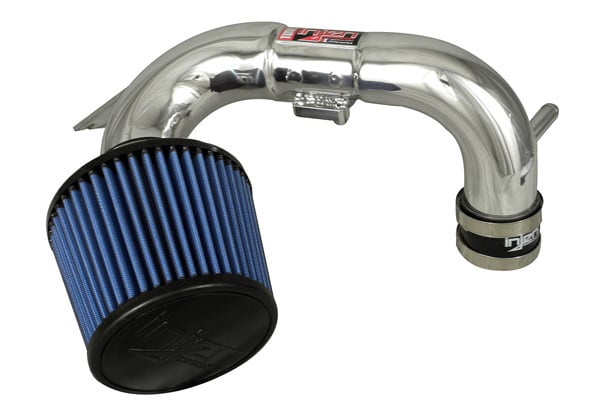 Injen Air Intakes are built to give you superior air flow, with finely tuned air/fuel ratios that maximize the amount of power you get out of every drop of fuel. You can choose from a variety of styles, like the the Injen Short Ram Air Intake or the Injen RD Cold Air Intake. For incredible torque and horsepower gains, check out the Injen PowerFlow Intake. This system utilizes sophisticated custom tuning for maximum results on your specific engine, with amazing acceleration. Every intake boasts T-6061 aluminum construction, which is lightweight, super strong, and corrosion resistant, and some models give you the option of a glossy Polished or Black finish.
Injen Intakes also include a complete hardware kit, and their custom designs ensure an easy installation. A reusable, high-flow, reusable cotton-gauze air filter is also included with every system, for clean air with minimal restrictions. And with a Lifetime Warranty on all Injen Intakes, you know you can count on this system for decades to come.
aFe Air Intakes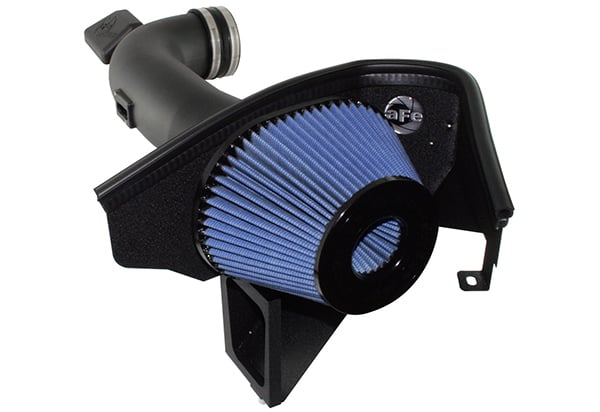 Advanced Flow Engineering, also known as aFe, has spent the last decade-plus crafting high-flow, high-quality air intakes. aFe Intakes are known for their custom-tuned, high-flow designs that enhance your all-around performance. These are real enhancements, too - some engines and vehicles have tested an amazing 50 horsepower boost! Choose from a variety of different styles of air filter included with every aFe Air Intake, from the original Pro 5 R and heavy duty Pro Guard 7, to the oil-free, easy-to-maintain Pro Dry S Filter.
Because these guys don't want to waste materials or sell you parts you don't need, every aFe Air Intake System is custom-designed to get the maximum performance out of your engine with the least amount of hardware. For some vehicles this means your aFe Intake may include the air box, intake tube and filter, or you may just get the intake box and filter. Because of these well-researched designs, you'll get the nicest performance possible without unnecessary installation hassles or expenses. aFe also sells performance accessories like the aFe Throttle Body Spacer, which adds turbulence to the air flow that promotes a better air/fuel distribution.
The coolest part is, aFe Intakes are simple to install. Just check the video below and see how you can install an intake quickly, with the tools you have around the house.
aFe or Injen - What's The Right Air Intake For Your Vehicle?
aFe and Injen are both leaders in the air intake pack, with high-quality products that provide real performance gains. So how do you choose the right intake for your car or truck? To answer that question, consider the type of vehicle you drive, your performance needs, and even your budget for power upgrades. The chart below outlines the key features of each brand so you can compare them side-by-side. Plus, with customer-written Air Intake Reviews and a thorough Air Intake FAQ page, you'll have all the info you need. And if you have any further questions, you can always give our handy customer service staff a call at 800-663-1570.
| | | |
| --- | --- | --- |
| | | |
| Starting From | $149.00 | $148.15 |
| Materials | Aluminum | 6061 Aluminum |
| Styles | Cold Air | Cold Air, Short Ram, PowerFlow |
| Finishes | Black, Polished | Polished, Black |
| Available Accessories | Throttle Body Spacers, Intake Manifolds | Air Filters, Forced Induction Systems |
| Warranty | Lifetime | Lifetime |
| Shipping | FREE | FREE |
| | | |